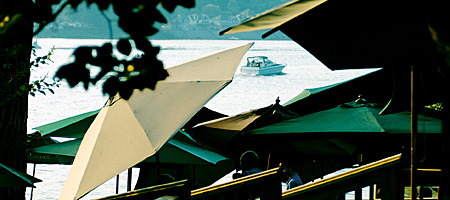 The sprawling riverside decks at Captain's Quarters. Food & Dining photo by Dan Dry
The Summer 2007 issue of Food & Dining is now available, loaded with useful articles and stunning photos. You'll find full-length articles on alfresco dining and the Southern Indiana restaurant renaissance … original reports on beer, wine, spirits and coffee … recipes, tips, humor, road trip reports, and much more.
You can pick up Food & Dining in area hotel rooms or at many shops and news stands (here's a list), or subscribe at our special rate that, with free gift certificates for local restaurants, gives you a full year of Food & Dining for free! (Subscribe here!)
The full Summer 2007 Table of Contents is now online. You can view it here. Or read on for this excerpt from Food & Dining's quarterly report on local restaurant openings, closings and changes:

At a glance, the overall picture of restaurant openings and closings during the previous quarter looks optimistic, with about two dozen restaurant openings and only about half that number of closings.
Perhaps more significantly, though, it was of the quieter spells we've seen since Food & Dining began tracking these restaurant-industry trends.
Only about a dozen fully new restaurants – several of them corporate chains – opened their doors, with about as many new restaurants merely replacing predecessors with a quick name or management change at the same locations.
[ OPENINGS ]
---
Few of the changes were headline grabbers, although the arrival of the classy
Rivue
in the revolving dining venue atop the Galt House at 140 N. Fourth Street, made a publicity splash when it opened in June. Indisputably the city's best view restaurant, Rivue ups the ante significantly over its predecessor, the dark and dated
Flagship Room
.
In a quick turnaround, Robert "Bobby J." Johnson comes out of retirement to join Rick Longino in reinventing the short-lived La Rouge as Bobby J's, 252 East Market Street.
Over in New Albany, two new spots boost the growing restaurant renaissance that is drawing attention to the Southern Indiana city: Connor's Place, 207 E. Main Street, offers casual dining with a sports bar feel; Speakeasy, 225 State Street, adds contemporary bistro-style fare in a jazz bar setting,
Also in Southern Indiana, Jimmy's on the River has reopened with new owners at 100 W. Riverside Drive in Jeffersonville, and Habanero's becomes Señor Iguana's at 1415 Broadway in Clarksville.
Locally owned and operated, Sahara Café brings good Middle Eastern casual fare to a new retail building at 3701 Lexington Road in St. Matthews, and CoCo's Chocolate Café offers house-made chocolates and pastries in a small but sophisticated cafe in the Highlands at 1759 Bardstown Road.
Jeff Jarfi, proprietor of Jarfi's Bistro in the Kentucky Center, adds a second eatery to his collection in Jarfi's at Mellwood, replacing A Little Peace Cafe in the Mellwood Arts Center at 1860 Mellwood Ave.
Maggie's Sports Bar & Grille brings a diner and sports bar venue to Jeffersontown at 10300 Taylorsville Road.
Several new chains are attracting attention: After a decade-long hiatus, Taco Tico is back in town. The first of several planned outlets is in the far Southwest End at 5925 Terry Road, but it's drawing crowds from all over town, craving Sanchos and Taco Burgers. With only a handful of regional properties, Indianapolis-headquartered Puccini's Smiling Teeth, 4600 Shelbyville Road, and Nashville-based Amerigo, 871 South Hurstbourne Parkway, barely qualify as chains. Puccini's features thin-crust pizza by the slice; Amerigo, with local chef Anthony Lorie at the helm, specializes in upscale-casual "European/Italian" fare.
Other new chain arrivals include Roosters, 7405 Preston Highway, a Columbus-based franchise specializing in wings; and Atlanta-based Shane's Rib Shack, 2420 Lime Kiln Lane, taking over a long-closed Tijuana Flats location.
Briefly told, NV Tavern is open with bar and grill fare at 1202 Bardstown Road, former home of the Cribstone Pub. Fat Tony's Pizza changes owners and gets a new name but continues serving thin-crust, NYC-style pizza as Slice of New York, 9910 Linn Station Road.
Two hotel restaurants get makeovers: At the Hyatt Regency Downtown, 320 W. Jefferson Street, Peppers Bar and Grill expands from its former role as a bar with a limited snack menu to a full-scale casual dining room. Meanwhile, Bentley's, the dining room at the Holiday Inn Downtown, sports new décor and a new name, Xavier's.
Adding new properties to growing chains, El Tarasco's fifth metro location is open at 412 South First Avenue in LaGrange; Qdoba Mexican Grill adds its seventh local property at 3021 Poplar Level Road, and Jimmy John's Sub Shop adds a fourth local branch at 1321 South Hurstbourne Parkway.
[ CLOSINGS ]
---
Just as
Food & Dining
went to press, Chef Mike Driskell announced that he would be closing
Diamante
, 2280 Bardstown Road. It was a popular Highlands spot and a particularly good choice for late-night dining; we're sorry to see it go.
Two popular chains are gone: Harper's Restaurant, 671 S. Hurstbourne Parkway, and Bahama Breeze, 104 Oxmoor Court, both abruptly went dark just before Derby season.
Two locally owned East End operations, both of which had sought to expand from older properties into larger, newer facilities, failed to make it: The Pizza Box, 10331 Champion Farms Drive, and The Cutting Board, 2929 Goose Creek Road, have both closed.
Other local restaurants that have served their last meals are Big Hopp's, 800 West Market Street; Edoya Japanese Restaurant, 15206 Shelbyville Road; and MacVittie's, 106 Sears Avenue. Out in Oldham County, Brownsboro Eatery has shut down at 7511 Highway 329.
As noted, the following closed only to make way for immediate successors in the same locations: The Flagship at the Galt House, Bentley's in the Holiday Inn Downtown, Fat Tony's in Plainview, A Little Peace Cafe on Melwood and Habanero's in Clarksville.
[ MOVED ]
---
A number of local restaurants were on the move this quarter. The excellent
Bourbon Bros. BBQ
moved directly across the street from its former cottage location, adding steaks and a bar to its basic barbecue menu as it takes over the larger quarters that have housed
Shariat's
, two Indian restaurants and two Mexican eateries.
Café Lou Lou, citing parking pressure and lack of wheelchair access, took its colorful art and eclectic menu east, opening in St. Matthews at 106 Sears Avenue.
Pit Stop BBQ closed downtown at Fifth and Chestnut streets, resumes business at 13303 Magisterial Drive near Anchorage in the far East End. Sweet Surrender, which moved from Clifton to the Highlands a while back, returns to Clifton at 1804 Frankfort Avenue; and the down-home Whitney's Diner moves in Bardstown Road from Fern Creek to Buechel: You'll find it now at 3061 Breckenridge Lane.