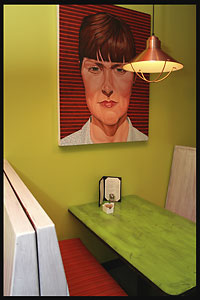 One of the reasons Café Lou Lou's new locale works is the retention of the original look, including striking art pieces. LEO photo by Nicole Pullen.
LEO's Eat 'n' Blog with Louisville HotBytes
The 19th century French satirist and polymath Alphonse Karr was not, as far as we know, a food critic. But when he penned the lines, "Plus ça change, plus c'est la même chose" ("The more things change, the more they stay the same"), he might as well have been talking about Louisville's Café Lou Lou.
A lot of us obligate urbanites were horrified to learn earlier this year that Chef Clay Wallace and co-owner Helen Ellis planned to move the popular eatery's quarters from Frankfort Avenue in Clifton to St. Matthews, literally across the street from where Sears used to be.
Leaving the artsy, hippy-dippy diversity of Clifton for almost-suburban St. Matthews? How can this be, we wailed! Café Lou Lou can't possibly stay the same! How can it survive in the whitebread land of SUVs?
As it turns out, the answer to these questions turns out to be, "Very nicely indeed." Or, if you prefer, "Plus ça change."

Taking over the quarters that long housed the original Asiatique and more briefly were home to a Beef O'Brady's and the short-lived MacVittie's, Café Lou Lou managed to retain very much of its original look and feel by bringing along its bold, bright avocado and red-chile color scheme and striking art pieces. (Yes, the familiar, wacky portrait of Big Boy, seen from the back, is part of the new decor, hanging in a place of pride near the bar.)
They've opened up the room by knocking out a wall that had separated the bar from the dining area, creating a sizable open space with high ceilings and hard edges that echoes plenty of noise when the place is jammed … as it almost always is. It can be deafeningly loud at times, but it's a happy noise, a festive roar that lets you know everyone's having a blast. As long as you don't have a quiet romantic dinner or a serious conversation in mind, this is not a bad thing.
Service is friendly and efficient, too, even when there's a crowd. Don't expect high-end pomp – servers wear pea-green Café Lou Lou T-shirts, basic flatware comes rolled in grocery-store white paper napkins, and plates are simple, serviceable stoneware.
Nor will you find serious changes in the cafe's familiar "Mediterranean-Italian-New Orleans" menu, which reflects Chef Wallace's personal peregrinations in both Louisville and Louisiana.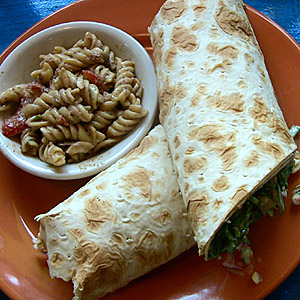 The shrimp and arugula roll at Café Lou Lou, a log-size sandwich rolled in lavash flatbread, is just about big enough for two. Photo by Robin Garr
Said menu is casual – even at night it seems like a lunch menu, heavy on pasta and pizza, sandwiches and lavash-wrapped "rolls" – but nobody seems to mind.
Gourmet pizzas are seriously good, built on freshly baked dough. Specialty pies are $11.95 for a 10-inch model or $17.50 for a 14-incher, or you can build your own more traditional pie at $9.95 for a 10-inch pizza, $12.95 for the 14-inch option, with additional toppings at $1.75 or $1.95 per. Roll your pizza into an oversize football and call it a calzone, and it'll set you back a reasonable $9.25 for most choices, including such goodies as four cheese, vegetarian or Italian meatball; build your own at $9.25 for cheese plus 1.65 for each additional filling.
The familiar meze plate, a sort of Greek antipasto, tops the list of appetizers at $9.95; it's $6.26 for a bowl of hummus or Wild Bill's Famous Cajun Cheese with homemade breadsticks for dipping. A half-dozen salads range in price from $4.95 for a small Greek salad to $10.75 for an Asian beef salad, about which more anon.
Seven pasta selections all come in your choice of full-size ($14.25) or half-size ($8.25), making Café Lou Lou one of the few places where you can request pasta carbonara, penne with shrimp and tomatoes or four-cheese ravioli and have the server ask, "You wanna down-size that?"
Sandwiches (on fresh homemade bread) or "rolls" (wrapped in a tube of lavash) are almost all $9.25 for about a dozen choices. Earmarked for my future consideration are the grilled beef and arugula sandwich roll, New Orleans-style muffuletta topped with authentic olive salad, gyros roll and a chicken-portobello roll ($10.25). Sandwiches come with your choice of Mediterranean-style pasta salad, cole slaw or Cajun chips on the side.
Full bar service includes a wide variety of specialty drinks, an OK wine list with about two-dozen attractively priced wines, most available by the glass, from $5.75 for a glass, $26 for a bottle, to $6.50/glass and $30/bottle. Worthy of note is Sonoma-Cutrer 2003 Russian River Ranches Chardonnay at $30 a bottle (not available by the glass), one of my favorite wines in Brown-Forman's portfolio, not much over retail price.
The beer list, though, is even better, featuring about a dozen microbrewery beers on tap – about half from BBC, the rest national micros, and a further selection of fine microbrewery bottled beers.
We ate way too much and liked it all. For starters, we split an appetizer order of blue cheese polenta ($7.25), an inch-thick block of creamy, pale-yellow, thick polenta that held its shape nicely, with just enough blue cheese whipped in to add a subtle earthy flavor. Call it Italian cheese grits, it's topped with generous portions of thin, short lengths of grilled fresh asparagus and sautéed slivers of portobello mushroom and red onions and sauced with a discreet amount of pink, gently piquant red-pepper cream. A remarkable combination of flavors and textures, I'm really impressed with this; and though it's billed as an app, it's easily enough to serve as a light vegetarian main course.
The Asian beef salad ($10.75), served as a main course, consisted of small, lean medium-rare medallions of chilled beef atop a ration of mesclun lettuces and very finely shredded veggies – carrots for sure, maybe zucchini and summer squash, artfully plated with two vinaigrettes drizzled in from opposite sides of the plate: golden Champagne miso and reddish sweet-chile vinaigrette, both dotted with black sesame seeds.
I can rarely resist the Mediterranean pizza ($11.75), a deliciously earthy mix of veggie flavors: big rounds of grilled eggplant, blobs of snow-white feta cheese, whole roasted and pleasantly mild garlic cloves, pitted black Kalamata olives, thick-sliced Roma tomatoes, a few capers and chewy bits of sun-dried tomato, and, to remind us that it's a pizza after all, a discreet paint-coat of spicy marinara sauce under melted mozzarella. It's all borne on Café Lou Lou's excellent pizza, a thin, crisp and chewy Italian bread that could pass on its own as an authentic focaccia.
BBC Altbier ($5) was a pretty bronze-amber color with a creamy pale-tan head; delicious gentle hoppy bitterness was joined by an appealing hint of cocoa in the flavor. BBC Lou Lou Lager joins an interesting and happy trend toward local microbrewed lagers, and this one is a goodie, crisp but full-bodied, discreetly hopped, very much like a quality Czech or German Pilsner but made in Louisville and served fresh.
I didn't think dessert was really necessary, but hey. The chocolate soufflé cake ($6.50) was exceptional. A cylinder of firm yet moist chocolate soufflé was rendered as a cupcake-size round with a crisp crust, topped with powdered sugar and plated on an artful pool of crème anglaise, maybe, with chocolate sauce painted in. A dash of almond-amaretto added another layer of flavor, although I'd have been happy to have the chocolate unadorned.
With a pint of beer each and a second for me, the whole megilla came to $53 plus a $12 tip, which really isn't bad at all for a hot spot that changed but stayed the same … and aren't we glad?
Café Lou Lou
106 Sears Ave.
893-7776
www.cafeloulou.com
Rating: 86 points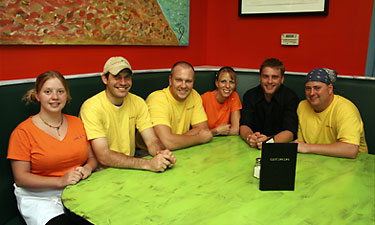 Cafe Lou Lou left the artsy environs of Clifton for St. Matthews, moving into the former home of Asiatique. Thankfully, they've achieved continuity. Pictured here are some of the folks who make it happen: Holly McGlawn, Bruce Scharinger, Pat Bradbury, Laura Andres, Brandon Detenber and Chef Clay Wallace.