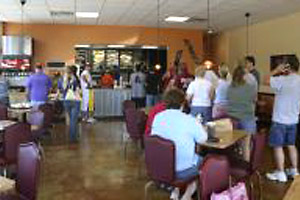 Lining up for lunch at Taco Tico. LEO photos by Nicole Pullen
LEO's Eat 'n' Blog with Louisville HotBytes
(Taco Tico, Taco Bell, El Zarape)
Way back at the dawn of time (oh, all right, during the 1970s), back when most people in Louisville thought "nacho" was just a cool way of saying "righto" and even the cognoscenti pronounced "taco" as "tack-oh," indeed even before the first Taco Bell rang the region's chimes, there was Taco Tico.
(Actually, for the sake of historical accuracy, the first Taco Tico was founded in Wichita, Kan., in 1962. Glen Bell opened his first eponymous taqueria in Downey, Calif., that same year. Louisville, however, slow during that era to embrace culinary change, failed to embrace the fast-food taco for a while.)
Taco Bell, of course, prospered and grew. Now a property of Louisville-based Yum! Brands, it boasts about 6,000 outlets around the world. Taco Tico, on the other hand, topped out in the '80s with about 120 outlets before falling off to about half that peak. It's in just eight states, the lion's share in Kansas and nearby states, with a handful in Kentucky.
But now, after a 10-year hiatus, Taco Tico is back in Louisville, to the immense joy of a hard-core coterie of fans. Although the new location is out of the way for many in the Metro – it's in a small shopping strip at the corner of Terry Road and Lower Hunters Trace – a crowd has been beating a path to its door, loudly singing "Hosannah."
What prompts this fanatical devotion? Pent-up nostalgia, at least in part. Still, I was a big fan back in the day myself, so when I heard about the new place, it didn't take me long to get out there.
It's a good-looking shop, bright and sunny and spick-and-span, and the menu still looks familiar after all these years, bringing back memories of such familiar Taco Tico favorites as the Taco Burger ($1.99) and the Sancho (a sort of burrito with lettuce and tomato inside, $3.99).
Prices have come up a bit since the '80s but remain affordable. A regular taco is 84 cents cheap; the menu tops out with a Mexican dinner combo at $6.39. Want dessert? You can finish up with something called the Choco Taco ($1.49).
Salsas come in four serve-your-own flavors from "mild" to "volcano," a long-standing Taco Tico tradition. "Green chile," oddly, is red.
The Texas-style "stacked" enchilada ($3.99) is a triple-decker stack of soft tortillas sandwiched with taco beef, yellow and white cheeses and a dollop of spicy red salsa. It's garnished with a short order of crispy white nacho chips with melted pepper cheese.
The No. 1 combo ($4.69) consists of a hefty beef, bean-and-cheese burrito and two fine tacos. They're small, gringo-style Tex-Mex, crisp hardshell tacos filled with a savory taco beef, shredded iceberg lettuce and tomatoes and shredded cheese.
So let's cut to the chase: How does Taco Tico compare with Taco Bell? The menu, if hardly "authentic," comes closer to traditional Tex-Mex than the Bell's "outside the bun" creations. But the real difference shows in Taco Tico's taco beef, which is finely minced meat, redolent of savory but not fiery spices, served juicy and hot. Environment adds another check-mark: Everything at Taco Tico seems fresh, the shop is sparkling, and – not insignificantly – the folks behind the counter are friendly, smiling and competent, with a welcoming attitude. It's an appealing combination of food and mood that makes you want to come back, even if it is a longish road trip. (If this venture succeeds, and it's looking mighty good at this point, management reportedly intends to open more Louisville properties soon.)
Taco Tico
5925 Terry Road (at Lower Hunters Trace)
449-9888
www.tacotico.com
On our way back to town, we pulled into a Taco Bell in Shively for a quick sample. This Bell shares quarters with a Pizza Hut, which has the curious effect of flooding the building with an odd blend of chili powder and mozzarella aromas, a dyspeptic combination frighteningly reminiscent of a really bad morning after the night before.
The Bell's taco (79 cents) was certainly passable as snack food. The hardshell taco was fresh and crunchy, a bit larger than Taco Tico's and perceptibly more yellow. Fillings came in puny rations. The meat was coarsely ground, dry and short on flavor. It was topped with minuscule portions of shredded iceberg lettuce and yellow cheese; tomatoes were AWOL. A packet of "fire" sauce fell short of the macho heat of Taco Tico's "volcano," and an odd sweet-fruit flavor detracted. Counter help was more taciturn than sullen. Taco Tico wins this round on both food quality and style points.
Taco Bell
4643 Dixie Hwy.
448-0023
www.tacobell.com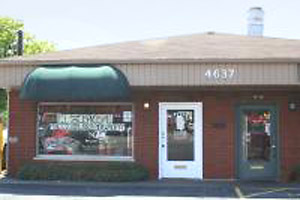 El Zarape is an authentic and friendly little family-owned taqueria on Dixie Highway.
As it happens, we made our first journey out to Taco Tico on a Sunday only to discover that it's closed Sundays. Who knew? (My wife says I should have called ahead, but what does she know?)
Fortunately, on the way back on Dixie, we spotted El Zarape, a friendly little family-operated taqueria so authentic that the proprietors speak only limited English. The menu is bilingual, though, and the dishes put fast food back into perspective.
Naturally I had to have tacos ($1.55). El Zarape's are the authentic Puebla style, two small, soft corn tortillas topped open-face with generous portions of meat, chopped raw onion and cilantro; add your own salsitas to your liking. Lengua consisted of good, earthy beef tongue in bite-size pieces. Al Pastor bore a ration of crunchy, dry fried-pork dice.
While we were there, we couldn't resist more good things: Caldo de Siete Mare ("Soup of the Seven Seas," available weekends only, $11.99), was an oversize bowl of dark-red, moderately spicy red-chile soup loaded with a king-crab leg, chunks of white fish, small oysters or mussels and more, with big chunks of long-simmered celery, onion and carrot.
Platillo de Pollo Adobado (seasoned chicken platter, $8.99) featured a boneless, twice-butterflied boneless chicken breast opened out to a large, paper-thin sheet, grilled and basted with a flavorful red-chile rub, accompanied with good, creamy frijoles refritos and outstanding Mexican-style rice. With a Coke and a Jarritos Tamarind Mexican soft drink, a filling Sunday brunch came to about $28, plus a $6 tip. Bring cash, as El Zarape doesn't take credit cards.
El Zarape
4637 Dixie Highway
435-1366