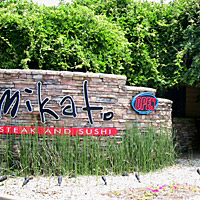 If you think of a Japanese restaurant, sushi may cross your mind, assuming you're a reasonably adventurous diner. Not so adventurous? Then the fun of Japanese slice-and-dice chefs showing off their utensil-tossing techniques at hibachi tables may ring your gong.

Adventurous or shy, just about everybody can appreciate the subject of today's sermon, the bento box. This attractive option, a Japanese food tradition for some 500 years, features a pretty, black-lacquered wooden box neatly divided into rectangular sections, each containing a different tidbit, each offering a delicious contrast of color, texture and flavor. (It's perfect for those who can't stand foods touching on the plate, but even the less compulsive can come to love a bento.)
Happily, you can find sushi, hibachi grills AND bentos – and much more – at Mikato Japanese Steak & Sushi in St. Matthews. This sizable, stylish restaurant recently opened in the much-renovated quarters that had housed Napa River Grill until that popular dining room's relocation to Westport Village. Old-timers will recall its original identy as Mamma Grisanti's, a family-style Italian eatery divided into dining sections that resembled the rooms of a house.
Mikato, which is locally owned and operated, has completely renovated the interior, turning what had been Napa River Grill's soaring wine-rack bar into a high walled, austerely decorated sushi bar long enough to seat 20 or so.
Much of the outer arc of the round dining space is occupied by hibachi-grill tables, each seating eight or so. The sushi bar is at the center, surrounded by smaller tables for couples or foursomes dining from the Japanese menu. Koi fish swim in a rock-walled pool filled with shiny pennies tossed in for good luck. Lighting is appropriately dim; colors tend toward a stormy gray, and the overall mood is one of Zen-style austerity.
The menu is extensive if not overly adventurous, with hibachi-grill dinner combinations ranging in price from $11.50 (for a vegetable dinner; chicken teriyaki marks the low end of meat and seafood dinners at $13.50), up to $33.95 (for the Mikato King, an everything-but-the-kitchen-sink combination). Hibachi dinners, assembled in courses by the grill chefs, include clear soup, green salad, fried rice, a shrimp appetizer and sauteed fresh vegetables in addition to the meat, seafood or poultry of choice.
The a la carte ("Wasako") dinner menu features a long list of appetizers and a shorter list of main dishes from $6.95 (for an udon noodle bowl) to $24.95 (for Tempura King or a shabu-shabu hot pot). Sushi, including "nigiri" fish-and-rice bites and the popular sushi rolls, runs from $1.50 to $15.95 per item, with combination dinners up to $35.
This time, though, we came with bento in mind. An expansive dinner bento is $19.95, but lunch hour is bento time at Mikato, with a number of options avaiable under $10.
I chose a spicy pork bento ($9.95) and my wife tried the teriyaki chicken box ($8.95). Both boxes were large and attractively organized, with a good portion of the featured item plus crisp, grease-free fried tempura, four small rounds of "California roll" sushi, a portion of fried rice and salad. I was particularly impressed with the pork, which was thin-sliced and tender, coated with a thick brown sauce hot enough to make a sweat pop out on my brow, served atop a portion of shredded raw cabbage.
We also sampled four nigiri-zushi from the sushi bar: Tuna, yellowtail, red snapper and mackerel (salmon was substituted for the mackerel, without explanation). All were estimably fresh but a bit loosely assembled; the fish weren't firmly affixed to the rice, and the rice balls tended to fall apart between plate and mouth.
A hearty lunch came to $36.53 plus an $8.47 tip, although if we had stuck with the lunch specials and skipped the a la carte sushi, which came to $17.90, we would have gotten out for about half of that.
Mikato Japanese Steak & Sushi
3938 Dupont Circle
891-0081