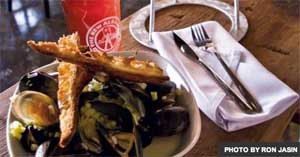 Mussels and a brew at Bank Street Brewhouse
LEO's Eats with LouisvilleHotBytes
With guest critic Kevin Gibson
Lovers of microbrewery beer now have another local mecca: The long-awaited Bank Street Brewhouse, an offshoot of New Albanian Brewing Company, opened its doors this month and is operating with a limited menu and limited seating in downtown New Albany.
If an early impression does justice to the end result, this brewpub will indeed have been worth the wait.
I visited during a recent evening when, in spite of the lightly publicized "soft opening," the small pub was mostly full, thanks most likely to the fact that the weather was warm and there were plenty of New Albanian beers from which to choose.

The bar and beer garden at the front features two overhead garage doors that stay open during warm weather. The bay doors open upon a dozen or so tables, a modern bar that seats another dozen or so patrons, and plenty of rail seating as well. (More dining space is available deeper inside the building, but it was not open on this night.)
The approximately 4,000-square-foot facility will also be home to a new brewing system, which will brew the bulk of the NABC beers going forward. But for now, eight taps sit ready to dispense New Albanian goodness like the Old 15-B porter, Hoptimus IPA and Elector Ale, among other s, brewed at the main facility on Grant Line Road.
The tables were occupied, so my friend April and I grabbed the two remaining bar seats. The friendly bartender poured me a pint of Kaiser, a German-style Pilsner, and informed us that only two of the lunch menu items were available: Pommes Frites ($4.95) and steamed mussels ($8.95). A chef's special of jumbo scallops ($12) was also being offered. We chose the former two (not a big scallops fan) and perused the menu in search of items to try next time.
One lunch item – the dinner menu is still being developed – that stood out was the Croque Monsieur sandwich ($7.95), featuring Black Forest ham, prosciutto and Emmantaler cheese with mornay sauce on Blue Dog wheat bread. (The Croque Madame version adds egg to the sandwich for an extra 55 cents.) There is also a roasted beet and goat cheese salad ($5) that includes frisée lettuce, roasted gold and red beets, bacon, walnuts, capriole goat cheese and creme fraiche vinaigrette dressing, as well as a Caesar salad ($4.50), and a "chef's whim" soup du jour for four bucks.
If you've read this far, you have no doubt noted the Bank Street lunch menu bears no resemblance to the pub-grub menu at Rich O's and Sportstime Pizza, the original home of New Albanian Brewing Company, which is of course the labor of love headed up by LEO beer write Roger A. Baylor. It is notable that the more upscale food at Bank Street is still affordable – and there is a commitment to using locally-produced ingredients whenever possible. (We overheard the bartender telling another patron this information.)
The fare is the work of Josh Lehman, who formerly was sous chef at Louisville's La Relais restaurant. Bank Street's menu is a French/Belgian focus, and if the lunch offering is any indication, the full dinner menu will be tantalizing indeed.
When our food arrived, we realized this was no ordinary pub. I can honestly say I have never seen French fries served with such flair – the browned, skin-on, thin-cut potatoes arrived in a white bowl atop a rack that held our choices of dipping sauces. Each order comes with three, but we ponied up an extra quarter to get an additional choice. I chose a Dijon mustard sauce, curry sauce and pesto, while April – whose taste buds are still developing – opted for good old-fashioned ketchup.
I must admit, this was a fun and unusual side dish – the curry sauce ended up being my favorite. The mustard was quite mild but nice, while I found the pesto to be a tad sweeter than my taste buds preferred. April gobbled up all the ketchup before I could try it, unfortunately.
The mussels were the highlight. Steamed in a mixture of ginger, lemon grass, white wine and coconut milk, we got about 18 to 20 shellfish that were cooked perfectly to enhance flavor and texture.
So many restaurants overcook mussels to the point they turn into bland-tasting erasers that I almost expect this every time I order them. This was not the case at Bank Street Brewhouse – these mussels were plump and tender, just north of feeling raw, with plenty of flavor. Delicious. And I washed them down by switching from Kaiser to Hoosier Daddy, a creamy imperial red ale. (This "crimson and cream" approach is a nod to Indiana University's sports team colors.)
In short, Bank Street Brewhouse, which has been in the works for some time, looks like a home run in the making for Baylor and his partners. From the modern atmosphere to the unbeatable brews to the unique menu, this one has "winner" written all over it. Let's face it: It would be tough to not like any pub that has gourmet French fries as one of its signature dishes.
Bank Street Brewhouse
415 Bank Street
New Albany, Indiana
(812) 944-7112
www.newalbanian.com/bankstreetbrewhouse.html