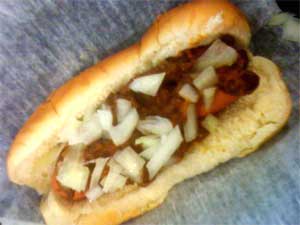 Vegan chili dog. Photo: Robin Garr
LEO's Eats with LouisvilleHotBytes
Speaking of creative eateries, Conez & Coneyz may be one of the smallest dining venues on Frankfort Avenue, but it's also one of the most eager to please.
When the owners chose to set up a hot-dog stand last year near the epicenter of an urban neighborhood rich in recovering hippies and seminary students (occasionally both embodied in the same person), they weren't all that surprised to hear an instant demand for a vegetarian dawg.
Ultimately, they sourced two dogs that weren't merely vegetarian but vegan: a Loma Linda brand item that turns to textured vegetable prote for almost-sausage flavor; and a Vegi-Dog made by Cedar Lake that's all-grain protein. One chilly afternoon, I tried the Loma Linda as a chilidog, topped with vegetarian chili and chopped onions.

The verdict: It was pretty darn good. Put it in front of me without mentioning it was meatless, and I never would have guessed. On close, critical examination, the chili had a hint of fruit flavor that I often find in vegan fare, and the dog was a bit softer in texture and milder in flavor than Conez & Coneyz's excellent Kowalski "snap" dogs (beef and pork) and Hebrew National dogs (beef only). But they could have fooled me … and the $3.50 price for the chilidog was right.
Conez & Coneyz
2716 1/2 Frankfort Ave.
897-7222
www.conezandconeyz.com