For a few brief, joyous moments of federal sanity last year, it seemed we were going to be friends with Cuba again. Thanks, Obama! But now the new boss has taken Cuba off the table for now. Thanks a lot, Donnie.
But if we can't easily go to Cuba, it seems that Cuba is coming to Louisville. Cuban immigration to Louisville accelerated so fast in the past decade that the local diaspora has attracted national media attention.
"Cubans have quietly become the fastest-growing immigrant population in Louisville," NBC News reported in August 2016. The New York Times came to Louisville last winter to check hour our Cuban community was responding to the death of Fidel Castro. "Quietly," The Times observed, pointing out that more than 10,000 Cubans now call the metro home, a number that had doubled since 2009. There's even a Spanish-language newspaper and blog for Cuban-born locals, dubbed "El Kentubano."
All this may help explain why the city has a growing flotilla of storefront Cuban eateries. Three of them bear variations on the name "Mi Sueño" ("My Dream"), and if you find that somewhat confusing, so does Jose Orlando Monasterio, owner of the two shops called Mi Sueño Cuban Express, at 3425 Bardstown Road and 4214 Bishop Lane.
After I wrote about Bodega Mi Sueño in the Bashford Manor area last autumn, Monasterio invited me to visit one of his restaurants, too. His 3-year-old venture in a former Taco Bell and Sonic on Bardstown was the first of the bunch, he said. "Please give us the chance to show our restaurants to the public and to show you also the quality and the good restaurant we have. I will really appreciate your help. Thank you and God Bless you."
How could I turn down such a sweet request? We dropped in on a Saturday, and sure enough: This place is really good. Monasterio and his staff are very friendly, and the revamped fast-food atmosphere isn't fancy, but it's clean and bright. Like the other Mi Sueño, it's a Cuban cafeteria-style operation that dishes out extremely generous portions of delicious, well prepared Cuban fare.
You can build a full meal – a "completa" – from your choice among four kinds of rice ($3 to $3.50), 10 meat choices ($8.99 for chicken, pork or fish, $9.99 for beef, and $10.99 for lamb). Most sides are free, as is a fountain drink during lunch hour. A Cubano sandwich with fries is $7.99, and Cuban pork tamales ($1.80), empanadas ($2.50), yuca croquettes ($1.80) and more are available a la carte, as are Cuban desserts (from $1.20 to $3.75).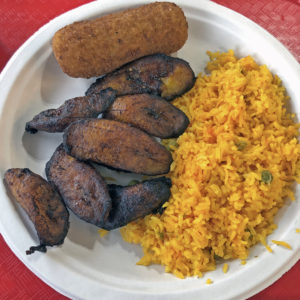 Plain white rice looked fluffy and steaming, and the classic Cuban congris (black beans and rice) is a meal in itself. Yellow amarillo rice, though, lured my eyes with its sunny golden color, studded with bits of peas and carrots, and followed through with rich herbal flavor. Cilantro rice was even better (assuming you love cilantro, and I do), flecked pale green with bits of chopped herb and gently scented with that familiar cilantro flavor.
An oversize lamb shank, pictured above, had been braised until the meat was falling off the bone but still juicy and toothsome. The braising liquid was rich and flavorful, a good topping for rice.
Charcoal-grilled chicken was wonderful. A sizable half-chicken was perfectly roasted, juicy and tender, aromatic with black pepper, under a smoky, crisp skin.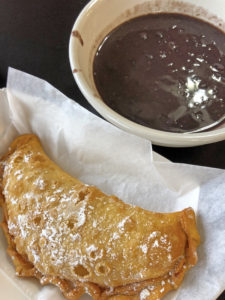 We loved it all: Generous sides of white yuca enhanced with tangy mojo sauce; fried, slightly sweet plantain; a flaky queso empanada and a delicious breaded-and-fried yuca rellena. A creamy wedge of flan and small, potent cups of cafecito, Cuban espresso, ran our tab to an affordable $26, plus a 20 percent tip.
Mi Sueño Cuban Express
3425 Bardstown Road
709-4526
facebook.com/MiSuenoCuban
Robin Garr's rating: 85 points
Another location: 4214 Bishop Lane, 458-1050