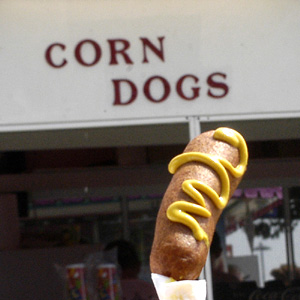 Ever seen a more artistic corn dog? Photos by Robin Garr
LEO's Eat 'n' Blog with Louisville HotBytes
(Food at the State Fair, Benedict's Garden Café)
Ahh, the State Fair. Marking the fullness of summer and the golden harvest to come, this annual celebration of nature's bounty opens a virtual cornucopia. Kentucky's farmers all but bust their galluses in pride as they show off the Commonwealth's finest farm animals and agricultural produce, and of course it's all good, healthy and natural.
And then there's the food. What could be more healthy or natural than corndogs, elephant ears and funnel cakes? Um. Well, at least it's good. Up and down the Midway, around the exhibition halls, hundreds of vendor booths offer a bewildering variety of tempting fare, much of it breaded, sweetened, sugared and, best of all, sizzling hot from the deep-fat fryer. One of my favorite Midway food booths, somewhere down near the Tilt-A-Whirl and the Headless Woman ("Still Alive!") puts it right out front in big red letters: "Ryan's FRIED DOUGH."

I generally try to rush out on opening day to get my annual dose of unhealthy fried food and things-on-a-stick, but if you've procrastinated, you still have a few days left before this year's session calls it a wrap on Sunday. Here are a few dining recommendations following a foodie's meandering hike around the sprawling Kentucky Fair & Exposition Center.
First things first. Whether you're seeking out a cardiologist's nightmare or trying to avoid it, you need to know this. The most outrageously in-your-face unhealthy (and delicious) item on the grounds is unquestionably the fried Oreo sundae ($4), a batter-dipped, deep-fried Oreo cookie topped with vanilla ice cream and your choice of syrup. I'd love to meet the crazed inventor who came up with this idea so I could ask him a couple of highly technical culinary questions, such as, mainly, "What were you thinking?"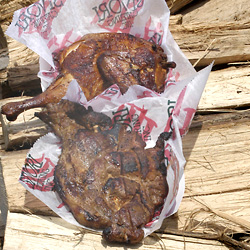 Eating healthy: Natural food is one of many sub-rituals at the annual ritual known as the State Fair. Things like corn dogs and pork butt on a stick, a huge, thin hunk of pigmeat about the size of a first-baseman's mitt.
In a rare display of common sense, I passed on this confection, but couldn't resist the lure of a perennial State Fair favorite, the corn dog. The portable equivalent of Beef Wellington or a meat-eater's variation on the classic Louisville rolled oyster, it's a standard tube steak served en croute, deep-fried golden brown in a thick cornmeal batter coating, served on a handy stick for portable enjoyment, ready for you to apply ballpark mustard, ketchup or both. They're $3 at most booths, although I spotted a jumbo model for $4 and, at one Midway booth, corn dogs for a mere dollar per dog. There's even a jalapeño corn dog ($3.50), which I really wish I had seen when I still had room for it. It's on my list for next time.
Crunchy, crispy, golden-brown and delicious, frying is clearly the cooking method of choice at the Fair. I can't see much difference between the funnel cake ($4) and the elephant ear ($4); they're both sweet, deep-fried doughnut batter in oversize free-form hunks, dusted with powdered sugar, much like a Krispy Kreme gone badly awry. Should you wish to create the illusion that this could possibly be good for you, a $3 surcharge will get you a fresh fruit topping, your choice of cherry, apple, strawberry or, um, chocolate, caramel, whipped cream and cinnamon.
Something called Grater Taters ($4) come off a trademarked shredding machine that methodically converts fresh potatoes into thin, curly ribbons that fry up into something like long, inter-connected potato chips. If that's not fat enough for you, add a buck for a topping of melted cheese. Or maybe it's "cheez." "Cheez" fries are available, too, $3 small, $5 large. Also prepped by some kind of wacky machine is the Bunyon Onion ($6.37), a whole white onion that's decapitated, batter-dipped and deep-fried until it opens up into something resembling a nightmarish but delicious golden-brown and crusty flower.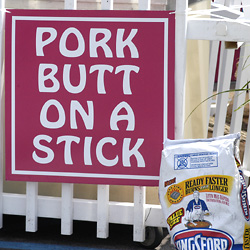 The sign says it all, but if you need pinpoint directions, you can find this delectable just outside the South Wing entrance.
If you're looking for a slightly more serious dinner, large tents flanking the circle out front of Freedom Hall host a State Fair branch of Louisville's popular Mike Linnig's with its estimable fried fish, and a barbecue operation called The Q. My favorite stops, though, are within the Great Kentucky Cookout, a bit off the beaten path in a large tent just west of the West Wing and south of Broadbent Arena. This is where all of the state's major agricultural trade associations show off their farm products, ranging from lamb sandwiches from the Kentucky Sheep and Wool Producers booth to massive pork-chop sandwiches from the Kentucky Pork Producers. Other worthy participants include the Kentucky Aquaculture Association, the Kentucky Poultry Federation, the Kentucky Corn Shack, the Kentucky Cattlemen's Association and, if you're still hungry, the American Dairy Association of Kentucky, all offering sandwiches and light fare in the $5 to $7 range.
I was fixated on food-on-a-stick, though, and after examining impaled-food options ranging from ice cream to pork chops to chicken to bananas on sticks, I was entranced by the offering at Sivori Food Services, just outside the South Wing entrance: Pork butt on a stick ($7)! The name alone demands a taste, and the result was all I could have hoped for: A huge, thin hunk of pigmeat about the size of a first-baseman's mitt but much more tender, it was transfixed with the requisite stick and seared over coals, salted and served for one's walking around enjoyment; no knife or fork required. These folks also offer excellent grilled chicken ($6 for a half-chicken) and other dishes prepared on the spot by a group of grill chefs who looked mighty competent to me.
If you eat enough, the cost of a day at the Fair can quickly creep right up there toward the price of dinner at a Bardstown Road bistro, not to mention that admission is $7 a head for adults plus $5 for your car before you take the first bite of corn dog. But it only comes around once a year, and you can go to Bardstown Road any time. Fair time? I'm there.
No animals were harmed …
(CLOSED: Benedict's Garden Cafe went out of business late in 2006.)
Can a carnivore find happiness at a vegetarian café? Absolutely, says meat-eater LES POLLITT, who submits this account of a pleasing lunch in which no animals were harmed, or even spoken to roughly. He took his vegetarian wife to Benedict's Garden Cafe, just off Eastern Parkway at 1519 Baxter Ave. (479-7777), and lived to tell this tale:
First, a confession. I'm a certified meat-eater. My grill is a stainless-steel monster with six burners, a smoker and a rotisserie. His name is "THOR." Thor can smoke ribs like nobody's business and grill a dozen chicken breasts without batting an eye, err, burner. My wife is a vegetarian, and yet somehow we manage to coexist in our Old Louisville home. Since she has to put up with meat products every time she opens our refrigerator, I was more than happy to go along with her to Benedict's. It is an all-vegetarian eatery, with some vegan options for those who not only shun animal flesh but even products made by animal labor. My wife, who is usually limited to two or three menu items when we go out, was in heaven here. The entire menu was devoted to things she can eat without worrying what meat product might be lurking.
Since meat wasn't an option, I ordered the Tofurky Reuben sandwich, plus seasoned potatoes from a long list of sides that also included seasonal fruit, kettle potato chips, vegan potato salad and vegan macaroni and cheese. My wife chose the BBQ veggie pita with seasonal fruit.
There are roughly 13 tables in the cozy dining room and three tables outside, as well as several couches for just relaxing with fresh brewed coffee.
Our Diet Cokes were delivered in cans with large glasses of ice immediately. (There's also a large juice bar.) Our lunches were delivered in a quick five minutes. The flavor of the grilled strips of Tofurkey combined with the cheese, 'kraut and Thousand Island dressing was fantastic. The seasoned potatoes were perfect, too: Red potatoes were seasoned just right with salt and pepper and probably a dash of Italian seasoning. My wife's BBQ pita was stuffed full of grilled zucchini, yellow squash, mushrooms and onions. A small bite proved it tasted as good as it looked. The BBQ sauce had just enough zip, but didn't cover the flavors of the veggies.
We finished our meals and would have enjoyed lingering, but had to change into our "Rescue Ranger" costumes to help friends with car trouble. Still, on the way out we picked up a couple of cookies and a brownie from the display case. Both cookies were gone before we made it down Bardstown Road, and the brownie didn't last much longer.
Subsequent visits have proven to be just as rewarding. Meat eaters and vegetarians alike can find many meat-free ways to satisfy hunger at Benedict's Garden Café.
Nibbles
Mangia, Mangia at Festa Italiana
The Italians are back? Mamma mia! We never knew they had left the building. Festa Italiana is back, anyway, and the organizers say this Highlands event will be even bigger and better than its inaugural outing last year. Festa Italiana turns the grounds of St. James Church, 1826 Edenside Ave. (at Bardstown), into an Italian-American homecoming, with music and dancing and food – lots of food. Festa Italiana runs all weekend Sept. 8-10, Friday evening, Saturday afternoon and evening and Sunday afternoon. The Pino Marelli Trio from Detroit will play authentic Italian music, and pizza vendors Tony BoomBozz, Spinelli's, Wick's, Bearno's, Snappy Tomato, Domino's and Papa John's will be tossing pies; look for pizza-eating and spaghetti-eating contests and more. Mangia! Mangia!
Send me in, coach!
If you like to cook but think a little coaching might be just what's needed to put you on top of your game, here's a chance to learn a few new chef's-knife chops from some of the city's top chefs and cooking instructors: Gourmet for Everyone in Middletown, which bills itself as the city's new "fine food market and cooking studio," will announce its Early Fall cooking classes at the end of this week. Courses will be on weeknights from 7-9 p.m. in Gourmet for Everyone's modern kitchen at 111 S. English Station Road. Places will fill fast, so if you're interested, you'll need to hurry to get on the mailing list. Drop by the store, call 253-9656 or jump on their Web site, http://www.gourmetforeveryone.com.