By Robin Garr
LouisvilleHotBytes.com
Chef Anthony Lamas wrapped a towel around the handle of a screeching hot black iron skillet, swung around and showed off a dozen beautifully seared fresh-caught dry scallops the size of baseballs to an eager crowd.
"This is how you do it," he said with a smile. "Dry scallops, never stored in liquid. Season them, slap them in a dry skillet as hot as you can get it, and don't turn them until they come loose."
A dozen eager foodies smiled with hungry anticipation. Before long they'd be digging into these goodies, after watching Lamas plate the finished beauties atop a pool of golden beurre blanc, a scoop of heirloom Carolina Gold rice and a scattering of perfect green peas.
So what were all these people doing in Lamas' kitchen watching him cook and listening to him spin anecdotes about food and cooking, his life as a chef, and his love for restored historic Volkswagens?
For starters, this didn't play out in the kitchen of Lamas' restaurant Seviche on Bardstown Road. He was in the commercial kitchen at St. Matthew's Episcopal Church, 330 N. Hubbards Lane, where he was donating his time and efforts as the first outside speaker in the church's Skill Sharing program.
Skill Sharing classes
Skill Sharing classes, inspired by a grant from the Collegeville Institute in Minnesota, raise money through admissions for classes taught by church members on a hobby or profession to which they feel strongly called.
Proceeds of these classes, including the $100 per person paid by the 12 guests in the kitchen with Lamas, support AMPED Louisville, a black-owned business accelerator in West Louisville.
I invited Lamas to present this class at St. Matthew's because I've been following his work for maybe 25 years now, since he arrived in Louisville from California in the 1990s and got to work in local restaurant kitchens. I first caught up with him at a little place called Picasso on lower Frankfort Avenue, where he was making amazing South American food in a town that was then just learning what real Mexican food was like.
He and a partner opened Jicama on Bardstown Road in 2000, and five years later he took over the space and turned it into Seviche, a Latin Restaurant. Over the ensuing 17 years he's made Seviche a local landmark, turned up often on Food TV, starred at major food festivals, been invited to James Beard House repeatedly and nominated semifinalist for James Beard Foundation's Best Chef: Southeast four times along with dozens of other awards and national media mentions.
To my delight, he eagerly accepted my invitation, and the dozen $100 tickets to join him in our kitchen went fast.
"I love his creative approach to cooking, his firm commitment to sustainable seafood and farm-to-table cuisine," I said in my introduction to his evening event on May 12. "And I think the way I described his cooking style in a 2008 review still fits just fine: You could describe Seviche's fare as 'Nuevo Latino,' but that moniker seems too pat to fit Lamas's distinctly personal and innovative style, which touches on California, where he grew up; echoes his mother's Mexican heritage and his father's Puerto Rican roots, and ranges across the Americas."
A three-course meal
Lamas prepared a three-course meal for the event, bringing in three big boxes full of prepped food and ingredients. Some of the components, like a finished beurre blanc and the chocolate cake bases for tres leches cake, had been prepared in advance, much like prep chefs would have gotten the basic work done before the executive chef comes in to finish the job.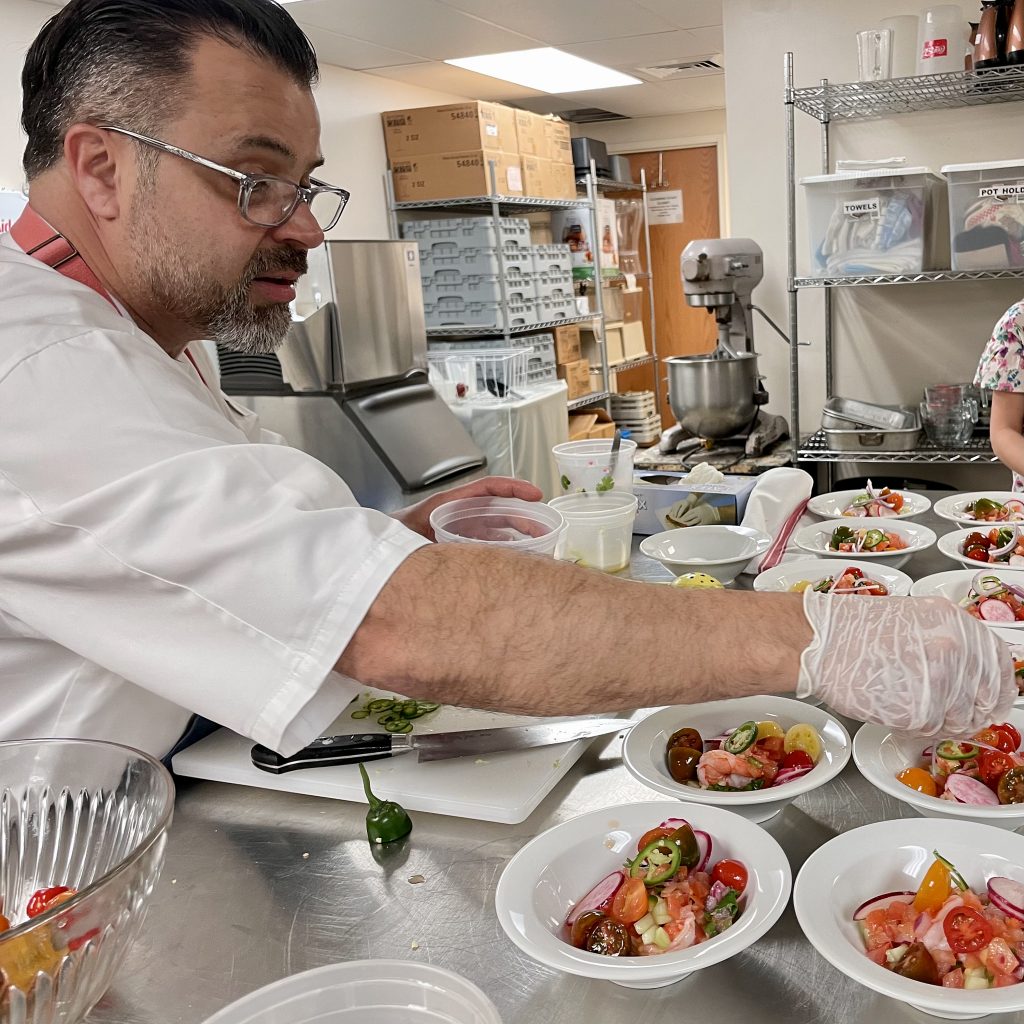 He made his first course from scratch, though. Of course it was a seviche, his restaurant's trademark dish. Explaining it as he worked, he pointed out that it's variously spelled seviche, ceviche, or cebiche in different parts of South America and Central America; you may find more than one of those forms on Seviche's menu!
The dish, he explained while slicing, chopping and plating bright vegetables and beautiful wild-caught shrimp, is seafood or fish "cooked" not with heat but by marinating in acidic citrus juices, then mixed with, in this preparation, halved purple and red cherry tomatoes, red onion, thin-sliced radishes, slices of jalapeño, and a splash of the spicy mixed marinade juices traditionally called leche de tigre … tiger's milk!
How Anthony Lamas became a chef
The group adjourned to a large square table to devour the dish while Lamas talked about his young life in California's agricultural Central Valley, where he was active in 4-H and Future Farmers of America and did odd jobs in his father's Spanish restaurant.
It was a background, he said, that nudged him in the direction of restaurant work and an appreciation for farm-to-table cookery. Later, he got a jump start in restaurant work through the San Diego Culinary Apprenticeship Program under Chef Jeff Tunks at the Loews Coronado Bay Resort.
When Lamas moved to Louisville to follow a girlfriend, Tunks introduced him to Chef Cathy Cary at Lilly's, who gave him his first restaurant job here. He worked at several Louisville restaurants before opening Jicama on Bardstown Road with a partner in 2000, When that partnership ended in 2005, Lamas opened Seviche in the same space, and he's been there ever since.
Back in the St. Matthew's kitchen, Lamas finished and plated the seared scallops and served them to great acclaim; then the tres leches cake – a delightful finish – simply required assembly. He drenched the chocolate-cake bases with condensed milk and heavy cream, garnished them with raspberries and a tiny spring of mint.
It was an amazing meal, and a great way to meet and get to know a leading Louisville chef and his path from California farm kid to culinary fame.