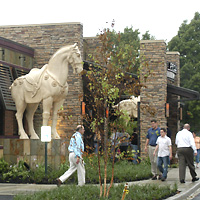 Pardon me if I seem dense, but I'm still having a hard time figuring out just why so many people are willingly lining up for a wait of two to three hours to dine at the two hottest new spots in suburbia – P. F. Chang's and The Cheesecake Factory.
We've checked them both out now – Chang's twice – and while I'll grant that they're both well designed, staffed with competent people and serving food that ranks well above the median for corporate chain fare, still … three hours? Give me a break!

Now, you can minimize the delays if you play it smart. We beat the system at Chang's, during its first week in business, by dropping in, getting on the list, and leaving my cellphone number. Then we wandered down the road to kill an hour or two in Barnes & Noble with books and coffee, returning to the restaurant about a half-hour before our table was ready. Another day – a Sunday afternoon – we dropped by around 2 p.m., between the lunch and dinner rush, and got in with only about a 45-minute wait. And yeah, they do take reservations.
At The Cheesecake Factory, concerned by similar reports, we arrived well before noon on a weekday and found two lines snaking back from the entrance doors across a plaza and into the parking lot. Tough-looking servers metered in a few supplicants at a time in order to maintain a reasonable flow inside. This was a profoundly frustrating experience for those waiting outside, but in fact, the wait was only about 15 minutes. Piece o' cake!
The whole thing still makes me wonder, though. Even though the food was good enough for chain fare, we didn't see three hour waits when Seviche reopened this summer, and Seviche is a far, far better restaurant. There's never a line at Oriental House or Jasmine, two simple, appealing family Chinese restaurants that offer seriously authentic Chinese menus and encourage Westerners to try them.
If you have a theory about this, I hope you'll tell me. Meanwhile, all I can think of is that suburbanites are just plain different from city folk. We asked the nice couple next to us in The Cheesecake Factory what brought them there. "We love the one in Winter Park, Florida," she said.
Ahh. That explains it …