If you think "District 6" is an odd name for a Vietnamese restaurant, think again. This moniker honors the heritage of its owners, Hanh Duong, Tram Thai, and Vinh Thai, whose parents hail originally from the District 6 neighborhood in Ho Chi Minh City, Vietnam, formerly known as Saigon.
Ho Chi Minh City's District 6 is part of the city's Chinatown, loaded with Thai, Chinese, and Vietnamese restaurants and bars as well as a huge flower market, Buddhist pagodas, and craft stores offering iconic conical nón lá bamboo palm leaf hats.
The restaurant picks up some of that vibe in its decor: nón lá hats line a wall; abundantly filled flower boxes hang on another wall, and a golden Buddha statue sits on a divider. The walls of the long, narrow room offer a colorful mix of exposed brick, subway tile, and Wedgewood blue. A long banquette lines one side, with a short bar on the other. Undraped black tables at the front and back are served by bright-yellow metal chairs.
The menu offers familiar Vietnamese dishes, but adds culinary forays to Thailand and China and even Mexico.
The main menu can get a bit spendy if you go for a fancy fish dinners such as black cod steamed in banana leaves ($29) or crispy fried whole fish ($21). The seven other signature dishes (entrees), though, land in the affordable range from $10 (for spicy bacon, egg, and cheese fried rice) to $16 (for several dishes including baby back ribs, drunken beef, and Hanoi chicken). Pho and other noodle bowls are all $12, and small plates and shareables are $6 (for spicy street corn or crisp fried tofu) to $12 (for several items such as spring rolls, shrimp rolls, wontons, and more).
For an even better deal, the lunch menu offers sharables, sides, and a combo including a generously portioned entree, a side, and a soft drink, all for $12.
Beverages include Coke products, fruit teas, Vietnamese and Thai iced coffees, and a full bar, of course, with a short wine list, local craft and domestic taps, and a good selection of bourbon. This is the St. Matthews nightlife strip, after all, and this new spot should fit right in.
We took them up on the combo offer and built abundant meals on Vietnamese cari chicken and a veggie banh mi (both $12 including a side and drink).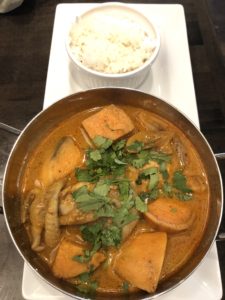 "Cari" means "curry" in Vietnamese, but we didn't pick up on that at first, and our server neglected to inquire about heat level. Accordingly, we got a mouth-smacking level of fiery heat, a thing that bothered Mary a lot more than it bothered me. She's right, though: Chile-pepper icons on the menu would be helpful.
Let's keep one thing straight, though: Hot or not, this dish was good. A metal serving bowl with two handles bore a rich, thick chicken broth that breathed a haunting aromatic complexity with notes of lemongrass and clove; oily red swirls floating on top betrayed the lurking heat. It was loaded with big chunks of perfectly cooked sweet potato, deeply browned onion, and two richly flavored whole chicken thighs, skin on and bone in. It was served with a small ramekin of steamed white rice.
Think of a banh mi and you'll likely envision a short baguette stuffed with a carnivorous mix of pork, ham, or sausage and a schmear of pork pate. But remember those Buddhist pagodas: Lots of Vietnamese are vegetarians, and a combo of sliced fried tofu and avocado and a rich mushroom pate along with the usual jalapeño, onion and cilantro made a delicious alternative. Pictured at the top of the page, it came with a small, well-made tofu-and-avocado summer roll.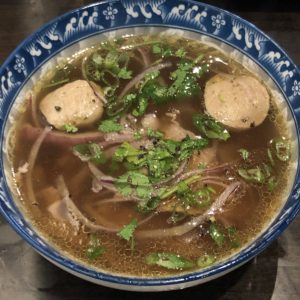 A half-order of beef pho ($6) was still a sizable portion. A piece of chewy, flavorful beef and a light meatball swam in a dark, clear broth with a rich beefy flavor and lots of black pepper. Thin rice noodles under the meat was cooked just right.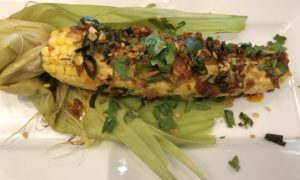 Spicy street corn ($6) looked an awful lot like a Mexican elote , but this is a case of cultural parallelism, as this cob of spicy grilled yellow corn is familiar Vietnamese street fare, with a crunchy, fiery topping of crisp-fried garlic and red chiles.
A side salad looked like a standard romaine and cherry tomato mix, but it was cold and refreshing and added some interesting, unexpected Southeast Asian touches such as chopped Thai basil leaves, pickled daikon, and a sweet-tart rice-wine-vinaigrette.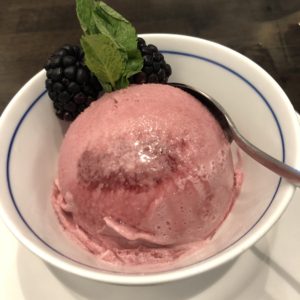 Blackberry wine sorbet ($3) made a tart and palate-cleansing finish. Creamy and sweet-tart, a generous scoop was garnished with mint and two juicy blackberries.
We probably ate more than we should, but I'm not sorry. It was all really good, and we still managed to hold the toll to $40.98 plus a 20 percent tip.
District 6 Gastropub
3930 Shelbyville Road
873-5561
eatdistrict6.wixsite.com
facebook.com/EatDistrict6
instagram.com/EatDistrict6
Robin Garr's rating: 89 points.
Noise level: The sound level swelled a bit as the lunch hour crowd grew, but conversation remained easy. (Average sound was 72dB, the level of normal conversation, with occasional brief, shrieking peaks to 90dB.)
Accessibility: The restaurant and restrooms are generally accessible to wheelchair users, although a threshold bump at the entrance might be a chore for some.