By Robin Garr
LouisvilleHotBytes.com
Blue Dog Bakery celebrated a quarter-century of making great bread for Louisville's people this year, and it's hard for me to believe that it has been that long.
It feels as if it was only recently, but it was actually way back in 1998 that I knocked on Blue Dog's back door in the dark hours before dawn and met owners Bob Hancock and his wife Kit Garrett.
I was there to write a story about this new artisanal bakery, an assignment that I sought so I could get a look at this fascinating new Frankfort Avenue spot. I even got to peek inside its 45,000-pound, $50,000 Llopis ("YO-pee") Spanish bread oven that Hancock purchased and got installed with the help of an expert from Barcelona who came over to Louisville to help.
Hancock had already built a wood fire in the oven, and I would spend the rest of the morning looking on, talking, and learning as this bright new bakery and cafe woke up around me. They told me about how they had come back home to Louisville from the Pacific Northwest with a bucket of natural bread starter bubbling in the back of their van. And I heard about how the name of the bakery perpetuates the memory of a beloved dog.
Mostly, though, I absorbed the look and feel and taste of an exceptional artisanal bakery. And I was impressed by the obvious desire for perfection that infused Hancock's and Garrett's work and that still shows in the quality of the bread that has become an iconic part of Louisville culinary life.
 
That same insistence on seeking perfection would later inform their second property, Red Hog, an artisanal butcher shop and restaurant that opened just down the street at 2622 Frankfort Avenue in 2017. Red Hog features sustainable, humane, and ethically raised pork, beef, lamb, and poultry from local farms.
Blue Dog continued operating as a commercial bakery during the pandemic, but its public cafe closed for a while. I'm glad it's back. It is one of the city's favorite spots for European-style cafe dining, with a bill of fare largely based, of course, on Blue Dog breads and Red Hog meats, plus artisanal coffee drinks, wines, and an appealing range of pastries and desserts.
The café is open for breakfast and lunch Tuesdays through Saturdays, with counter service from 7-9 a.m., table service from 9 a.m.-2 p.m., and retail bakery hours continuing at the counter until 4 p.m.
The café menu offers four or five breakfast and brunch dishes priced from $12 (for a fried egg and cheese sandwich) to $16 (for a smoked-salmon tartine or poached egg and bacon flatbread). Soups and salads, available from 11 a.m.-2 p.m., are $9 (for the soup of the day) to $15 (for a cobb salad or salade niçoise).
Sandwiches are all $12 including a choice. of side; topped flatbreads are all $16. They're available from 11 a.m.-2 p.m.
Flatbreads look a lot like pizzas, which is fine with me; and that goes double for Blue Dog's flatbread fitted out with Red Hog sausage and pepperoni ($16, pictured at the top of the page). A thick, puffy whitebread crust, tender and full of yeasty holes, had been hand-formed into a long oval. It was dressed with a thin coating of thick, slightly sweet tomato jam and a mix of mozzarella and provolone cheeses that blanketed chunks of cooked ground sausage and thin-slices of excellent handmade pepperoni. Earthy black kalamata olives and fresh green arugula completed a delicious pizza-adjacent dish.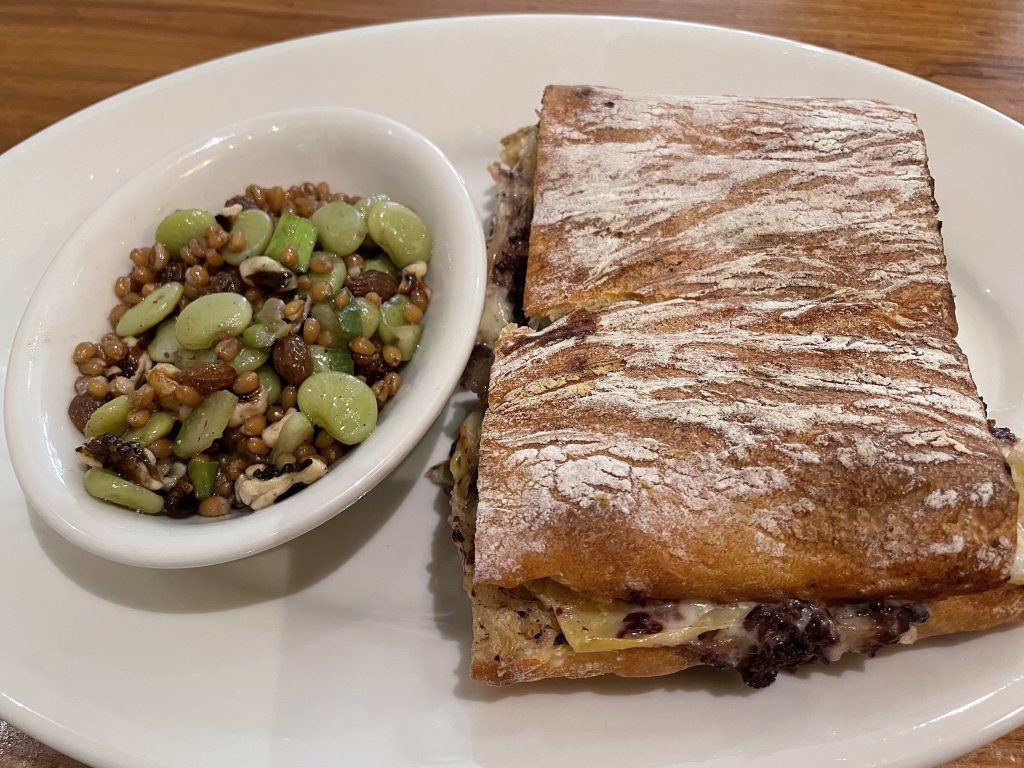 A grilled artichoke and eggplant sandwich ($12) also made a filling and delicious lunch. A large square of Blue Dog's chewy, wheaty Pugliese bread was sandwiched with layers of mild goat cheese, roasted red bell peppers, funky kalamata tapenade, and mozzarella, all surrounding a generous portion of tiny bits of artichoke and sliced roasted eggplant. Squished and toasted panini-style until the bread was gently crunchy, it was one of the best sandwiches I've enjoyed lately.
A side dish of wheatberry salad was built on a portion of wheat berries – tiny, tan, chewy whole wheat grains – mixed with plumped golden raisins, chopped walnuts, small lima beans, and thinly sliced celery rounds. Dressed with a sweet vinaigrette, it's a healthful salad that's been on the Blue Dog menu since the very start.
Chocolate mousse cake ($7) made a great finishing touch. A round of mousse was thick yet airy, intensely chocolatey and complex, with a blend of chocolate flavors playing together, not too bitter and not too sweet. Built on a base of chocolate cookie crumbs and topped with whipped cream, it was an impressive dessert.
With an oat milk latte ($3.75 plus a dollar upcharge for the oat milk), lunch for two was $36.68, plus a $10 tip.
Blue Dog Bakery & Cafe
2868 Frankfort Ave.
899-9800
bluedogbakeryandcafe.com
facebook.com/bluedogbakeryandcafe
instagram.com/bluedogbakeryandcafe
Noise Level: Blue Dog is almost always busy, and the crowd makes its presence known in a steady but rarely ear-shattering buzz. Its 68dB average sound level is within the range of normal conversation.
Accessibility: The entrance and restroom appear accessible to wheelchair users, but the small dining room is packed with tables and chairs and may be challenging to negotiate in a wheelchair.