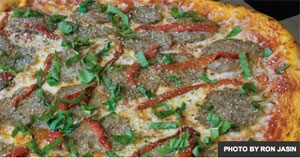 "Who's got the best pizza?" Ask this question among a bunch of foodies and you're bound to ignite an active debate.
Unfortunately, this question is stupid.

Pizza, an immigrant American dish like chop suey or tacos, has evolved into such a broad range of variations that it's impossible — or at least not particularly sensible — to declare one "best" without narrowing the question as to type.

Born in Naples and transported to New York City and the East Coast by Italian immigrants, pizza evolved as it spread across the nation. New York, foldable, bread-like or crackery, simply garnished or piled on high? Mozzarella, provolone, cheddar or St. Louis Provel? Add seafood and caviar as the Californians do? Cut it in wedges or Midwestern-style "party cut" squares, as in Southern Indiana's iconic Pizza King?
It all depends on where you live and what you like. Chicago does it deep-dish; some dare call it "casserole." Louisville pizzerias like Impellizzeri's, Clifton's and Wick's pioneered a local style with ingredients piled high until a pie makes a meal or maybe two. Lovers of the New York style argue less is more, except perhaps when it comes to cheese. And some lament the lack of proper wood-fired pizza ovens in the local community since the loss of Primo last year.
So when you ask what pizza's the best, you really need to qualify that question.
And if your answer is New York Italian pizzeria style — and we're not talking the ubiquitous street-corner pizza, but serious pie like that served at Patsy's or DiFara's or John's — we have a contender in Papalinos NY Pizzeria, newly arrived in the club zone on Baxter Avenue.
Run by Chef Allan Rosenberg, who's worked at a number of upscale local eateries including the admired but short-lived Danielle's, and his associate John Browne, Papalinos offers a limited menu of pizzas (one 18-inch size fits all) sold by the pie or the oversize slice, calzones, breadsticks and a short list of salads and desserts. Soft drinks and beer are available in bottles and cans.
Papalinos builds a big, basic pie — Rosenberg's 18-incher, hand-formed and close to the diameter of an irregularly shaped manhole cover, starts with a thin crust (they use the same flour as Louisville's Blue Dog Bakery, he boasts). It's topped with discreet, balanced portions of whole-milk mozzarella, sauce of Italian plum tomatoes, earthy grated Pecorino Romano cheese and dashes of oregano and snipped basil leaves. Eat it au naturel, and you'll pay a reasonable $14 for the whole hulking pie or $3 for a slice that's big enough to flop over the sides of a paper plate and comes close to making a light lunch for two.
Want toppings? Choose from any of a dozen high-quality options (including such goodies as homemade sweet Italian sausage, thin-sliced rounds from giant meatballs, crisp Italian pancetta and much more), at $1.50 per topping for a whole pie, 25 cents per item on a slice. Then, just as in a New York pizzeria, they'll add your toppings, pop the pie or slice back into the super-hot pizza oven and flash it until it's hot and bubbly.
Don't overlook the veggies, which include such offbeat choices as in-house roasted red peppers, sautéed garlic spinach or a mix of mushroom varieties. Hate tomatoes? The NYC-style white pie ($16 for an 18-incher) is for you: It's topped with whole-milk mozz, whole-milk ricotta and Pecorino Romano cheeses, oregano and basil, black pepper and garlic oil for an all-white, all-cheese pie with no tomato sauce at all. (The menu doesn't mention toppings, but I'm pretty sure they'd accommodate a request to lay down a topping of garlic spinach to make a NYC-style spinach pie, a choice that would make Rachael Ray, or me, go "Yumm-o!")
I'm a big fan of NYC-style pizza, which sticks a bit closer to the Italian original than most Midwestern variations. By that standard, Papalinos makes the case for me. Thin, crisp, bread-like crust gains a light smoky char from high heat; tasty and textured tomato sauce and creamy, molten mozzarella are impressed with a light hand, with extra credit for high-quality toppings. We've been in repeatedly and left impressed every time.
Sausage is formed in juicy marble-size balls, redolent with the scent of fennel. Meatballs are dense and beefy, golf ball-size, sliced into thin rounds for pizza topping. Anchovies are served with their oil, a calorific but flavorfully potent approach. Garlic-sautéed spinach is a healthy topping indeed, and roasted fennel, a frequent special, adds an unusual veggie touch with its subtle anise flavor. The white pizza is cheese-times-three, with creamy florets of ricotta piped on here and there. Want salad? The house salad ($6) is a tasty mix of greens, tomatoes, onions, red peppers, Kalamata olives and crunchy croutons in a light vinaigrette.
Slices, as noted, are huge, making it easy to get out of lunch under $15 for two, plus a few bucks for the tip jar.
Papalinos NY Pizzeria
947-949 Baxter Ave.
749-8525
Robin Garr's rating: 88 points