Well, here we are again, another week that finds me torn between two new spots that feature cheap, delicious world cuisine: Bodega mi Sueño in West Buechel dishes out mouth-watering Cuban fare in oversize portions in the casual setting of a traditional bodega. Ngon Appétit in Clifton Heights offers a short but tasty list of Vietnamese fare with a hint of the French accent that a colonial empire left behind.
Let's go to both!
But first, a quick pronunciation lesson! "Sueño," pronounced "Sway-n'yo," means "dream." "Ngon" is a stickier wicket for English speakers to work our tongues around. With a little mentoring from the friendly woman behind the counter, I think I got it down pat: Say the word "sing." Hold on to the "ng" sound, and segue it into the "on" bit. Too hard? Maybe you'd better go ask her for yourself. "Ngon" in Vietnamese means "tasty," and it rhymes with "bon," so tack on the "appétit" and you've got a Vietnamese-French pun.
The big-city bodega is an urban institution, a Latinx mini-grocery, a busy, crowded shop with a bakery counter and a cafeteria line in the back. You'll find one on just about every street corner in Spanish-speaking neighborhoods in NYC or LA or Miami. In Louisville, Bodega mi Sueño and other bodegas have evolved to meet the suburban habitat of Louisville's Latinx diaspora. Rather than being in an old urban storefront, Bodega mi Sueño is in a shiny shopping center space, just down the way from Target and Walmart and the new Costco.
The food is really tasty homemade Cuban, and they scoop it up in huge portions. The backlighted menu board over the cafeteria line offers a dozen dishes, with photos to assist the Spanish-impaired, all for around $5. Just about everyone seems to choose the completa, though, a huge combination platter with your choice of main dish for $9.99.  The staff is friendly. English is very limited, but a little Spanglish and a lot of pointing will get you what you need.
My brother, Matt, visiting from Lima, Peru, my sister, Amy, in from Irma-battered Florida's Space Coast, and Mary and I dropped in the other night and covered a large table with overloaded plates. We started with platters of rice (your choice of standard white, fluffy and tender; deep yellow amarillo, colored with turmeric and mixed with bits of boneless chicken; frito, fried Cuban-style, or congris, mixed rice and black beans), and full-size soup bowls loaded with sweet black beans or tender red beans, both studded with bits of crispy pork. Maduros, fried plantains, were exceptional, slightly sweet rounds of banana-like fruit cloaked in a crisp fried surface; and yuca, the creamy Caribbean root vegetable, steamed with red onions.
Lechon, Cuban-style citrus-marinated, roasted, pulled pork, was good, although it might have been even better if we had come for lunch. By dinner time it had become a little dry. It was still tasty, though, not at all greasy, with delicious crisp dark roasted edges.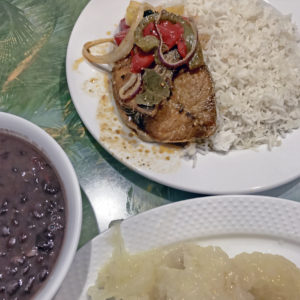 Sierra mackerel, a steak cut crosswise through the fish, was firm-fleshed with that deep mackerel flavor that you either love or hate; it was braised in a savory dark-brown sauce loaded with onion, mild red pepper and aromatic bay leaf.
With bottled water and a Jarritos Mandarina soft drink, four of us paid $9.99 each, plus a 25 percent tip.
Bodega mi Sueño
3646 Mall Road
454-8334
facebook.com/BodegaMiSueno
Robin Garr's rating: 85 points