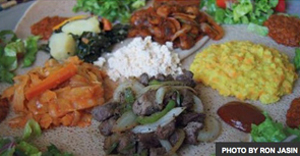 Breakfast plate at Queen of Sheba
LEO's Eats with LouisvilleHotBytes
Let's face it: Breakfast can be as boring as, well, a bowl of oatmeal. Even such treats as ham and eggs and crispy bacon just don't get one's motor running in the morning anymore. Mexican desayuno at Zapata's Corner or migas and breakfast tacos at North End Café? Been there, done that. Even the rolling carts of Chinese snacks at Jade Palace's dim sum seem so familiar now.
Not that any of these breakfast or brunch options are bad, mind you, but if they no longer bring the exciting shock of the new, perhaps it's time to wheel over to Queen of Sheba on a Sunday to check out an Ethiopian breakfast.

From 9 a.m. until 2:30 p.m. on Sundays, Queen of Sheba adds about a dozen Ethiopian breakfast selections to its regular lunch menu.
As soon as we heard about this, Mary and I rounded up foodie friend Lucinda and made our way over to the Queen, which has settled in nicely after two years in its location just across the road from Bowman Field.
Queen of Sheba's breakfast choices range in price from $4.95 for oatmeal (which doesn't seem particularly exotic) to $10.95 for a breakfast combination plate.
Other breakfast treats include sega firfir ($6.95), spicy beef with foamy injera flatbread, and entulal be-kitfo ($7.50), ground beef or chicken in scrambled eggs with Ethiopian spices. Moulewah ($5.95) wraps a fresh wheat "tortilla" around fried eggs; add beef or chicken for $1. Foule ($6.50) fava beans are simmered with minced onions and served with aybe farmer cheese. A spinach omelet ($6.95) doesn't sound particularly unfamiliar, but I wouldn't bet against an aromatic whack of potent East African spice.
We shared an appetizer, sambusa ($5.95), which consisted of several bite-size turnovers, thin pastry formed into neat, tight triangles, filled like overstuffed pillows with finely ground beef, garlic and onions. It was spicy but not fiery, just a pleasant tingle.
Meals are made for sharing Ethiopian-style, everything neatly arranged on a large plate lined with a blanket injera. Tear off pieces and use them to pick up tidbits, turning your fingertips into knife, fork and spoon. Two lunch entrees thus presented were ye-beg tips ($8.99), bite-size lamb cubes sauteed with onions, green peppers, garlic and spice; and misir wot ($7), split lentils stewed with onions, ginger, garlic and turmeric. They were surrounded with rolls of extra injera, small pools of spicy red lentils and rations of romaine-and-tomato salad.
The breakfast was served Western-style, in bowls with French bread on the side. Entoulal firfir ($6.50) resembled an East African take on a Western omelet: Diced tomatoes, red onions, jalapeños and cilantro were mixed into scrambled eggs, with a salsa-style condiment and aybe, creamy homemade farmer cheese, on the side. A cup of sega firfir held beef bites simmered in spicy berbere sauce with shredded injera.
With strong, black Ethiopian hot tea, aromatic with cloves, a good, filling and deliciously exotic brunch tab for three came to $41.53, plus a $10 tip.
Queen of Sheba Authentic Ethiopian Cuisine
2804 Taylorsville Road
459-6301
www.queenofshebalouisville.com