LEO's Eats with LouisvilleHotBytes.com
By Guest Critic Kevin Gibson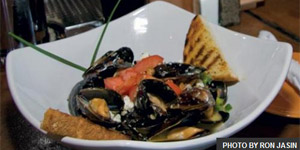 Browning's is back. The brewpub in Slugger Field, with its upscale sister restaurant Park Place on Main, had abruptly closed back in October. Although Browning's continued brewing craft beer for outside sales, Louisville Bats fans were left high and dry.
Now Chef Anoosh Shariat, backed by investors, has put up nearly a half-million dollars to revamp the restaurant and revise its menu. Browning's reopened May 12. The Park Place space is available for private parties.
There's little change inside the eatery or on the sidewalk patio facing East Main Street. The menu remains on the upscale-casual side, with items ranging from $6 to $16 and featuring many old favorites such as pub wings, "black and white" hummus and a Hot Brown. New additions include a salsa-and-guacamole appetizer, fried macaroni and cheese, a grilled Portobello mushroom sandwich and Southwest chicken pasta.
Brian Reymiller is back as brewmaster. He returns Browning's classics like She-Devil IPA and Hildegard Helles to the pub. Other favorites will be served in rotation.
My friend Laura and I stopped in on opening night  –  a beautiful, sunny evening, to the delight of all involved  –  and enjoyed the new Pub Ale. It's a malty, dark brew with light body and mild flavor, and our server declared it a first-day favorite. One employee said the ale was a happy "accident" originally intended to be an ESB, a different and far bitterer brew.
Browning's is working with other area brewers, including Bluegrass Brewing Company and Cumberland Brews, to offer each other's wares on draft. In happy news for beer-geek ball fans, She-Devil will also be sold inside the ballpark during games, a surprising concession from Anheuser-Busch, which has long monopolized the beer offerings in Slugger Field.
Laura and I started with the salsa-and-guacamole appetizer ($6). Both dips were fresh and pleasant, if unspectacular, and the triangular chips were interesting and salty, like a cross between a standard fried corn tortilla chip and a kettle chip.
For our light dinners, Laura chose a Caesar salad ($7) and I ordered Pub Mussels ($10). Laura's ample salad was fresh, with plenty of creamy Caesar dressing and homemade croutons. It came garnished with what appeared to be a thin, crisp focaccia pancake, a tasty addition.
The mussels, steamed perfectly and topped with bacon bits and blue cheese crumbles, were a home run. If I'd had room after eating the 20 or so they served me, I would have nabbed a second order.
All in all, Browning's scored a successful return with relatively few opening-night kinks.
It's open Monday through Friday for lunch and dinner and Saturday for dinner. Let's hope that success and public support might persuade Shariat and his crew to expand the brewpub's hours. Sunday afternoon and evening hours during Bats home stands would be a great start. 
Browning's
401 E. Main St.
515-0174
New operation not yet rated