As smoothly as a runner receiving the baton in a fast relay, new hands have taken charge of the kitchen at Mesh restaurant without missing a step. If you're looking for casual modern elegance for holiday-season dining, Mesh should definitely be on your list.
We dropped in for dinner recently with our friends Linda and John and found new Executive Chef Jason Cantara's kitchen turning out first-rate dishes, with smooth, friendly service maintaining the high level that this Brownsboro Road destination has made its own since it opened in 2015.
When Mesh's Executive Chef Robert Temple moved on recently to become chef de cuisine at the new Walker's Exchange at the Galt House, Cantara earned a promotion from Mesh's sous chef to the top post. Jimmy Owens, now Mesh's sous chef, comes from Ember Wood Fired Kitchen in Mount Pleasant, South Carolina, to his new post.
Mesh, you'll recall, is the striking modern building that rose over the ruins of the historic white house that housed Bauer's for more than a century, followed briefly by Paloma and then Azalea. Times change, things move on, and that's all right. The new venue's brick, stone, wood, and glass create a warm environment that's modern yet feels timeless.
Mesh is part of the Indianapolis-based Cunningham Restaurant Group, which also operates about 20 restaurants under 15 separate concepts in Indiana, Ohio, and Kentucky, including the original Mesh in Indianapolis, with a menu quite similar to the Louisville shop. It's no chain, though, and it's clear that Cantara & Co. are free to work their magic in the local kitchen, including the studied use of locally produced meats and produce.
About 18 dinner entrees are subdivided into sea (seafood and fish), land (meat and poultry) and garden (vegetarian), and range in price from $19 (for veggie pad Thai or grilled squash linguini) to $35 (for grilled venison). Eighteen shareable starters, salads, and soups are priced from $6 (for Blue Dog bread or white bean chicken chili) to $16 (for tuna poke or a cheese-and-meat board). Three dinner sandwiches are $13 (for a Nashville hot chicken sandwich) to $15 (for a Hot Brown). Mesh's bar features extensive wine and liquor lists and a good beer selection. I enjoyed a simple, tall Campari and soda over ice.
Blue Dog bread and butter is listed on the menu as a $6 item, but a complementary basket magically appeared on our table, and we didn't ask any questions. Long, thick slices of seeded artisanal bread were grilled hot and crisp, buttered and sprinkled with chopped parsley, and served with balsamic-laced olive oil and herbed whipped butter dotted with crunchy black Hawaiian sea salt.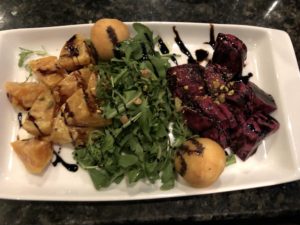 Roasted chunks of yellow and red beets made a beet salad ($7) both colorful and delicious. They were striped with a sweet balsamic reduction (an affectation that I'd be just as happy without), garnished with a fresh, crisp arugula salad and chopped pistachios, and accompanied by a couple of crunchy, addictive goat cheese fritters.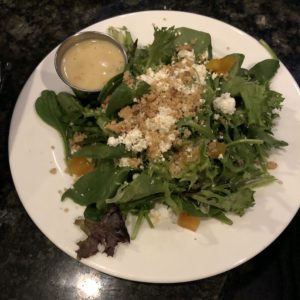 A seasonal salad ($10) was well made and appealing, too. No mere bunch of supermarket mesclun, it started with perfectly prepared field greens mixed with diced golden beets and topped with a toothsome mix of chopped walnuts, quinoa, bits of dried strawberry, and mild goat cheese crumbles. The creamy tarragon vinaigrette was served on the side at our request.
A boneless Indiana Amish chicken breast ($24), pictured at the top of the page, was spread over a few asparagus spears atop a mound of sweet, rather dry Yukon gold mashed potatoes with strips of prosciutto and brown mushrooms beneath. The chicken was covered with a creamy pale-gold sauce touched with faint, haunting scents of sherry and blue cheese and topped with a bouquet of pea shoots.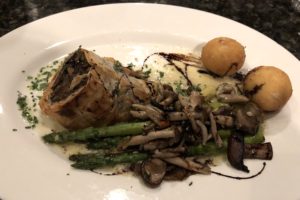 From the "garden" menu, mushroom strudel ($22) was a thoughtful, impressive vegetarian entree. A dark, rich-flavored mix of black wild mushrooms and onions was rolled into a crisp cylinder of multi-layered phyllo pastry, baked golden brown, and plated with asparagus, sauteed white mushrooms, and two more goat-cheese fritters on a bed of tangy lemon-chive oil and an earthy truffle soubise.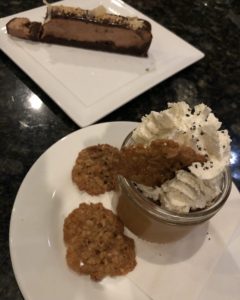 All six desserts were $8. We shared two with our friends and loved both. Thick, rich caramel pot de creme was served in a small glass jar, topped with tangy whipped buttermilk sprinkled with a few grains of black salt. It came with three small, light and soft oatmeal tuiles that made a pleasant contrast with the rich pot de creme. A double chocolate stout terrine was impressive too: A long, thin slice stacked chocolate mousse, dark chocolate sauce, salted peanuts and crystallized ginger atop a thick double chocolate stout brownie crust.
Our friends grabbed the check before we could get it out of their grip. Thanks, John and Linda! Our share would have been about $80 plus tip.
Mesh Louisville
3608 Brownsboro Road
632-4421
meshrestaurants.com
facebook.com/meshlouisville
instagram.com/meshlouisville_
Robin Garr's rating: 88 points.
Noise level: Dining at Mesh on a crowded evening is not a quiet experience, but sitting enclosed in a high-back booth does help. Average sound at our table was 80dB (the sound level of a garbage disposal) with peaks to 87dB (approximating a food blender).
Accessibility: The modern building is mostly accessible to wheelchair users, although booth seating is up a step.