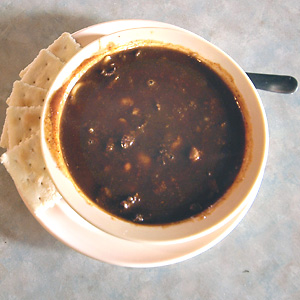 Flabby's chili is a simple, classic preparation – coarsely ground beef in chunks with tender red beans and just enough short strands of spaghetti to make it Louisville-style. Photos by Robin Garr
LEO's Eat 'n' Blog with Louisville HotBytes
(Five noteworthy bowls of red; Karma Café)
Tomatoes or no tomatoes? Beans or no beans? Chopped meat or ground meat? Chile powder or dried chilies or fresh? And by the way, is it "chile" or is it "chili"? Gimme a break! This is almost like listening to the Kentucky legislature arguing about whether evolution or intelligent design should be taught in our schools.
Much of the chili debate centers around the argument that chili is a historic dish with a long tradition that started in the Texas-Mexico border country and was spread across the heartland by cowboys on the open range, and that it must be a pure, unadulterated combination of beef and chile peppers, nothing more, without adulterants or fillers no matter how delicious those additives might be.

But you'll be hard-pressed to find such a thing in the Derby City. We're a long way from the old Chisholm Trail, and our own comfort-food version of chili satisfies our taste buds just fine. We're talking about Midwestern-style chili, a soupy concoction of beef and chili powder that adds such heretical no-nos as beans, tomatoes and even sometimes a greengrocer's list of green peppers, carrots and all manner of other strange things. And, horror of horrors, it's often served over spaghetti, sometimes garnished with onions and mild yellow cheese.
It's not Tex-Mex, but it's good. And then there's that cinnamon-scented upriver variation, Cincinnati chili, which is really just Midwestern chili melded with Greek spaghetti sauce. Truth be told, on the proper occasion, I won't say no to a bowl of Cincy "five-way."
October is National Chili Month, an occasion heralded locally, among other things, by a firehouse chili cook-off at the Great Louisville Fire Drill, which is coming up Sunday, Oct. 15, from 1-5 p.m. at Waterfront Park.
In honor of the festivities, and mostly just because fall is in the air and a bowl of hot chili sounds really good, we've been checking out the chili at a few local spots.
Vessel o' chili
First stop: The Café at the Louisville Antique Mall. This chili at this favorite lunch spot is called "Old Faithful West Yellowstone Montana Chili," but it seems a lot like Louisville-style (sans spaghetti) to me. It's $2.75 for an 8-ounce cup or $3.50 for a 12-ounce bowl. I got a cup as part of a $7.45 combo deal with half of a sandwich (I chose the Queen Anne, Benedictine and bacon on walnut wheat bread, and was glad I did). I asked for it "with everything" and got a vessel the size of a coffee cup, topped with thin slices of crisp, mild banana peppers and shredded yellow cheese. Beneath this tasty mound was hearty, meaty chili, so thick you could stand up a spoon in it, loaded with ground beef, chunks of celery and tomato. It was generously seasoned with Mexican-style chili powder, warm but not fiery – I'd call it two-alarm on the first taste, maybe warming up to three-alarm (on a five-alarm scale) as it goes down.
The Café at the Louisville Antique Mall
900 Goss Ave.
637-6869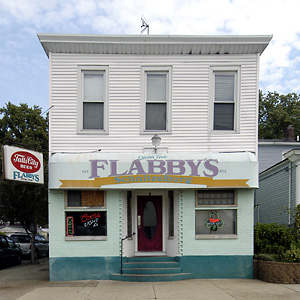 Flabby's is part beer and chow hall and part community center. It's one of a handful of Germantown bars that boast killer chili.
Ich bin ein chili der freund
I also visited Flabby's Schnitzelburg for chili from a classic Germantown bar. I might have chosen Check's or Germantown Café, but I usually head for Flabby's with its friendly atmosphere, old-fashioned Louisville-German fare, and – thanks to its family connection with Mazzoni's – original rolled oysters. The chili came in a generous portion, filling a shallow bowl with saltines lined up around the edge. It's a simple, classic preparation, coarsely ground beef in chunks and tender red beans, and just enough short strands of spaghetti to make it Louisville-style. It's hearty but more like a thick soup than a stew, not sturdy enough to stand up your spoon in. I don't get a Mexican-chile flavor here, just a piquant, warming shot of cayenne or hot sauce. It's $1.95 for a bowl. You can add cheese and onions for another 50 cents, but I decided to keep mine pure. So to speak.
Flabby's Schnitzelburg
1101 Lydia St.
637-9136
www.flabbys.com/fcc.htm
Queen City chili
As I said, I can get around a bowl of Cincinnati's finest myself, but I invited Eat 'N' Blog contributor ANDREA ESSENPREISS, who spent her childhood years in the Queen City, to drop by Skyline and give us a native's view. She files this account:
When it comes to Skyline Chili, I guess you could say it's in my blood. I was exposed to the local specialty at an early age, and I'm delighted to find it here in Louisville. I can think of no better cure for any illness than a five-way (chili with spaghetti, beans, onions and fluffy cheddar cheese) and a Cheese Coney (mini-wiener with chili, cheese, mustard and onion). The chili is unlike any you might have tried; some detractors even call it "spaghetti sauce." The beef is finely ground and simmered in a fragrant mixture of spices, including cinnamon and, yes, cocoa. Much as it does in Mexican molé, the cocoa mellows the flavor and adds subtlety. Hold the hot sauce: billows of finely grated cheese and crispy oyster crackers are all you really need to enjoy this carnivorous treat.
Skyline Chili
1266 Bardstown Road, 6801 Dixie Highway, 426 W. Market St., 3928 Dutchmans Lane and 9980 Linn Station Road
www.skylinechili.com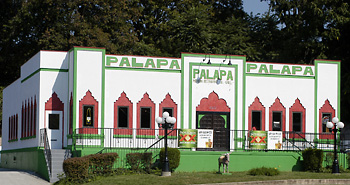 Palapa is open in the Brownsboro Road space that once housed Shariat's and more recently, Marimba's.
South-of-the-border chili
Now I didn't exactly lie when I said you can't get a Tex-Mex "bowl of red" in Louisville, but you may have to request it in Spanish. In fact, the Chile Colorado served at many authentic Mexican eateries is a very close approximation of the real thing; you may also choose Chile Verde, which is best described as a "bowl of green."
The latest arrival in the Moorish-looking building on Brownsboro Road that long housed Shariat's and was most recently occupied by Marimba's Mexican, Palapa now sports a startling green, red and white color scheme and very fine south-of-the-border cooking indeed. The Chile Colorado (which means "colorful," not "the state that Denver is in") is $9.99 as a dinner with rice and beans, but upon request, they gladly spooned up a generous a la carte plate for $3.99. While it's Mex-Mex and not Tex-Mex, it would probably pass muster at the International Chili Championship in Terlingua, Texas. Tender small cubes of flavorful beef are long-simmered to chewy tenderness in a thick, spicy red-chile sauce so intense in color that it will stain your tortilla, or your shirt. Be careful!
Palapa Mexican Restaurant & Grill
2901 Brownsboro Road
896-1599
At Fiesta Mexicana, for an entirely different take on authentic Mexican chile, try the Chile Verde ($8.75), a brilliant green, soupy stew of tender bits of pork (or you may choose optional beef tips) in a thick, hot and tangy green sauce of finely chopped tomatillos and green chiles.
Fiesta Mexicana
5414 Bardstown Road
762-0840
At your service – not
And now for something completely different, here's Eat 'N' Blogger SUZI BERNERT, who says she really wants to like this inexpensive, funky Highlands hangout:

Karma Comedian
You come and go
You come and go
Loving you would be so easy if your service was like your food
We came into Karma Café about 7:15 on a weeknight. One other table was seated, and we were greeted and seated promptly. We got menus promptly, and our drink orders were taken and delivered. We ordered our food, and that's when time … began … to … drag. We waited. We waited some more, with no refills and, indeed, no acknowledgment that we existed. The servers appeared to be much more interested in watching the police talking to someone on the corner then taking care of us.
After 25 minutes, we finally caught our server's eye and inquired about our order. "We have a lot of to-go orders," she said. She offered some drink refills and left. Seven minutes later, part of our order arrived. Hubby Richard got his sausage and gravy ($4.99), but the eggs and toast were missing in action. Son Edward got his chicken parmesan ($8.49), but the garlic bread was AWOL. My lobster club ($8.99) seemed intact, but the french fries were lukewarm. The biscuits and gravy had that unmistakable sheen that indicates time spent under a warming lamp. By this time, though, we were so hungry that we tore into it anyway.
To be fair, it was mostly good – Karma's issues relate more to service than to food – but there were a few missteps. Hints to the cook: Overdone scrambled eggs cannot be corrected with parsley. Crisp bacon does not mean burned bacon.
Richard enjoyed his biscuits and gravy despite the heat-lamp-generated glaze. The gravy was light, with a good flavor, with plenty of sausage, and the biscuits were good. Edward's chicken parmesan featured breaded, not grilled, sliced chicken breast atop al dente linguine in a chunky, slightly sweet tomato sauce. My lobster club came on white toast, with layers of shredded lobster, lettuce and tomato, mayo-based sauce, American cheese and the aforementioned burnt bacon. The lobster flavor did not come out very strongly, and a different cheese choice may have added to the experience. The fries were lightly seasoned and would have been much better if they had been hot.
The young server never did ask how the meal was, remaining scarce until we were finished. She eventually inquired whether we were done, took a few of the dishes and left. Five minutes later, she dropped our check on the table without offering to clear the rest of the dishes or inquire about the meal.
This was a return visit; we had similar service issues shortly after Karma replaced the short-lived Café Rendezvous, but chalked it up to the restaurant being new. Apparently time has not resolved that issue, but the food is generally good, and the menu varied enough to accommodate most tastes.
Breakfast items, appetizers, entrees, sandwiches and meatless offerings are available at all hours. The portions are large and the prices reasonable. Karma is open from 9 a.m. until midnight weekdays, and 24 hours on weekends.
Karma Café
1126 Bardstown Road
www.highlandskarma.com
587-0062