If we get many more coffee shops around this town, Louisville might just take over New York City's reputation as the city that never sleeps, and the most audible Thunder Over Louisville may become a caffeine buzz.
The two latest entries – Blue Mountain Coffee House and Jackson's Organic Coffee – both offer a truly splendid cuppa, but they differ dramatically in style.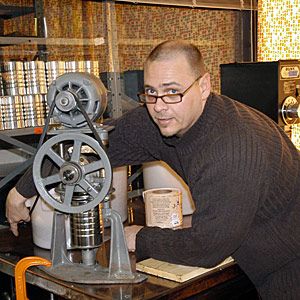 Christopher Stockton is co-proprietor of Jackson's Organic Coffee, a drive-through located next to the Sav-A-Step on Lexington Road near Payne Street. Photo by Robin Garr.
Jackson's Organic Coffee is not even a coffee shop. There's no sit-down or table service, only a drive-through window, at this little pumpkin-color building next door to the Sav-A-Step on Lexington Road near Payne Street.
Co-proprietor Christopher Stockton, an expatriate Brit, is an aggressive perfectionist about organic, sustainable and fair-trade coffees, sold through the drive-up window or canned on the premises for sale by upscale vendors like, so far, Rainbow Blossom, two of the Valu Markets and Mayan Café.
Coffee and espresso drinks range in price from $1.75 for a small drip coffee to $3.75 for a large cappuccino or latte. The drive-up window is open 6 a.m. to 6 p.m. weekdays except holidays; closed weekends.
The other recent and welcome arrival is Blue Mountain Coffee House Wine & Tapas Bar (400 E. Main St., 582-3220), where host Nicholas Arno adds a Jamaican accent as he vends Jamaican Blue Mountain coffee in sleek, sophisticated new quarters. Eat 'N' Blog correspondent LEAH STEWART declares it her favorite caffeine dispensary, and files this report:
Blue Mountain is a treat to the senses. A curved saltwater fish tank inset into the bar greets guests with colorful fish; tempered glass countertops are the color of island waters, and artfully contemporary tables and chairs look as though they leapt from the pages of a magazine. Jamaican art adorns walls painted in a sun-kissed gold and sapphire blue.
Blue Mountain coffee is some of the most expensive in the world, and there's a good reason for that. The Blue Mountains of Jamaica have the perfect climate, terrain and rainfall to produce coffee. It's as if the coffee gods touched the earth at this one spot and said, "Here!"
I tried it in a drink combined with cocoa and chunks of chocolate. It was smooth, unbelievably rich and pleasantly not sweet. Some mocha coffees are sweet enough to make your teeth hurt, but Blue Mountain's coffee drinks are decidedly adult. Our daughter's Submarino, a sophisticated hot chocolate, was a decadent, silky chocolate experience created for sipping, not guzzling. For lunch, a Blue Mountain Cheese Platter ($9.95) consisted of three finely crafted cheeses, sun-dried tomatoes, olives, grapes and two kinds of crackers. Friends enjoyed the Southwest chicken paninis ($6.95), declaring them crispy on the outside and chock full of savory chicken on the inside.
An evening visit proved that there are people downtown at night! Several groups of friends were discussing work, sampling and choosing wine at the wine bar and enjoying coffee and tea. A basic espresso drink, a decaf latte, was dark and rich, topped by a generous head of foam. A chai tea was deliciously different: Not sweet, and without any overpowering notes of clove and cardamom, the peppery chai was spiced delicately and perfectly.