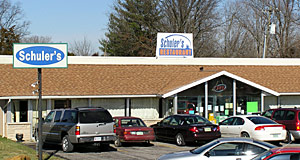 The crowded parking lot at Schuler's in Henryville, Ind., signals a popular neighborhood establishment. Photo by Fred Schloemer.
LEO's Eat 'n' Blog with Louisville HotBytes
Imagine a world without fast-food restaurants, with no golden arches beckoning hungry travelers. It's almost unthinkable in this day and age, but if you can do it, you're probably at least 50. For anyone younger, fast food has always been a fact of life.
So says local free-lance writer (and psychotherapist) FRED SCHLOEMER, who favors us this week with this reminiscence of Schuler's Family Restaurant in Henryville, Ind., a veritable gustatory time machine that can whisk us back to the days when the Beatles were young and Elvis was still alive.
Tell us about it, Fred!

In those days, for a quick, hot meal on the run, you went to the nearest family restaurant and sat at a booth or bar stool while a matronly waitress took your order and called you "Darlin'" or "Hon." These homey establishments were often family-owned, catering to familiar local faces or drivers from a nearby highway.
Most have vanished from the American landscape, but a fortunate few survive. Kentucky and Southern Indiana are lucky to have one of the best: Schuler's Family Restaurant. Located just off I-65 in Henryville, Ind., Schuler's has been in continuous operation since 1967. Now owned and operated by Ed and Gloria Miller, it still offers some of the best food and service in the area. From the moment you step through its doors, you know you've taken a trip back in time to a place where people still care about quality service and good manners.
When you come in, a busy but prompt and friendly waitress will invite you to sit wherever you please. She'll most likely be scurrying between the kitchen and tables, tending to diners, but still watching the door for newcomers.
If you're a regular, she'll probably ask, "Can I get you the usual?" Or you can scan the ample menu, which includes such traditional comfort foods as country-fried steak, corned beef with cabbage and meatloaf. Breakfast is served all day and features eggs any way you like them, fluffy pancakes, mouth-watering country ham and biscuits with sausage gravy. Schuler's also features dozens of homemade pies and cakes, including old favorites like butterscotch, lemon meringue and jam cake with caramel icing.
The atmosphere is cozy and casual. Formica-topped tables, sturdy oak chairs and vinyl booths fill the spacious dining hall. Personal photos, artwork and memorabilia cover the paneled walls. Oldies play on the music system. It's like a time warp, maybe, but when you've got a good thing going, why mess with it?
This principle includes the staff, most of whom have been there for years. The average length of employment for staff is seven years, which speaks well of the personal dynamics and working conditions. Many servers worked with Ed and Gloria at other restaurants they've managed. In fact, many are Ed and Gloria's relatives, giving a whole new meaning to Schuler's Family Restaurant.
A half-dozen servers, cooks and other staff all told me that meeting and serving families is their favorite thing about the job. Second favorite on everyone's list was that they enjoy working in a family-owned business, where employees and employers all serve in the trenches together.
Holidays – especially Christmas and Halloween – are favorite times at Shuler's. Workers dress in seasonal costumes and, much to everyone's delight, pass out candies and toys to kids who come in with their parents.
One ongoing challenge can be the occasional hard-to-please customer. Most of the servers confessed to feeling a special pleasure when they can win over a testy diner through extra charm and attention. I got to see these skills in action when a difficult customer went off on a tirade. All of the workers present did their best to offer him their utmost respect and reassurance, averting a crisis through their deft handling of the situation.
Schuler's may seem a bit out of the way from Metro Louisville. But if you're looking for a good meal on the road north, or you're in the mood for a pleasant trek through beautiful countryside, it's well worth the 20-mile drive north from the Clark Bridge. The food, the service and the atmosphere offer a nostalgic trip down memory lane.
Just be prepared when you walk in the door to hear someone call you "Darlin'" or "Hon."
Schuler's Family Restaurant
407 College St.
Henryville, Ind.
(812) 294-4777