By Robin Garr
LouisvilleHotBytes.com
Everybody knows that I'm a huge fan of pizza, but I have my standards! I like pizza best the way they make it in New York City, or even Italy: It's good bread, flatbread, with toppings added proportionately, not overloaded.
You want a thin but substantive crust, and you want a puffy browned edge – the "bones" – dotted with plenty of browned leopard spots.
Or that's what I thought until I picked up a pizza to go from Derby City Pizza in Clifton the other day. I rushed it home, opened the box, and discovered a delicious smelling pie with toppings all the way to an almost imperceptibly thin edge.
Dammit!
But then I pulled out a slice, took a bite, then another, then three. This pizza tasted really, really good. I might not entirely approve of cracker-crusted, no-edge pizza, but I have to say this: Derby City's pie was so good that I would not hesitate to go back for another one.
A hefty order of spaghetti and meatballs was exceptional too, good enough that I would not have complained if I'd been served an identical dish at an upscale sit-down Italian eatery.
What magic is this?
Derby City Pizza is a local chain of seven shops – most of the others are sit-down eateries with beer and wine – spread across the Metro as far as Mount Washington. Its shops, decor, and shiny menus have the look of a chain with growth expectations, and indeed, owner Larry Davis told Business First in a March 2020 interview that he believes his company can be one of the top pizza chains if everything goes as planned.
Okay, I've tried it, and I'm impressed. Larry, if you can keep up this level of quality when your business spreads out to Cincinnati, Indianapolis, St. Louis, Atlanta and all our other surrounding regional cities as you hope, then fame and fortune await.
In a cheery bio that's posted on his restaurant walls, printed on the menus, and spread on social media, Davis describes a journey that started in 1991 when he was only 15, working in a local pizza chain to help support his family. By age 23, he moved up to own three Louisville-area locations of a popular, unnamed pizza franchise. He ran a sports bar in Pleasure Ridge Park, and in 2005 he opened his first pizzeria.
Soxteen years later, his growing outfit seems to be doing things right. The menu covers the basics – pizzas, pasta, lasagna, toasted subs, boneless wings, and salads and sides. Seven signature pizzas come in three sizes and are priced from $13.95 for a small pie to $25.95 for a couple of the most loaded XL pies. You can build your own in three sizes and about 18 toppings, starting at $8.99 for a small cheese pizza and $2.50 each for toppings.
Spaghetti with red sauce and garlic bread is $8.99; add their excellent meatballs and it's $10.99, as is the lasagna. All four toasted subs are $8.99. A dozen boneless wings, hot or Southern style barbecue, are $10.99.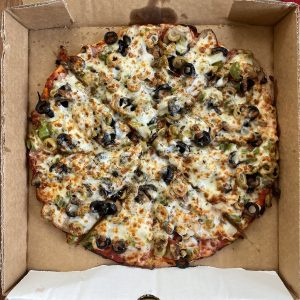 A small veggie pizza ($13.95) was about the size of a dinner plate. Even without a bread handle on the edge, it was easy to pick up one of the eight slices and hold it up.
The tasty crust was just hefty enough to hold the toppings: First a light but not stingy coat of fresh-tasting, slightly spicy tomato sauce, topped with enough melted mozzarella to cover the surface without weighing the pie down. Thin-cut veggies – onions, green peppers, mushrooms, black olives, and green olives – were scattered over and under the cheese. Its complex and delicious burst of flavors made me want more.
The same sauce took the lead in a classic rendition of spaghetti with meatballs ($10.99, pictured at the top of the page). The dish was packed in a round aluminum-foil dish well suited to reheating in the oven. Its packaging under a plastic lid in a heavy brown-paper bag kept it plenty warm enough to eat without reheating when we got home. The spaghetti remained al dente, too, a pleasant surprise.
A pair of meatballs as big as tennis balls, perched atop a generous portion of spaghetti. The bright-red sauce was thick with chunks of tomato, fresh and tomatoey, not at all sweet, with subtle herbs, garlic and red pepper.
The meatballs required a knife for dissection, and they were as impressive as the sauce. They were formed with a light hand from finely ground meat, crunchy on the outside and softly tender within. This was a masterpiece.
Two thick slices of warm garlic bread wrapped in foil came on the side. They had been liberally painted with herbed butter and grilled. I couldn't detect much garlic, but the bread was warm and tasty. 
Our meal was delicious, it was enough to last for two days, and it was affordable: The tab came to $26.44, plus a $5 tip.
Derby City Pizza – Clifton
2331 Brownsboro Road
290-0677
derbycitypizza.com
facebook.com/DerbyCityPizzaClifton
Six other locations: Full list with address and phone info at derbycitypizza.com/locations.
Noise Level: The only sound in this small takeout location was our voices and those of the friendly woman behind the counter.
Accessibility: Takeout only. I didn't see any barriers to wheelchair users.