Mmm, mmm, Tortellini! Who doesn't love these little stuffed pasta rings? Artfully rolled into small rounds, their Italian name stems from "torta," naming them as "little cakes," a moniker that doesn't actually make much sense since there's nothing very cake-like about them. If you want descriptive food words, try their alternative name, ombelico, a.k.a. "belly buttons."
?You can make them at home, too, but it does take a while to make enough of the little fellers to feed even two people. Seriously, who'd spend all that time on such a finicky project when you can buy a box full of tortellini all ready to simmer?
That's how I'd do it, anyway, and I'm pretty sure the good folks at DiFabio's Casapela would, too. I didn't actually sneak into the kitchen and watch the chef open a box, but I'm pretty sure the pasta pockets in my pasta dish there the other night weren't individually hand-formed.
?And I don't care, either, because this dish, cheese-stuffed tortellini with basil butter and spinach. ($13), was really good anyway.
DiFabio's landed in Louisville about six years ago, the urban outpost of a family Italian eatery in Madisonville, Ky. Fun old-country decor makes it look a little more Italian than Old Kentucky now, and the family's name is certainly Italian. "Casapela" sounds Italian, too, but don't try to look it up; it's actually a combination of the first letters of the family's first names – Caitlind, Peter, Sarah and Laura – whisked together into an Italian-sounding mashup.
It sits almost directly across the street from another popular Italian restaurant, Volare, but I don't see them as competitors. Each fills a different niche. Volare offers an upscale experience with Chef Josh Moore and crew turning out the kind of regional Italian dishes that we once called "Northern Italian." DiFabio's may be the city's most appetizing example of Italian-American family fare.
Grab a menu, tuck a napkin into your collar, and start planning your next visit. Just about all the iconic dishes are there. About eight antipasti and salads range in price from $5 (for garlic bread or a house or Caesar salad) to $8 (for escargots, a dish that might sound more French than Italian until you learn they are slathered with pesto butter).
The pasta menu is a "one from column A, one from column B" affair. Choose from a half-dozen pasta shapes – spaghetti, linguine, fettuccine, and so on – then add any of a half-dozen fresh-made sauces (from $9 to $11), and, if you like, add on meatballs or choice of meat or fish from $2 (for meatballs) to $9 (for salmon). Or go old-school with a hearty plate of lasagna ($13) or manicotti ($12).
About nine main-course fish or meat dishes are $15 (for chicken piccata, Marsala or Parmigian') to $26 (for an 8-ounce filet of beef prepared any of three ways).
With our friends Don and Pat in tow, we shared around a bottle of decent, affordable Melini Chianti (#32), nibbled too much Italian bread and soft butter, and started in with a pair of apps.
A trio of oversize mushroom caps ($7) won applause, stuffed with an umami-rich mix of chopped mushroom and bread crumbs, we thought, flavored with chopped spinache, garlic and Parmigiano.
"Baked goat" ($7) sounded mighty meaty, but it's actually a dollop of mild white goat cheese dropped into a bowl of spicy-herby marinara sauce and baked until it's melty and hot and good, with plenty of crisp toasted pita triangles alongside. The marinara is definitely old-school, long-simmered until red tomatoes veer toward sweet mahogany, flavored with an Italian-style herb mix.
Caesar salads ($5) were fresh and well-made with plenty of romaine, crisp croutons and a lot of creamy dressing. I might have been just as happy with the dressing in a bowl alongside so I could decide how much to use. A Parmesan round on the side was thick and frankly not outstanding.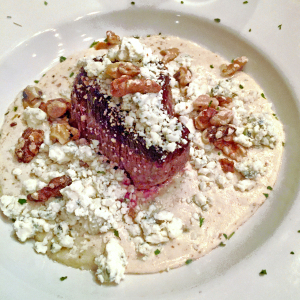 The Gorgonzola filet, which was $27 in the past, now shows at $26 on the menu, and we were charged just $24 for it. I'll take it! The steak was perfectly cooked to order, medium rare, tender and flavorful. The creamy, cheesy sauce carried big chunks of blue cheese and chopped walnuts. It was good and generously portioned.
The, cheese-stuffed tortellini special ($13) featured tricolor pasta tossed with fresh, barely wilted spinach leaves and aromatic basil butter. It was good, although I can't honestly assert that pre-made tortellini are strong on distinct flavor.
Pat and Don both praised their choices, crisp-crusted chicken Parmesan ($15) with marinara and cheese over spaghetti, and a hefty block of home-style lasagna ($13) made with Italian sausage and meat sauce.
If you go, do try to save room for something from their slate of tempting homemade Italian-style desserts. Unfortunately, we couldn't do it. I'm blaming the bread and butter back at the start.
Dinner for two came to $81.62 including the wine, not a budget night out by any means, but certainly competitive on busy Frankfort Avenue, with a $20 tip added for friendly, competent and never intrusive service.
DiFabio's Casapela
2311 Frankfort Ave.
891-0411
difabios.com
Facebook: http://bit.ly/Casapela
Robin Garr's rating: 83 points