Let's tear down that wall, the imaginary one along Ninth Street that some people think separates our West End neighbors from the rest of us. I can't think of a better time than Derby season to do it, and I've got a great destination in mind: Roof Top Grill, a friendly eatery that turns out some of the best Jamaican food around.
Once you've smashed the barrier, you'll find Roof Top at the corner of Louis Coleman Jr. Drive, (formerly known as 34th Street), in a pale-tan stucco building with a green-and-black Jamaican flag painted on the side.
Sturdy bars on the doors and windows and glass enclosing the ordering area signal that this is an inner-city dining room, but the warm welcome and friendly crowd will make you feel right at home.
The long, narrow room is sparkling clean, with terra-cotta walls decorated with paintings of tropical scenes. A shrine-like grouping of photos at the back of the room features three images of Bob Marley and one of Dr. Martin Luther King Jr.
Be prepared to settle in and watch the big-screen televisions, as it may take a little while for your food to come out. Most dishes are prepared to order, and this care in the kitchen shows in high quality, hand-crafted renditions of Jamaican fare.
The menu is neatly written on several blackboards above the window. A dozen dinners, with two sides, are mostly $8.50 for an assortment of Jamaican classics, rising to $10 for curry goat, turkey ribs or oxtails; escovitch fish, Jamaica's answer to seviche ("yummy," the menu adds), is $12. Eight of the dinners are available a la carte, without sides, for $6 to $7.50.
A variety of fried chicken, fish and rib tips dinners range from $3.50 (for a trio of wings) to $8.50 (for a three-piece chicken, barbecue rib tips or fried fish dinners). Sandwiches – a burger, fish sandwich or "Dread Loc" wrap – are $6.50 with potato wedges or fries, $5 alone.
In two visits we made a good start toward sampling the entire menu. Nothing disappointed us, and quite a few of the dishes made our taste buds stop and go "whoa!" Details, maybe, but details that would surprise even in a high-end kitchen: Fresh herbs, an errant thyme stem in a subtly scented plate of oxtails. Fries lightly dusted with flour to impart a crisp crust. Touches of herbs and a hint of jerk spice elevating simple macaroni and cheese. And so it goes. There is a very good cook back in that kitchen.
That oxtail dinner ($10), for example (pictured above), is served over a savory mix of tender rice and red beans. A generous portion of oxtails on the bone – plus a few juicy pork neck bones _ had been dredged with flour, browned, then cooked long and slow with chopped carrot, onion, fresh thyme, bay leaf, cayenne, maybe a touch of cinnamon and a pinch of sugar, yielding amazing rich flavors in the falling-apart meat.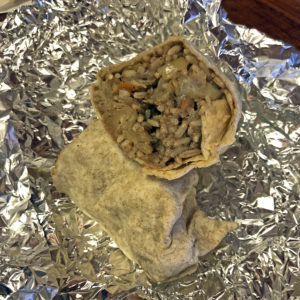 You could call the Dread Loc wrap a Jamaican burrito, but I can see the resemblance to a dreadlock in this skinny, sausage-shaped treat. A savory, jerk-spiced mix of Jamaican cabbage, rice and red beans is tightly rolled with the meat of your choice in a large tortilla wrap to make a tasty meal in itself. It's $6.50 with any meat but oxtails; $5 as a veggie wrap.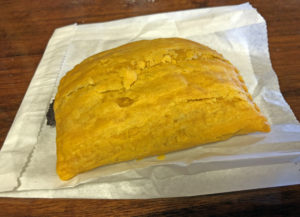 Jamaican beef patties ($2.50 each, three for $7) are spectacular inside and out. Inside, sweet curried beef. Outside, a flaky, short, bright yellow pastry pocket.
Roof Top Grill's fried dishes were uniformly estimable, too. A fillet of fried cod ($2.60 a la carte) was lightly breaded and fried to perfection, crusty and gently spicy with black and red pepper. A chicken leg and thigh ($3.50) and three chicken wings ($3.25), all fried in similar coating as the fish, were well cooked and juicy, with great flavors.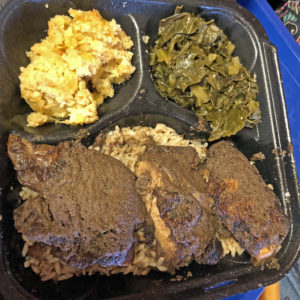 Our friends Jon and Libby enjoyed classic Jamaican jerk dishes. That's jerk, not jerked: meats marinated and rubbed with the traditional Jamaican jerk mix of habanero pepper, allspice, and other spices. Jerk chicken dinner ($8.50) and jerk-spiced rib tips dinner ($8.50) were both fine, with the caveat that spicy jerk seasoning is going to dominate the dish; more subtle flavors get lost in the heat.
Sides were all fine: The aforementioned macaroni and cheese; savory, hearty corn pudding; perfect soul-food-style collards, simple and good, 1-inch squares long cooked with onions, salty but not sweet; and Jamaican cabbage, spicy and long-simmered with onions and carrots, flecked with lots of black pepper.
We finished with caramel cake ($3) and were glad we did: It was perfect, moist and light yellow cake thickly iced with thick, smooth and sweet caramel icing.
Roof Top Grill is more than affordable: Our share of dinner for two was $22.26, with an $8 tip. Lunch another day was $20.78 plus a $5 tip.
Roof Top Grill
708 Louis Coleman Jr. Drive
785-4069
facebook.com/Rooftopgrilljamaicancusine
Another location: 414 W. Oak St., 618-2287
Robin Garr's rating: 85 points
Noise level: Quiet enough for easy conversation; volume on two screens tuned to ESPN was turned down low. (Average sound level 63-70 dB.)
Accessibility: The level entrance forms no barrier to wheelchair users.