I've never had all that much of a sweet tooth. When it comes to the flan at Cancun Mexican Restaurant, though, that's a whole 'nother story: I might even eat dessert first. Yes, it's that good.
Cancun, an early 2017 arrival, has developed a good following, for its food and service and, no doubt, for the tequila drinks and happy-hour offerings in its long, inviting bar. Bright habanero-orange walls, high-backed booths and wood-look tables fill the long, narrow dining room, with bright sombreros a colorful wall mural depicting palm trees on a sunny Cancun beach. A large screen is tuned to Spanish-language television.
The eight-page menu offers the usual Mexican-restaurant options in abundance. Affordable pricing puts Cancun squarely into the category of good cheap eats, with a huge collection of 35 dinner specials under $10, and two dozen lunch specials from $6.99 to $9.99. Only a few fancy seafood dinners break into double digits, and they top out at $15.99 (for the Del Mar trio of lobster, tilapia and shrimp).
Mary, my sister Amy, and I enjoyed a satisfying lunch the other day, starting with good quality chips and zippy salsas and ending with that memorable flan.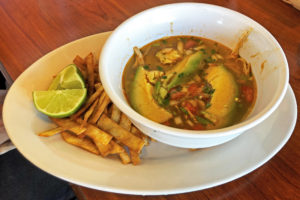 In between we enjoyed a particularly well-made tortilla soup ($3.99 for a cup, $7.99 for a bowl). It started with a classic clear chicken broth infused with bits of tomato and green chilies and onions, loaded with shredded white-meat chicken and wedges of avocado, with plenty of room left in the bowl to drop in crisply fried tortilla strips and squeeze in a squirt or two of fresh lime.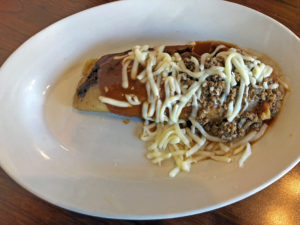 An oversize tamale ($6.99) was good if idiosyncratic. The corn husk wrapper had been removed in the kitchen, leaving a fat masa cylinder marked with its imprint, filled with savory shredded pork. A generous portion of ground beef taco meat was spooned over one end with a dollop of hot-and-spicy red chile sauce and shredded white cheese.
A veggie fajita plate ($8.29) was fine, a mix of grilled broccoli florets, red, green and yellow bell pepper strips and onions, hot from the grill, with well-made Mexican rice, refried beans, lettuce and pico de gallo plus a foil-wrapped roll of tortillas alongside.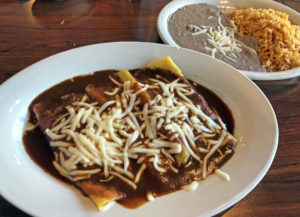 A three-enchilada lunch special ($6.99) was a hit too, although I'd have preferred a little crema or a lighter ration of cotija cheese to its heavy, pizza-like coating of melted mozzarella. Otherwise, the enchiladas were fine, tender tortillas blanketing melted cheese, and topped with a really excellent red chile puree.
Of course we saved room for that caramel-scented, silken and creamy flan ($3.99), pictured above. Its smooth, creamy texture and seductive burnt-sugar and dairy flavors with subtle hints of vanilla and orange made a perfect finish. I'd definitely consider eating it first.
A filling lunch for three was a thrifty $30.27, plus a $7 tip.
Cancun Mexican Restaurant
808 Lyndon Lane
883-1924
cancunrestaurantlouisville.com
facebook.com/CancunMexicanRestaurant502
Robin Garr's rating: 85 points
Noise level: A happy but not capacity crowd generated a constant but not deafening buzz. (Average sound level 73-79 dB.)
Accessibility: The entrance and restrooms are accessible to wheelchair users, but it takes some arm strength to open the heavy front door.