I still mourn the 2010 departure of Red Pepper, Louisville's best Chinese restaurant ever. As good as it was, Red Pepper owner Yuan Hua told me when it closed, the combination of a $5,000 monthly lease payment and a respected Sichuan chef who required fair payment for his skills, sent it on to restaurant Nirvana after a short, bright two-year tenure.
Now, eight years later, the exotic-looking building on Lower Brownsboro is lighted up again: Ikebana Japanese Restaurant & Sushi has come to fill the space.
We dropped in for dinner with friends the other night to check it out. There been no change in the decor other than, presumably, some mopping and dusting after all those years. The menu offers Japanese-American restaurant standards; there's no sushi bar but a list of maki sushi rolls.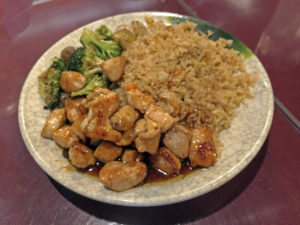 We liked the cold, crisp Japanese salads with tart-sweet ginger dressing. Our friends Don and Pat both picked at chicken teriyaki with fried rice ($13.95). Spring rolls ($5.95) were greasy, with gooey, indeterminate filling; veggie tempura ($5.95) was oily, too, with raw, crunchy carrot, sweet potato, broccoli and onion within.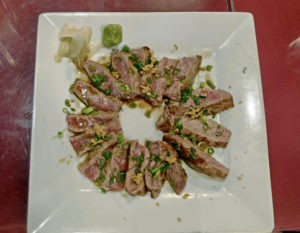 Sushi items did pass muster and rate as recommendable, with asterisks. Beef tataki ($12.95) featured grilled bite-size bits of beef that could have been left more rare, arranged in a circle with green onions. Inside-out veggie rolls ($4.95) were good, heightened by the crunch of oshinko pickles with cucumber and avocado within; and eel rolls ($9.95), pictured above, were well-made but diminished by a stingy proportion of fish to rice.
Our share for two, with an icy Kirin Ichiban beer ($4.15), totaled $46.53, and we added a $10 tip.
Ikebana Japanese Restaurant & Sushi
2901 Brownsboro Road
384-7284
bit.ly/IkebanaLouisville
facebook.com/ikebana.ky
Robin Garr's rating: 71 points
Noise level: Silence reigned in an almost empty dining room. (Average sound level 61-65 dB.)
Accessibility: The entrance is accessible via a long ramp from the side parking area, but the big front doors are heavy. The restrooms are spacious but lack grab bars and other accessibility modifications.