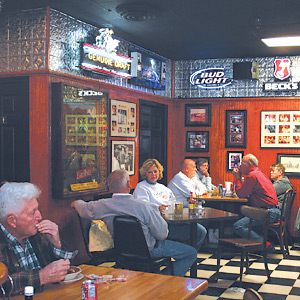 Check's Café, an archetypal Germantown tavern, excels at the four Bs: brats, burgers, bean soup and beer. A recent renovation has freshened the interior without taking away any of the character. LEO Photo by Nicole Pullen.
LEO's Eat 'n' Blog with Louisville HotBytes
(With Guest Writer Greg Gapsis: Check's Café, Flabby's Schnitzelburg, Germantown Café)
Have a beer. And a bratwurst. And how about a little sauerkraut? Have yourself a happy little German something, and know that you're partaking of a heritage that runs long and deep in Louisville.
Our city has boasted a distinct German accent for nearly 200 years, since the first German-Americans (including the first arrivals in the Garr family) came down the Ohio from German-speaking enclaves in Philadelphia and Northern Virginia in the early 1800s.
Another boatload, literally – democratic German reformers fleeing the Habsburg Empire and dubbed "The Forty Eighters" – came along in 1849. Eerily foreshadowing the Hurstbournes and Polo Fields of the 20th century, they threw up rows of "shotgun" houses on fields that had been dairy farmland at the edge of the city south of Broadway and Beargrass Creek.
For a century, the loosely defined neighborhood was casually known as Germantown, or "Schnitzelburg" for yuks. In the 1970s, when the city established more specific neighborhood boundaries to take advantage of federal community-development bucks, Germantown and Schnitzelburg gained precise identities, approximately (and more than coincidentally) associated with the St. Therese and St. Elizabeth Catholic parishes, respectively.
If you know how to pronounce the old Oertel's beer ("Ehr-telz") and aren't befuddled by the name of Oechsli Avenue ("Ex-ley"), then you've got at least a touch of Louisville German heritage. And if you like beer and brats, then nothing more need be said.
Writer GREG GAPSIS has been out in Schnitzelburg on dining detail and brings us back this report on three food-and-drink landmarks, Check's Café, Flabby's and Germantown Café. Here's Greg:
These neighborhood gathering spots provide simple but good eats, and they are cozy hangouts. Don't wait for a waitress; order from the bar and pick up your drink. While you're waiting, look around: Each is like a time capsule with decades of memorabilia hanging on the walls. Before long, you'll hear your name or order called. Dig in and enjoy.
Check's Café, an archetypal Germantown tavern, has been in the Murrow family for three generations since Joe Murrow Sr. bought it from Check Sumter in the 1940s. There's nothing fancy on the menu, but Check's excels at the four Bs: brats, burgers, bean soup and beer.
The hallmark white bean soup ($1.75) is a hearty dish that quickly takes the chill off a cold afternoon. Chili is also available ($2.85), in the not-so-spicy Midwestern style, thick with lean beef and beans; spaghetti ("noodles" here) is optional.
Traditional accompaniments are brats or hot dogs ($2), rolled oysters deep-fried to an inviting golden brown ($3.50) or a braunschweiger and cheese plate. If you're not ready for that much tradition, the burgers ($2.25/$4.50) are excellent, lean and tasty, with lettuce, tomato and onion on the side so you can dress it as you like it.
A recent renovation has freshened the interior without taking away any of the character. A new black-and-white tile floor shines, and the old wood paneling has been replaced with beaded board and a neat pressed-tin border. The walls are still covered with old photos, including shots of former Mayor Bill Stansbury, a Check's regular, and President Jimmy Carter's ne'er-do-well brother Billy introducing "Billy Beer" back in the 1970s. A back room and outside patio are new.
Check's has perhaps the best beer selection in the neighborhood, with 10 draft taps at the bar. There's no need to settle for the industrial American lagers and "lite" beer when you can get artisan local brews like BBC's Nut Brown Ale or Browning's Bourbon Barrel Imperial Stout to accompany a quick meal or for lingering with friends.
Check's Café
1101 E. Burnett St.
637-9515
Flabby's Schnitzelburg, another cozy neighborhood gathering spot, boasts a more ambitious kitchen. Sure, the walls are covered with the expected memorabilia and joke posters, a huge mounted elk head juts into the room, and there is plenty of bar grub. But excellent lunch specials and traditional German dinners have been featured ever since the late Jim "Flabby" Devine opened it in 1952. (It's now owned by the Mazzoni/Haner family, which explains why you can now get an authentic Mazzoni's rolled oyster at Flabby's, too.)
Daily specials are served from 11 a.m. to 3 p.m. and run $5.75 for meatloaf every day, plus German fare such as sausage and sauerkraut on Thursdays. On Mondays, you can get chicken and dumplings at the Depression-era price of $2.25. All-you-can-eat chicken wings and potatoes are featured on Tuesday ($6.25); chicken livers and fries ($4.75) keep the place busy on Wednesdays.
But wait! There's more! Flabby's serves fried chicken that some consider the best in town, but only after 5 p.m. Fridays through Sundays. A four-piece basket with two sides will set you back only $8, and it is crisp, juicy and delicious.
All of this is good enough reason to step into this haven from modernity, clichés and potted plants. But when the north wind really starts to blow and frost is nipping at your cheeks, Flabby's German dinners will stoke your furnace. At $11.95, they include an appetizer, main course and sides. Hearty apps include such Teutonic options as thick slices of Limburger cheese and braunschweiger on bread; pickled herring served with egg, onion, bacon and capers; homemade soft German pretzels; or an oyster shooter fortified with hot sauce and horseradish.
For dinner, consider a schnitzel – lightly breaded and fried hammer-tenderized pork – or a German sausage plate (Deutsche Wurste) with lean and dense Bockwurst and Swisswurst and lighter and softer Purnellwurst. Either dinner comes with silver dollar-size potato pancakes topped with applesauce, delicious braised red cabbage and choice of sides and bread.
With such distinctive food, it's regrettable that Flabby's has discontinued local microbrews in favor of commercial brands.
Flabby's Schnitzelburg
1101 Lydia St.
637-9136
Germantown Café, like its cousins, is welcoming and cozy. It claims a 130-year pedigree as a bar; the current owner, Steve Levell, has added home-style meals at attractive prices. It attracts neighbors and visitors alike with its inviting sign that proclaims, "Home Cooking."
There's room for only 10 tables between the front door and the dartboard and big-screen television in the back. Another 10 stools curve around a small bar. A steam table offers very good and very popular daily lunch specials for just $5.50. Enjoy Cajun red beans and rice on Mondays, fried chicken on Tuesdays, smoked sausage and kraut on Wednesdays, meatloaf or chicken and dumplings on Thursdays and hand-breaded Atlantic Cod on Fridays.
The fried-chicken dinner is also offered from 3 to 7 p.m. daily, and it bears special mention because it is always available and exceptionally good. You can get one-fourth of a chicken as a sandwich for $3.75 or as a platter with two sides for $5.50. Half of a chicken is just $1 more. Lightly floured and seasoned before being fried, it comes out golden with no hint of grease. Germantown Café's chicken is certainly the choice for anyone who doesn't prefer a crust.
Sandwiches including bratwurst, hot dogs, fried baloney or grilled cheese are available for $2.50, a triple-decker club sandwich is $4.95, and an All-American burger with fries is $6.50. On a recent visit, my daughter Claire had a very good, traditional Reuben sandwich ($5.75).
Levell also runs Duck III catering out of the kitchen, so box-lunch sandwiches or party trays (including a stuffed 6-foot-long Schnitzelburg Sub) are available if you're on the run or entertaining at home.
Again, I wish a selection of craft beers were available to go along with the food. For now, though, Budweiser and Miller products will have to do you. Unless, of course, you circle back to Check's for a BBC or Browning's draft for dessert.
Germantown Café
1053 Goss Ave.
637-9412
A family in need
The Louisville restaurant community was shocked by the sudden death last week of Food & Dining magazine's Danny Boyle, a much-loved fixture on the local dining scene. His sudden, devastating loss left his wife Sara and sons Matthew, 6, and Jordan, 12, unprepared. His friends and associates have organized an effort to help them through gifts to the Daniel Boyle Memorial Fund, c/o any Stock Yards Bank. -RG