Can a person – well, this person, anyway – ever get tired of international food, the vast smorgasbord of culinary delights from all the world's regions? I would say not. Give me Indian, Mexican, Thai, Argentine, African, Chinese, German, Korean, Yugoslavian, French or German cuisine, and I'll bounce right back in pursuit of the next fascinating thing.
But that being said, after my friend Ashley Day and I got through sampling the varied multi-cultural delights of Louisville's "International Restaurant Row" on Old Bardstown Road in Buechel this week (see this week's LEO Dining Guide for more), I was just about ready to take a break with some good, old-fashioned American comfort food like Mom used to make.
I know! Let's go to the Cottage Inn! Serving "Southern Comfort Food" since 1929, they've been filling Louisville's hunger hole with Southern-fried goodies and homemade cakes and pies for 80-some years.
With the sad closing of Mazzoni's and Kaelin's in recent years, Cottage Inn may hold bragging rights as Louisville's oldest eatery still in operation. It has endured at the same address, in the same building, and what appears to be very much the same menu.
But here's the twist: Just like a few of the eateries along Old Bardstown Road that you'll read about in the Dining Guide today, Cottage Inn's owners hail from Bosnia, that war-torn nation in the former Yugoslavia that has sent Louiville thousands of welcome new neighbors.
Yep, Zuki and Zlatko Kreso, who came to Louisville in 1998 and, for a time, operated Mr. Z's Kitchen downtown, purchased Cottage Inn from its former owners in 2008. (Zlatko's brother, by the way, owns Kreso's Bosnian restaurant in Bardstown, Ky.)
During their seven years at the helm, the Kresos haven't changed much. I think the decor looks a bit more European now, with beige walls and dark wood and a gallery of old framed neighborhood photos replacing the old country-style floral wallpaper. Tables are still draped with oilcloth, and they're still set with lightweight flatware rolled in paper napkins, with beverages served in tall plastic tumblers. Think diner-style, if you're from north of here, or meat-and-three if you're from further south, and you'll get the idea.
They've left the old menu alone, and I think this is wise. Bosnian-style gyros and ?evap?i?i are delicious in their own right, but this place does best with, well, "Southern comfort food," and the four-page menu offers plenty of it. A couple of dozen appetizers, soups, salads and sandwiches top out at $9.99 (for Cottage Inn's traditional take on the Hot Brown). About 18 entrees and pasta dishes range in price from $5.70 (for a veggie plate) to $11.99 (for a country ham plate with two sides). The Inn's famous fried chicken, which requires a 15-minute wait for preparation, is $10.99 for a half-chicken. Come on Wednesday night and line up for the weekly "All-U-Care-To-Eat" evening with side dishes and bread for $11.99.
We came ready to eat and left full, but, even when it makes me sad, it's a critic's duty to tell it as I tasted it. Our meal was indeed like Mom used to make: Variable. To be honest, Mom kept us well fed, but she wasn't all that great a cook, at least not until later on in life when she got into the gourmet thing.
So, two thin-cut 5-ounce grilled pork chops ($11.99) were a hit, very flavorful (the menu says they're "Kentucky raised") and grilled well. Dinners come with two sides, which batted .500. Country-style green beans were delicious: Tender, textured, wonderful old-fashioned green beans simmered in meat drippings. Mashed potatoes, though, tasted as if they came from a box, with brown gravy that tasted like it came from a can.
An appetizer order of fried okra ($5.99) was a generous portion, but shattered my memory of Cottage Inn's old home-fried nuggets. These gave every indication of being a packaged product, heated, perhaps, in the microwave until the grease-free breading got tough.
A grilled-cheese sandwich ($4.99) was just like Mom's, too, but that's good. It's hard to mess up a crispy, heart-warming grilled-cheese sandwich. yellow cheese melted between two slices of grilled white bread. A side of broccoli, cauliflower and "baby" carrots from a bag had been simmered into submission and somewhat redeemed with plenty of butter. A simple side salad ($1.90) consisted of iceberg lettuce, a big chunk of attractively red tomato for the season, and a little tub of decent blue cheese dressing.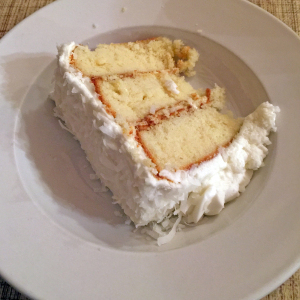 A row of old-fashioned glass-domed cake keepers display the dessert selection. A $3.99 slice of coconut cake was moist, perhaps made from a mix, with hyper-sweet white icing and a rather stingy ration of coconut.
It disappoints me that I can't give a kinder review of this amiable old family restaurant. According to reports on the HotBytes Forum, the restaurant has been for sale since 2012 as the owner hoped to retire. It would be great to see new life restore this landmark's spirit. I hope it happens.
Our dinner was $32.70, plus a $7.30 tip for friendly and attentive service.
Cottage Inn
570 Eastern Parkway
637-4325
Robin Garr's rating: 76 points