"Nobody goes there anymore. It's too crowded." Did Yogi Berra really say that? Baseball legend attributes this quotable quote to the late, great New York Yankees catcher; but bear in mind that Yogi is also recorded as having said, "I really didn't say everything I said."
It was like déjà vu all over again when we dropped in on Havana Rumba's original St. Matthews location the other night. I couldn't help but think of Yogi as our group crammed into a table set way too tight, in quarters packed with way too many happy, noisy people enjoying excellent Cuban food.
Everybody still goes to Havana Rumba, it seems, but to be honest, I was getting a little claustrophobic in those tight quarters, jammed in biceps-to-biceps with my dining partners on either side (fortunately, they were friends), and backed up tight against another stranger at an adjoining table.
It was loud. It was dark, dark enough that it was hard for these old eyes to make out the menu or identify with certainty what was on my plate. (Upon critical analysis, I'm pretty sure that the long table for our group of seven had been squeezed in between two original, more comfortably spaced rows, with the unfortunate side effect that none of the ceiling lights were there for us.)
This place is popular, and as the grandpappy of all of Louisville's current Cuban eateries, deservedly so. And rather than turn away hungry supplicants, it appears that management has made the canny decision to fit more paying customers into the same amount of space. It's a plan that may make sense … unless diners start deciding that, you know, what Yogi said.
Still, it ain't over till it's over. Yogi said that, too. And at the end of the meal, when it really was over, our group left full and happy.
As a fan of some of the iconic Cuban eateries in Miami and Key West, I can be a tough judge, but Havana Rumba has always passed muster with me for Cuban authenticity. Comparing the menu against my October 2004 review, when it was the next big Cuban thing, it appears that they've stayed on course, still featuring Cuban favorites with prices adjusted only reasonably for inflation.
Lunch options are generally in the $8 to $12 range, with dinner entrees topping out at just under $20 for Pinchos de Solomillo, filet mignon on a stick. Lots of Cuban favorites come in for less, including Ropa Vieja ($14.99, literally "Old Clothes," don't ask), a spicy mix of shredded beef. peppers, onions and olives; and Vaca Frita ("fried cow"), crisp grilled shredded beef with peppers, onions, garlic and lime juice. The always enjoyable Cuban sandwich is $8.99.
Complimentary baskets of fresh, warm. crusty Cuban bread with garlicky soft butter soon had us chanting for refills.
One of our favorite Cuban dishes is Lechon Asado, slow-roasted, citrus-marinated pork ($14.99 for dinner, $9.99 for lunch), and Havana Rumba's model hits the mark. A huge portion of pork presented a tasty mix of tender white meat falling into strings with crunchy roasted-crust end bits. It came with standard sides of yucca (you say cassava, I say bland) and black-bean-and-rice congris.
Pescado alla Parilla ($15.50, "grilled fish"), was filleted with gray skin on one side and lightly grilled with attractive criss-cross grill marks. A Southeast Asian species said to be related to the catfish family, it was mild and delicate in flavor, scented with lemon and garlic and subtle grill smoke; and, happily, more akin to flounder than catfish in flavor. It came with a small bowl of delicious black beans and a side of white, steaming rice.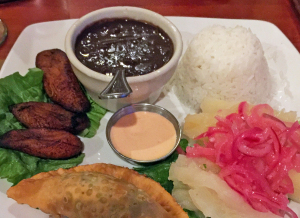 We thought Cubano Vegetariano ($12.75) was a meatless Cuban sandwich, but our menu-reading skills lapsed. It's actually a plate featuring a selection of veggie sides: Black beans, rice, yuca, a mini-empanada and fried plantains. Healthy, I'm sure, but frankly boring.
Dinner for two, with a coconut-scented Cuban Punch cocktail ($7) and a simple, traditional dessert of Tia's Flan ($5.25), came to a very reasonable $41.87, and server Ernesto's pitch-perfect service, despite the crowd and noise, earned him a $10 tip.
Havana Rumba
4115 Oechsli Ave.
897-1959
havanarumbaonline.com
Robin Garr's rating: 85 points
Other locations: 12003 Shelbyville Road, Middletown, 244-5375; 2210 Bardstown Road, 749-4600.