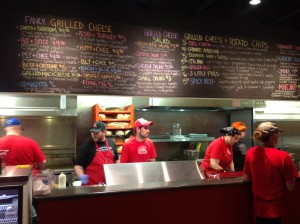 Grilled cheese sandwich and a bowl of soup: the classic combination you grew up with. Done adequately, it's a comforting duo that fills you up and cures what ails you. Taken to the next level, with super-fresh ingredients and creative flavor combinations, it can be downright transformational.

Too much? Perhaps – but the folks at Tom + Chee would agree with me. They've set up shop in the former Penn Station location on Bardstown Road in the Highlands "to offer grilled cheese for the kid at heart." Joining the company's two restaurants in Cincinnati, a local family is opening the first Louisville location, and I visited their lively preview night.
Don't overthink the name. Tom(ato) + Chee(se) represents the traditional combo of tomato soup and grilled cheese sandwich. Build-your-own grilled cheese sandwiches start at $3.50. The samples of the basics were solid and evenly grilled, the essence of a truly good grilled cheese.
Soups are made fresh daily ($3/cup, $4.50/bowl, $1 for small soup "dipper") and are all vegetarian unless otherwise noted. Tomato soup is of course the main order of the day, but the cheeseburger soup – tangy and cheesy, garnished with diced tomato and shreds of iceberg lettuce – is a must-try.
Standouts from the "Fancy Grilled Cheese" menu were the Armagoetta (goetta – a zippy German breakfast sausage favored in Cincy – plus cherry peppers, fried onions, sweet hot mustard and pepper jack, $6) and the Pesto + Turkey (roasted turkey, pesto, and mozzarella, $5). The former incorporates the goetta into a tasty melt. The latter includes tender chunks of house-roasted turkey and a vibrant pesto. (Interesting note for allergy sufferers: their pesto is made from ground sunflower seeds, rather than pine nuts.) The BBQ + Bacon made me wonder why I hadn't ever thought of putting Grippo's chips on a grilled cheese.
Then there was the Mint Julep Donut. Just let this one sink in for a moment: Woodford Reserve caramel sauce and fresh mint mascarpone, grilled between two slices of glazed donut. Crispy, subtly minty, and just sweet enough.
They're starting out with hours Mon-Sat 10:30 a.m.-11 p.m. and Sun 11 a.m.-9 p.m., but expect hours to expand as they find their groove. Free parking available.
Tom + Chee
1704 Bardstown Road
tomandchee.com