(By Michael Tierney. Republished with permission from G3 Illustrated)
I grew up in a meat 'n' potatoes family. We never ate rice, not even Rice-a-Roni. Rice, we assumed, was reserved for rich families and exotic cultures. Perhaps this explains my fascination with Japanese food … the rice, the chopsticks … it seems so highbrow. So with my love for meat and potatoes, and a longing for things lush and exotic, I recently dined at Maido on Frankfort Avenue in Clifton.

Maido is an intimate space punctuated with bold art work that sets the stage and a background sound of Japanese pop music that sets the mood: catchy and kitschy. The menu is quite extensive, overflowing with appetizers, sushi and small plates; but don't be intimidated. The friendly, knowledgeable staff will walk you through each delicious option.
The first thing catching my eye was the Sushi Croquette. These lovely little panko-breaded potato cakes are infused with wasabi, soy sauce and pickled ginger. The havarti and beef spring roll isn't your fluffy, veggie filled spring roll. This is beefed up – literally – stuffed with filet of beef, havarti cheese, spinach and served with mustard infused soy sauce. Needless to say, my inner meat'n'potato boy was smiling ear to ear.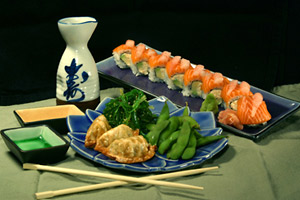 Jim and I were still deep in our negotiations over the sushi order (he prefers the raw versions with fish while I prefer the vegetarian or cooked varieties.) We finally settled on the futomaki prepared with crab, tamago, spinach, cucumber, avocado kanpyo, sakura denbu, and shiitake mushroom. "Great choice," our waitress assured me. "Very authentic – the most popular dish among Japanese children." We also had the spicy yaki-onigiri, spicy miso and sesame leaves mixed with steamed rice cooked in sesame oil. I made quick work of the rice dish clumsily stabbing at it with my chopsticks. "Potatoes are so common," I thought.
Next, the sautéed ginger pork, thinly sliced and marinated in ginger sauce, was absolutely delightful. The chili chicken, grilled tender breast with a chili-infused daikon ponzu sauce, was full of chili flavor. Both dishes were cooked to perfection.
Finally we enjoyed a dessert of ginger ice cream and maki – vanilla ice cream with mango rolled in a colorful soy wrapper sliced into pieces and served like sushi. It's amazing how proficient I become with chopsticks when ice cream is involved. I'm sure anyone watching would have thought I grew up using them.
Maido Essential Japanese
1758 Frankfort Ave.
(502) 894-8775
By Michael Tierney
G3 Illustrated
March 2007