Garage Bar: It's noisy, it's fun, it's all about artisanal pizza and fine country ham, not to mention a companionable bar scene in a cheekily renovated old auto service station. What's so Zen about that?
Bear with me, Grasshopper, and I shall explain. This is a connection worth knowing, as it does not merely help explain the excellence that is Garage Bar, but provides us a useful tool to take along whenever we dine, if we have the wisdom to take it up and use it.
So, let's buckle up and circle around the scenic route to get to our review. I'll try and make it worth while. It begins with the words of the Buddha, who, asked what he and his disciples practiced, replied, "We sit, we walk, and we eat." Invited to expand on that, the Buddha explained, "When we sit, we know we are sitting. When we walk, we know we are walking. When we eat, we know we are eating."
When we are mindful, in other words, deeply in touch with the present moment, our understanding of what is going on around us deepens, and, in the words of the Zen master Thich Nhat Hanh, "we begin to be filled with acceptance, joy, peace, and love."
Mindfulness – making a conscious effort to slow down and pay careful attention to what's going on around you and how that makes you feel – can kick your enjoyment of life in general up a notch, including your enjoyment of what's on your dinner plate.
That's the zen of mindful fine dining. Sometimes you'll take a random bite, and suddenly the food will grab you by the mind and slow you down and make you pay very close attention. The surprisng flavor combinations and fascinating complexity that the chef has built into the dish makes you hear an orchestra where you had been expecting only a solo.
Here's how that worked with a small plate at Garage Bar. As I often do, I intentionally chose an item that didn't look particularly appealing, hoping to discern something about what the chef does when he's far awau from the most popular menu pages.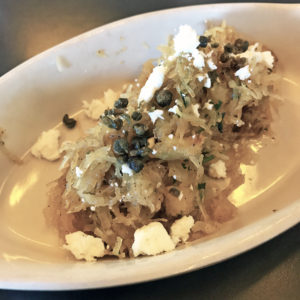 So, roasted spaghetti squash! Seriously? I haven't had spaghetti squash since it was briefly trendy around 1981, and I couldn't even imagine what roasting might do for this terminally bland stringy squash. I ordered it, got myself centered, approached it mindfully, and … whoa! Wait! What's this? A white oval dish bore a mound of spaghetti-like strands that were tender and juicy, deliciously dressed with a sweet buttery vinaigrette and dusted with chunks of earthy, mild goat cheese and, to my delight, crunchy, piquant fried capers that exploded in my mouth like edible fireworks. This is amazing work, and most impressive of all, they all sang together like the Supremes warbling "Stop! In the Name of Love."
Trust me, when you run into a work of genius like this in a $5 side dish, you know the rest of the evening is going to be on a higher plane.
And so it was. We covered the table with a little of this and a little of that and found delight in every bite.
A simple tasting of Col. Newsom's aged ham ($6) from the row of country hams that dangle over a window into the open kitchen was revelatory. The ham was simplicity itself – sliced tissue-thin and served with a chunk of crusty Blue Dog bread and ramekins of carrot marmalade and red-eye gravy aioli. I am not kidding about this. The ham was mild by country ham standards, not too earthy but beautifully pure and complex, almost more reminiscent of Spanish Serrano ham than Kentucky's hills and hollers.
A simple, Japanese-accented salad of chilled soba (buckwheat noodles) was $8 and worth all that and more. Like the spaghetti squash, it seemed simple. And as with the spaghetti squash, a creative kitchen brought it close to enlightenment. Thin, earthy, al dente brown noodles were dressed in an umami-rich South Asian-style sambal vinaigrette that breathed sweet-sour fire; it was topped with an odd but harmonious mix of peanuts, cilantro leaves, a pickled thin slice of watermelon radish, and a few mild, sweet and savory dark shishito peppers.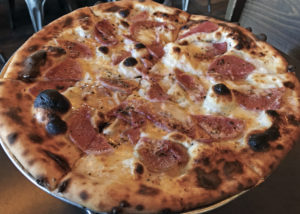 Garage Bar's dome-topped brick oven called us to finish with a pizza, and a new seasonal item, the Ravanello ($14), called my name. A simple pie, it shuns the customary tomato topping in favor of delicate fior di latte (an especially delicate cow's-milk mozzarella), aromatic garlic oil and a drizzle of heavy cream, strewn with paper-thin ovals of radishes cooked bagna cauda style, simmered in an olive oil bath until they are as rich as confit. The crust was flavorful and enhanced by char marks from the oven, although for perfection I'd have liked it a little thicker with a little puffy, bready bonus around the edge.
With a well-made Negroni ($8) and a Barrit's Bermuda ginger beer ($2.50), an exceptional dinner for two came to a fair $45.63, plus a $10 tip for flawless service that took good care of us, then stayed out of the way.
Garage Bar
700 E. Market St.
749-7100
Garage Bar
Garage Bar on Facebook
Robin Garr's rating: 91 points