I'm sitting here at my computer eating a bag of jerky, and it is so good that I. Cannot. Stop.
This is some of the best jerky I ever ate. It's chewy, tough-in-a-good-way, smoky and peppery and – I've got to say it – meaty. Which is a strange thing, because no animals were harmed to make this jerky. It's an intriguing blend of textured soy protein, tamari, and a short list of flavorings, roasted in the kitchens of vegan entrepreneur Stanley Chase III. Chase has been making meat-free jerky since 2012 and has seen his effort grow into a multi-state business. Louisville Vegan Jerky is available in 33 states and Canada, and just about anywhere you want it by mail-order.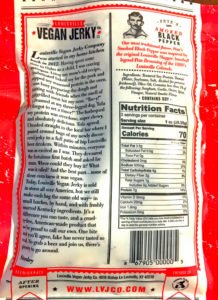 I'm enjoying "Pete's Smoked Black Pepper" flavor, which is just about as beef-jerkyish as a plant-based thing can be. You can check out all the flavors at this link, and see the image at right for an example of ingredients and nutrition information. (Click the image to view it in larger format.)
Try it. You'll like it. Trust me, he says, finishing off the bag.
You can follow Louisville Vegan Jerky Co. here on Facebook, or follow them at @LouVeganJerky on Twitter and Instagram.