I'd been meaning to make a stop at Inwave, a locally owned fast-food spot near Middletown that features power bowls, acai bowls, vegan fare, juices and smoothies. It's a fast-casual setup in which you walk down the line choosing grains, nuts, seeds and toppings for your individualized bowl. It's an interesting concept, with the glitzy look of a chain-in-the-making.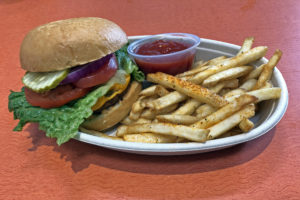 A plant-based Beyond Burger cheeseburger ($12) and fries hit the spot. Similar to the offering at Morels without Morel's tongue-in-cheek riff on fast-food Steak'n'Shake, it features the excellent Beyond Burger – a dead ringer for the real thing – with vegan cheez on a light gluten-free bun. The fries were crisp and fresh.
We may not have made the best choices in our build-your-own grain bowl ($9), pictured above. The quinoa base was okay, but the country-style greens were odd. A mix of kale, cabbage and yellow bell pepper was brined in a vinegary juice that permeated and gave its flavor to the entire bowl. Soft chickpeas and aging mushrooms completed a bowl topped with a generous swish of spicy chimichurri that battled the vinegar.
Sweet and sour kale salad ($5) was okay, and healthy juices – sweet green (kale, celery, cucumber, apple and ginger juice) and tropical green (celery, pineapple, cucumber, lemon and ginger juice) tasted healthy and good, but the $8.50 price each, not given on the menu, came as a surprise.
Lunch, bolstered by the spendy juices, mounted up to a surprising $45.58, plus a 20 percent tip.
Inwave Restaurant & Juice Bar
10310 Shelbyville Road
916-2177
inwave.org
facebook.com/InwaveLouisville
Robin Garr's rating: 78 points
Noise level: The environment was quiet thanks to a nearly empty room, but hard surfaces could kick up the noise if there's a crowd. (Average sound level 63-62 dB.)
Accessibility: All entrances and restrooms are easily accessible to wheelchairs, but most of the tables are high-tops; only two regular-height tables appear to be practical for wheelchair users.