Quick! What's the longest-lived Louisville restaurant that's been in continuous business at its original location? I'm going to say Cottage Inn, where we, our parents, and maybe even our great-great grandparents have been enjoying hearty down-home country fare since 1929.
Just 11 years shy of its centennial, Cottage Inn is going strong, and that's good news, as an ownership change has breathed new life into this local culinary institution. With owner Dan Zughbi at the helm for the past year and a half, Cottage Inn has a new look and a good vibe. We enjoyed a delicious lunch there the other day, and look forward to making it a regular stop.
The little stone cottage remains unchanged, of course, and the pretty little goldfish pool out front is still there. Inside, the old beige and dark-wood look is gone, replaced with white trim and bright walls the color of cream-of-tomato soup. The oilcloth table covers are gone, too, revealing undraped wood-look tables set with lightweight flatware rolled in paper napkins.
The menu, too, holds true to the past, little changed, other than contemporary pricing, in recent decades and perhaps for the past 89 years. It's not gourmet-style but, the menu says, "home-style Southern cooking." A dozen entrees range in price from $8.99 (for chicken livers, baby beef liver and onions, or chicken tenders) to $14.99 (for a frog-leg trio).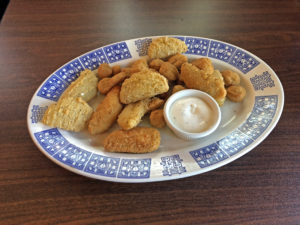 We started with all the fried things, or a lot of them, anyway: The Southern sampler plate ($9.99) offers a hearty mix of sizzling fried green tomato halves, fried okra bits, and cheese-stuffed jalapeño poppers, all fried crisp, hot, and grease-free.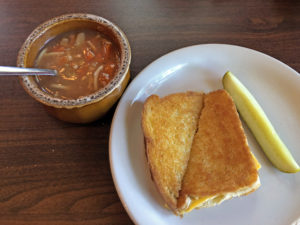 An old-school grilled cheese sandwich ($5.99) was as simple and comforting as Mom used to make. Two deli slices of yellow American cheese were placed between white bread and grilled in butter until crisp, greasy and delicious. A side of hearty, flour-thickened vegetable soup hit the spot too.
Fried chicken ($11.99 for half of a chicken, $8.99 for a white quarter, $8.49 for a dark quarter) was very good – it is after all, Cottage Inn's signature dish. Toothsome and flavorful, the chicken was cooked just right within a light, crisp flour dredge. Accompanying mashed potatoes and simple brown gravy made a fine side. Great Northern beans were good, too, tender in a rich sauce with bits of ham.
Coconut cake ($3.99) was fine, fluffy and fresh with thick, sweet white icing topped with shreds of sweet coconut. We got it in a takeout box so we could make a quick stop at Dairy Kastle across the street for a cold, creamy dessert alternative.
Lunch for two at Cottage Inn, with a $1.99 glass of fresh iced tea, came to $35.99, plus an $8 tip.
Cottage Inn
570 Eastern Parkway
637-4325
cottageinnlouisville.com
Facebook: bit.ly/CottageInn
Robin Garr's rating: 84 points
Noise level: It's a busy, popular place, and a friendly lunch-hour crowd kept up a constant buzz that, however, generally did not hamper conversation. (Average sound level 77-85 dB.)
Accessibility: A short wooden ramp makes the entrance accessible to all. The restroom is equipped with grab bars, but narrow doors could be tricky to negotiate in a wheelchair.