By Robin Garr
LouisvilleHotBytes.com
Two popular East End restaurants did a kind of corporate musical chairs this fall: It all started when Goose Creek Diner closed its shop on Goose Creek Lane after more than 20 years, and Sal's Pizza & Sports Pub on Lyndon Lane closed last December after a dozen years.
Neighbors promptly begain grieving the loss of their familiar watering holes, but the events seemed unavoidable. Goose Creek Diner's landlord decided to raze its building. Sal's owner simply decided it was time to retire. Neighbors at both places wondered where they were going to go for down-home fare in a friendly environment.
It didn't take long for Goose Creek to answer that question. Meet The Goose Eatery & Hangout, new tenants in Sal's old space in the freshly renovated Lyndon Yard, a two-story shopping center in beautiful downtown Lyndon.
Opened in mid-June, the new Goose is a lot like the old Goose, but it's a little bit like the old Sal's too. The new space is sleek and stylish, with decor in subtle shades of light and dark gray, with wood-look tables and booths. A long bar spans the length of the back room. A few big-screen televisions salute Sal's old sports-bar feel without dominating the space.
Sal's pizza option is gone, but save for that tradition, both establishments offered essentially similar fare: Down-home country-style cooking, with plenty of deliciously crunchy fried items but not so many healthy or plant-based options.
A lunch menu, available from 11 a.m.-3 p.m. Mondays through Fridays, offers more than a dozen dishes that range in price from $10 (for a barbecue pulled-pork sandwich, chicken livers, or a two-piece fried chicken lunch) to $15 (for a grilled salmon spinach salad). Most lunch dishes come with one side; you can add a bowl of soup or a small house or Caesar salad for $4 or choose an additional side for $2.50. A soup-and-salad option is available for the thrifty for $9, and a half-dozen desserts are $6 to $8.
If those choices don't suit you, a more extensive dinner menu is available all day. More than 25 dishes are divided among signature dishes, seafood, hot browns, burgers and sandwiches, and pasta dishes, and are priced from $13 (for chicken livers, fried chicken, or several of the burgers and sandwiches) to $21 (for blackened salmon with sweet chile sauce). Fifteen dinner starters, soups, and salads run from $8 to $14.
The menu invites guests to "enjoy local favorites and original dishes in a relaxed atmosphere," and the neighborhood seems to be taking full advantage. We dropped by for lunch on a weekday and found just about every table taken, with a happy crowd generating a constant but livable buzz.
Sal's used to have one of the best fried-fish sandwiches in town, weighted down with three huge slabs of Icelandic cod, bound-breaded by hand and competently fried golden-brown. Could the Goose match this memorable entry? Well … let's just say that Sal's is gone and not coming back, but the Goose's beer-battered cod plate ($12 on the lunch menu, pictured at the top of this page) is pretty good, too.
This item is not a sandwich but a boneless fillet, cloaked in a thick, smooth beer-batter coating fried a pretty golden-brown. The cod was good quality, mild and flaky, and the crunchy breading adhered well to the fish. It came with a small tub of mayo-based tartar sauce and a large wedge of lemon that added a tasty citric snap to the fish.
Lunches come with one side from a roster that includes mashed potatoes, steamed broccoli, cole slaw, macaroni and cheese, green beans, french fries, tater tots, or fried green tomatoes. The mashed potatoes were a good choice: Served in a cup, they were smooth and deliciously creamy with a whiff of dairy tang, studded with parsley flakes. They came with a separate tub of glossy, gooey beefy brown gravy that we tasted and left untouched.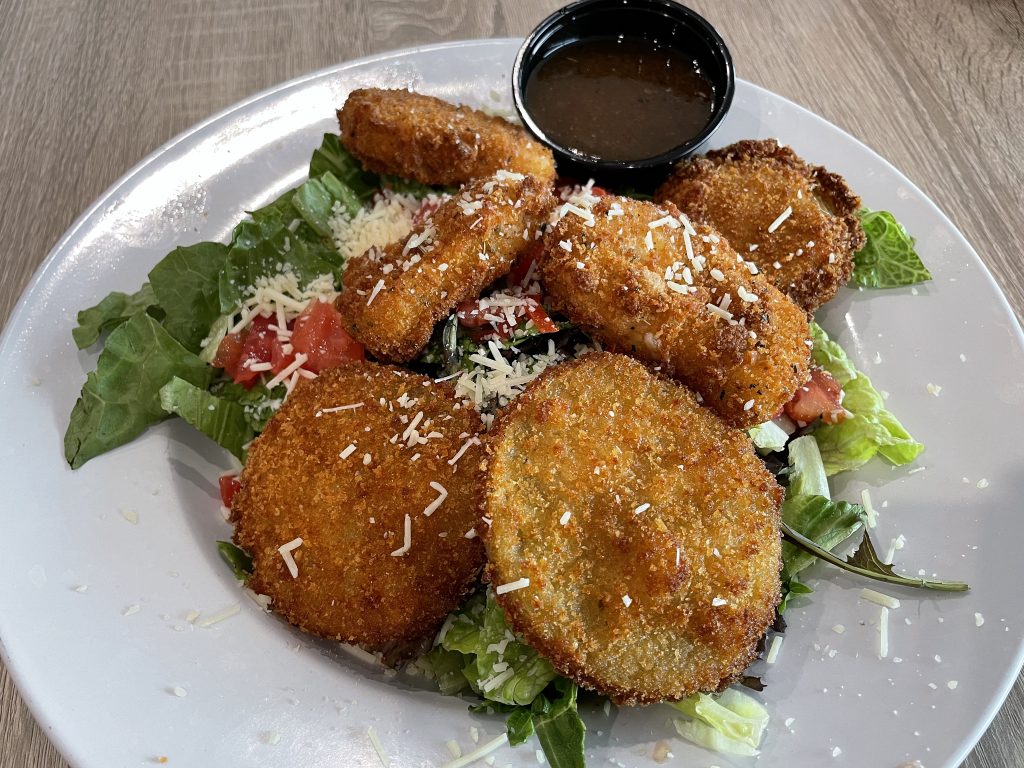 There's no better way to make a healthy salad a little less healthy (but delicious) than by topping it with fried food. Behold, fried mozzarella salad ($13), bearing three of the Goose's memorable fried green tomatoes (which and three big chunks of fried mozzarella. Two thumbs up to the Goose's frying skills: These items were remarkably crunchy, grease-free, and delicious.
Almost hidden under the fried goodies was a sizable salad full of clean, fresh romaine and mixed lettuces, bright-red diced tomatoes, and grated parmesan. A think, tart-sweet balsamic vinaigrette came in a tub alongside.
Reese's peanut butter pie ($8) for dessert satisfied just about all my guilty pleasures: A rich peanut butter mousse filled a chocolate cookie-crumb crust studded with peanut-butter cup bits and topped with a chocolate glaze, drizzled with dark chocolate and dabs of whipped cream.
With a tall glass of fresh, strong unsweetened iced tea with lemon ($2.50). lunch for two totaled $37.63 plus a 25 percent tip.
The Goose Eatery and Hangout
812 Lyndon Lane
339-8070
thegooselyndon.com
facebook.com/goosecreekdiner
instagram.com/thegooselyndon
Noise Level: When this room is full, as it usually is, it gets noisy. Average sound level during our visit was 74.7dB, getting into the louder reaches of normal conversation.
Accessibility: The dining area appears to be fully accessible to wheelchair users, but there's no apparent accommodation for sitting at the bar.