By Robin Garr
LouisvilleHotBytes.com
Refusing to eat a disgusting dish may be one of the first things that we as humans can do to claim our individual agency, our right to yell "No!"
"It's broccoli, dear." "I say it's spinach, and I say the hell with it." Carl Ross' classic 1928 New Yorker cartoon captured the concept perfectly. We don't like it. We say the hell with it. And more often than not, that childhood response evolves into a lifelong aversion.
Until it doesn't.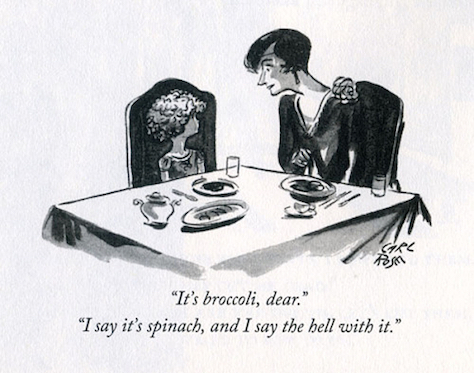 Consider cilantro, the controversial herb that just about everyone either loves or hates. Until sometime in the 1980s or '90s, when Sichuanese restaurants, then Vietnamese, and finally real Spanish-speaking taquerias came to town, Louisville didn't have a lot of experience with this aromatic weed.
I apparently don't have the genetic variation that makes your brain react to cilantro as a threat of poison. I just thought it was weird and strong, and I didn't love it. But when it got trendy and started turning up in those cuisines that I love, I couldn't keep avoiding it. So I kept faking it until I made it. I love it now, and liken its odd aroma to the evocative scent of that big box of Crayolas in grade-school art class.
Kale, though. That's a tougher challenge for me. Well, kale, and cabbage, collards, turnip greens, even brussels sprouts: With the exception of barely wilted fresh spinach, which I loved, I didn't grow up with those stinky things. My first exposure came in grade school when the funky scent of over-cooked cabbage would linger in the halls all day. By lunchtime my appetite was dead on arrival, assassinated by the stench of hydrogen sulfide and bad cooking.
I know kale is trendy now, a purported superfood. But spare me, please. You can have mine.
But then something funny happened on the way to dinner. During a recent visit to Naive Kitchen + Bar in Butchertown, I enjoyed a tempura cauliflower appetizer. Actually, even cauliflower is a little too close to the cabbage family to be a favorite for me. But this dish was exceptionally creative and spectacularly good. And for an even bigger surprise, it was garnished with fried kale leaves. Yes, kale. Maybe it's true that frying makes everything better, but I didn't leave a speck of kale on my plate.
I am also reliably informed that the odd act of massaging kale by hand can make the despised green more palatable. The process purportedly softens kale's tough fibers and breaks down the cell walls of its bitter compounds myrosinase and glucosinolates, rendering the leaves gentler, kinder, and more digestible.Maybe I'll try this sometime. Or maybe not.
And then there are brussels sprouts. Little green balls of doom, chewy and reeking of sadness and failure. Yet the kitchen at the sadly defunct Rye in NuLu had me yelling "gooooaaaaalll" with a dish of crisp roasted halved sprouts in a spicy Korean sauce. It was so good that I picked up some sprouts and Korean gochujang hot pepper paste the next day so I could back-engineer the dish at home.
How to change your (culinary) life
These revelations got me thinking, and here's what I thought: If you want to overcome a food aversion that's lasted since childhood, a great way to do that might be to find a local restaurant that makes a life-changing rendition.
Let's consider, then, a few food aversions that many of us share, and suggest a local eatery that may be able to persuade you to overcome them.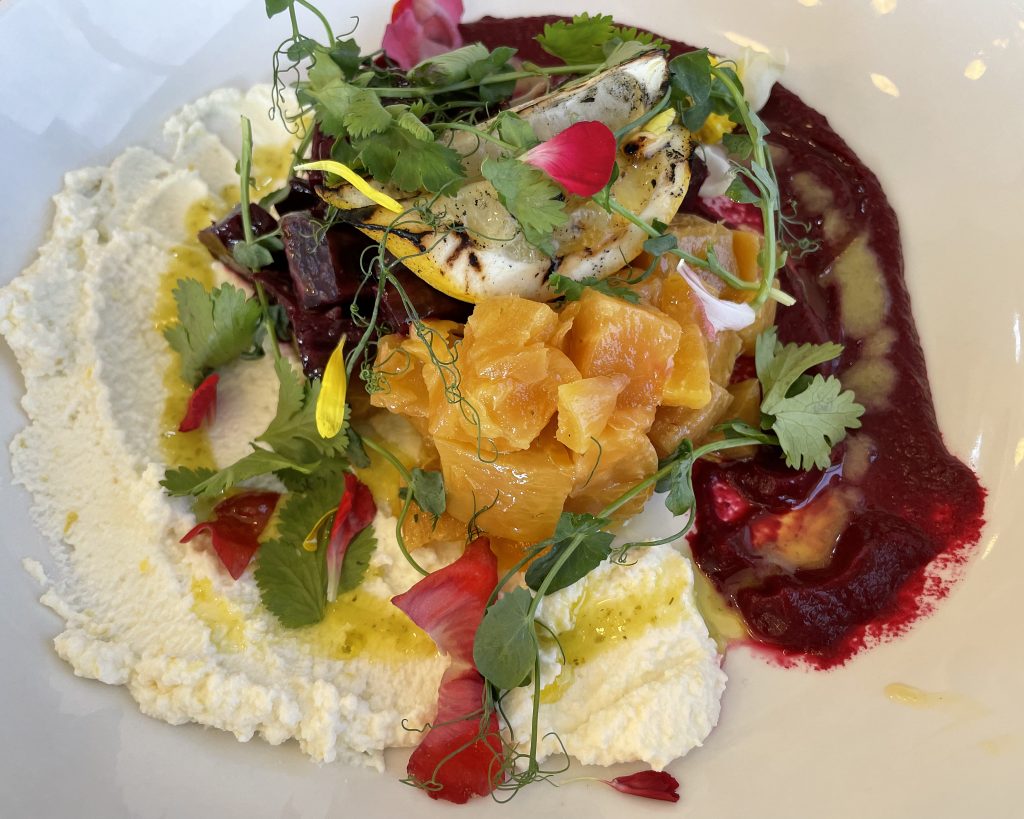 Beets
I've been a fan for ages, but it surprises me how many people argue that beets taste like dirt, or even personal mortality. To try a reset, I suggest a beet salad with a dairy component.I had a great one at Anoosh Bistro this yearfeaturing tender, sweet red and gold beet halves in vinaigrette, dressed with arugula and crumbled mild Capriole goat cheese. I've also oohed and ahhed over beet salads at Barn 8 in Goshen and a House of Marigold.
Licorice
We hated licorice so much in our family that the threat of gift-wrapped licorice as a holiday present was enough to ensure our good behavior. I found my way to it gradually as an adult, with gateway treats like Asian five-spice flavor and Mediterranean dishes featuring fennel. A charcuterie plate during a recent visit to Harvey's on Frankfort Avenue made this case with a rosette of thinly sliced finnochiona, fennel-scented Sicilian-style pork salami from Wisconsin. 
Lima beans
My mom made limas regularly and I never minded them, but they seem to be a legume that legions love to hate. The fix is easy: Get yourself to Mayan Cafe in NuLu and treat yourself to a dish of Chef Bruce Ucán's trademark tok cel (pictured at the top of this page). This deceptively simple Mayan delight starts by roasting limas until they're crisp, then dressing them with ground roasted pumpkin seeds, lime juice, parsley, and sesame oil. Try it! You'll like it!
Liver and onions
You either love your liver or you don't, and we're not going to talk about Hannibal Lecter's fava bean and Chianti feast. You can find well-made local versions, among others, at The Goose Eatery & Hangout, Cottage Inn, and Check's Cafe.
Okra
Okra is another veggie that people love to hate. It has a bad reputation for being slimy, but that's easily defeated with proper care in the kitchen. I learned to love okra in Cajun dishes but now enjoy it as well in African fare (Funmi's Cafe in the Outer Highlands does it well) and at just about any Indian spot, where it may show on the menu as bhindi. I've had excellent, spicy versions of bhindi masala, a dry okra curry, at Taj Palace on Goose Creek Road and Clay Oven in Middletown.??So, if you have a food aversion that's dogged you since childhood, now you know that to do!