Who doesn't love a bento? Whether you grew up admiring doll houses or tool boxes, the neat, orderly compartments in a Japanese bento box, each carefully loaded with a tiny, artful portion, speaks not only to our hungry adult identities but the inner child within.

In short, bentos are fun. And nowhere more so than at Hiko-A-Mon, an early tenant at Westport Village that has developed a faithful following the old-fashioned way, offering friendly yet careful service and reliable Japanese fare in a sleek, modern atmosphere with elegant wood and marble in fashionably dim rooms.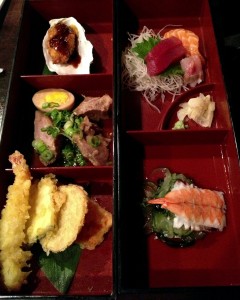 Okay, perhaps there's something just a little disturbing about using aquariums full of live fish as decor elements in a sushi bar, but maybe that's just me. Hiko-A-Mon offers a good mix of adventurous ethnic (ankimo, a.k.a. monkfish liver, anyone?) with more familiar standards that even the most wary might find appealing. You can get a bowl of ramen ($11.95) that will make you forget the supermarket stuff in the foil packets forever. Shrimp spring rolls ($5.95) are available at your bidding, as are your choice of plain, chicken, beef or shrimp fried rice ($4.95-$7.95).
But you don't have to stop with such basics. In addition to a diverse list of nearly 50 sushi rolls plus more than two-dozen nigiri sushi bites, the extensive menu offers nearly 50 appetizers, soups and salads from $1.95 to $13.95, many of which could serve as small plates for grazing. The main menu is just as extensive, including about 15 rice and noodle dishes (also topping out at $13.95), and some two dozen entrees, most in the range of about $15 to $27.
The eponymous Chef Hiko offers a number of main courses that appear designed to keep American palates happy with light Asian touches on familiar dishes: Locavore beef rib eye enjoys a teriyaki treatment ($19.95), and natural chicken breast gets the same ($15.95). Char-grilled prime filet mignon ($26.95) comes with a splash of Cabernet Sauvignon in its teriyaki sauce. Lamb rack ($25.95) or pan-seared duck ($23.95) also add Hiko's signature sauces to give them exotic style. Japanese tonkatsu ($16.95) looks an awful lot like a chicken-fried pork tenderloin, but it's made with fancy black Berkshire pork.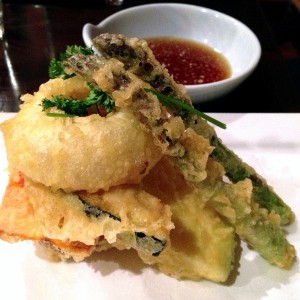 As usual at Hiko-A-Mon, we were happy with all our dishes. Two paper-thin slices of tan-shio (beef tongue ($6.95) were quickly pan-seared and simply served with chopped chives and a lemon wedge. Veggie tempura ($5.95) were sizzling in a feather-light but not entirely grease-free coating. Cucumber roll sushi ($3) and scrambled egg tamago ($1.50) were well-made and fresh. The aforementioned bento ($20.95) came in a two-story box that looked a bit like a Sears Craftsman tool kit loaded with crispy shrimp and asparagus tempura, luscious bites of beefy tuna and sweet salmon sashimi; a large, crisp, fresh fried oyster; a bite of deeply flavored pork, and a dab of cool shredded sunomono cucumber pickle. Tofu "steak" ($12.95) offered two slabs of fresh tofu that had been pressed, marinated and fried, served on a bed of crisp-tender fried veggies and topped with sauteed shiitake and enoki mushrooms.
It's easy to go overboard and spend enough to require a second mortgage at a Japanese restaurant, but Hiko-A-Mon kept costs in line. With an oversize glass of Sapporo Japanese beer on draft, we tallied a moderate $59.15 tab plus a $15 tip.
Hiko-A-Mon Modern Japanese Sushi Bar & Fish Market
1115 Herr Lane
Westport Village
365-1651
hikoamon.com