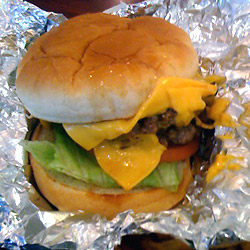 Drive in to Home Run Burgers & Fries on impulse, and you might initially assume that you've found your way to yet another franchised burger chain.

It has the look of a fast-casual burger chain, and I say that respectfully: Bright colors, professional decor with a distinct baseball theme, and an extensive burgers-or-fried-fish menu designed for efficiency and value.
What's more, they're running on a fast expansion plan, with additional properties planned for later this summer in St. Matthews (Shelbyville Road Plaza) this autumn, and Middletown (Middletown Station) around the end of the year.
There's a reason why this locally owned and operated outfit is running well right out of the box. According to an earlier version of their Website (http://homerunburger.com), Bob Kiper, whose daughter, Kathy Scannell, is general manger of Home Run Burger & Fries, operated the popular local Hungry Pelican restaurant chain from the 1950s through the late 1980s.

Based on our first look at this new venture, they've got another winner. Enter the sizable shopping-center space, find your way to the ordering station and registers on the left, then swing around, dispense your own fountain drink (beer is also available) and wait for your number to be called.
Befitting the establishment's ties with the National Pastime, mural-size photos of major league stars adorn on the blue and white walls. Major league pennants hang above the serving counter, and a couple of flat-screen televisions offer sports on ESPN. A side room with video games makes a good place to take youngsters.
Golden oldies take us back to the '60s and so, frankly, does the food. My burger summoned happy memories of local drive-in favorites Frisch's Big Boy and Bob Colglazier's Ranch House.
It's a quality burger indeed, the restaurant asserts, fashioned from fresh corn-fed, never frozen Black Angus-brand beef with no added hormones or antibiotics. Potatoes are fried in peanut oil with no cholesterol or trans fats. Codfish comes from the North Pacific, good news for "green" diners who prefer to avoid the over-fished North Atlantic species.
Burgers range in price from $3.29 (for a "Li'l League" with a single patty) to $5.79 (for a bacon-wrapped "Big League" with two patties. Fish sandwiches are $$3.99 or $5.99 with one or two fillets, respectively. You can also get a veggie burger ($4.39), crispy chicken sandwich or an all-beef hot dog ($2.99 for either). For a combo with fries and a drink, add $2.99; a lunch special sandwich with fries is $4.99.
We went with the basics, a lunch burger ($4.99) with Cajun fries and lunch fish sandwich ($4.99) with regular fries.
The burger was generously proportioned, no foo-foo gourmet burger but a hefty pair of hand-formed patties. The beef was grilled well-done without asking, but remained juicy and flavorful despite its gray-brown color. There's a choice of five cheeses and two dozen burger toppings, including such goodies as banana peppers or jalapeños, but I kept it simple with American cheese, brown mustard, pickles, lettuce and tomato.
The lunch cod, with homemade tartar sauce and regular fries, came on a decent grilled white bun. The fish (we paid $1 for an extra piece) was shaped in good-size "fingers" with a thick, crisp and crunchy breading. It pulled away from the fillets a bit, but the fish was grease-free, golden-brown and tasty.
Fries were excellent, thin-cut, crisp and sizzling hot. The Cajun fries gained gravitas from a generous sprinkle of peppery spices.
With two fountain drinks – fresh iced tea and a diet cola – $1.79 each for "regular," which is actually an oversize cup with free refills, a good lunch came to a reasonable $16.23, and I couldn't find any option for tipping. There's no credit card receipt to mark up, no tip jar, and you bus your own tables. In this economy, I want to be generous to the workers who serve me when I dine out, but Home Run Burgers doesn't seem to encourage this. But here's a tip: Try Home Run for a fine, nostalgic burger.
Home Run Burgers & Fries
2060 S. Hurstbourne Pkwy.
409-7004
http://homerunburger.com