By Robin Garr
LouisvilleHotBytes.com
Maybe I'm a nerd. Okay, probably I am. But I love discovering the geography behind what I eat. I can travel around the world in my imagination, sailing from continent to continent on a dinner plate. Or better yet, I can learn about my international neighbors by savoring what they eat.
Consider our delicious lunch for three at Bombay Grill. We didn't just enjoy excellent food. We enjoyed the fare of India's Chettinad, Andhra, and Chennai regions and more. To my mind, learning about the world food while I enjoy it adds real dimension to my meal.
No, the menu doesn't include a map or all these details. You'll have to bring your own search engine if you want to nerd out on Andhra, Chettinad, Chennai, Mysore, even Bombay, the huge Western Indian city that has shed that British colonial name in favor of Mumbai.
In many visits to Bombay Grill since it opened in 2008, I haven't been disappointed yet, and there's plenty to choose from: The two-page bill of fare is tightly packed with small print representing more than 150 dishes, helpfully categorized by type of dish or primary ingredient.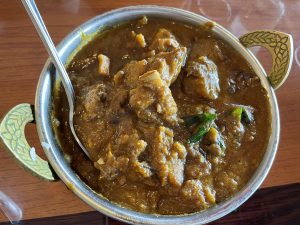 It's all quite affordable, with a half-dozen goat specialties and an even dozen lamb entrees topping the price range at $14.99-$15.99. If goat and lamb are too meaty for you, nearly 30 vegetarian specialities are $10.99-$11.99; eight chicken entrees are all $11.99; and a half-dozen fish or shrimp main courses are all $13.99.
Tandoor clay oven dishes are $12.99-$13.99; rice-based biryani platters are $10.99-$14.99; a selection of dosas $8.99-$10.99; and 10 Indo-Chinese entrees are $9.99-$11.99. A dozen Indian breads are $1.99-$3.99. Lunch sampler platters, available only for dining-in on Mondays through Thursdays, are $8.99 for a veg platter, $9.99 for a meat platter, and $10.99 for a combination.
My sister, Amy, was visiting from Florida last week, and she joined Mary and me for a filling, leisurely lunch. (If you go, by the way, bring your patience game. A sign taped to the front door cautions, "Please expect delay in dine-in service due to shortage of employees. Sorry for any inconvenience …we appreciate your patience and business." That's reasonable, sadly, in this complicated pandemic recovery period.)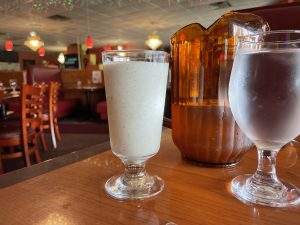 A couple of Indian yogurt lassis ($2.99), kept us busy while we waited, although I nursed mine in hope of having it handy when our fiery options arrived. They were very good, chilled, with cumin and other spices adding aromatic flavors to the thick, rich yogurt drink.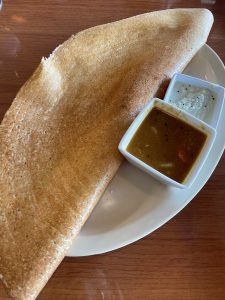 Our tour of Indian regions began with an impressive masala dosa ($8.99), an iconic brunch dish that's popular all over south India and is said to have originated in Chennai, an industrial city on India's Southeastern coast that the British colonizers called Madras. A browned, crisp rice-flour crepe is folded over a spicy filling of soft, long-simmered potatoes and sauteed onions tinged yellow with turmeric and kicked up with Indian spice. Tear off a chunk, dip it in or accompany it with a spoonful of thick brown sambar vegetable soup; and, if you dare, add a dollop of fiery white coconut chutney.
Chettinad, a region in Tamil Nadu near India's southern tip, is known for banking and 19th century mansions. Much of its cuisine is vegetarian because of its majority of meat-shunning Tamil Brahmins, according to The Times of India.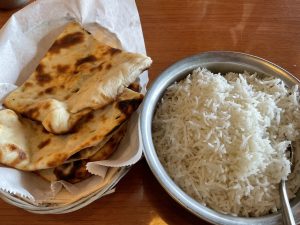 But our dish from the region was decidedly meaty: Chettinad-style goat ($14.99, pictured above). To be honest, goat meat is gamey and strong – an advantage if you like it that way – and usually comes along with firmly attached bone, gristle, sinew, and connective tissue. It's good, though, particularly in this setting: Long-simmered, falling off the bone, and intensely flavored with a mixed blend of spices almost impossible to pick out. Ordered at the lower end of Bombay Grill's 1-to-6 heat scale, it was pleasantly warm with little burn.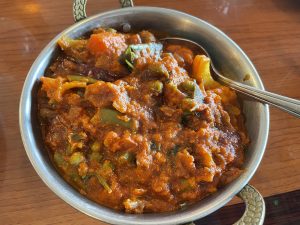 The bowls of fluffy, perfectly cooked basmati rice that came with our meal, along with tender, tandoori-fired naan bread ($2.99), made perfect accompaniments to the goat and another dish, vegetable igguru ($11.99), a mixed-vegetable stew in the style of Andhra, an eastern Indian province on the Bay of Benghal. It was hard to discern all the mixed veggies in this thick, fiery stew, but I found green beans, onions, potatoes, carrots, and peas in a delicious flavor and texture blend. Four-level heat was just about right for me.
My sister, who's not too familiar with Indian cuisine, opted for a lunch special veg platter ($8.99, pictured at the top of the page) and was happy with the results. Placed in separate indentations in a shiny aluminum platter and served without identification were small portions from all over India: what appeared to be paneer tikka, vegetable stew, chickpea channa masala, sambar soup, basmati rice, naan, and kheer (rice pudding). With minimum heat, it made her happy, and I liked it all too.
Lunch for three was $57.17, plus a 20 percent tip.
Bombay Grill
216 N. Hurstbourne Parkway
425-8892
bombaygrillky.com
Noise Level: Even with most tables filled, our booth afforded protection from excess noise. Sound averaged 74dB, the level of normal conversation.
Accessibility: The shopping center space appears accessible to wheelchair users.