One of the biggest and best changes I've seen in our town over a Baby Boomer's lifetime in Louisville has been the surprising ethnic and cultural diversity that has blossomed here over a generation. As outgoing Mayor Jerry Abramson likes to point out, more than half of our city's population growth nowadays takes the form of new residents arriving from other countries. Youngsters in Jefferson County public schools speak more than 80 different languages at home, and Buddhists, Muslims and Hindus, among others, gather peacefully in their own places of worship.
It's quite a change for a city that as recently as the '60s boasted two Chinese restaurants and a "Mexican" eatery that specialized in greasy chili.

All this passed through my mind earlier this month when I noticed that Diwali, the Hindu Festival of Lights, was beginning its five-day observance. What better way to offer a respectful nod in the direction of the marriage of Lord Vishnu and Lakshmi, the Hindu goddess of wealth and prosperity, than to take in a spicy, warming Indian meal?
Happily, the aforementioned diversity boom has made it easy to find this culinary treat. As recently as the late '80s, that wasn't such an easy task, as Indian dining had a hard time getting a toehold here. Now and then an Indian family would begin a short-lived venture, make a small crowd of Indian-food lovers happy for a few months, then put up the shutters. Now we've got a half-dozen fine Indian restaurants or more, several of them firmly established for a decade or more.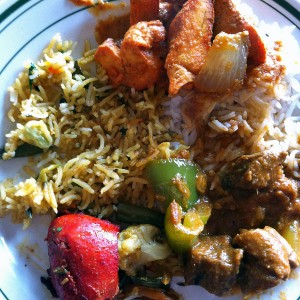 I looked at the list and decided on Bombay Grill, a relatively recent arrival in the Hurstbourne area that, I'm told, is particularly popular with the city's Indian community because it offers authentic Indian fare including the disparate cuisines of India's northern and southern regions. It attracts plenty of enthusiastic Westerners, too, with an extensive menu with most dishes under $12, and many vegetarian options. Like it hot-and-spicy or like it not? Call for your dish on a scale from 1 (for mild) to 6 (for seriously mouth-scorching heat) and they'll make it the way you like it.
Bombay Grill's shopping center venue is spacious and bright, with large plate glass mirrors and a wall of mirrors to make it look even larger. Service is invariably courteous and on-the-spot, and the food is fine, so there's plenty to like here, on Diwali or any other time of year.
Dinner at Bombay Grill can certainly be satisfying, but if you're looking for a quick tutorial on Indian regional cuisine – or if you're simply hungry for a great deal – it's hard to beat the expansive lunch buffet ($7.99), which offers all you care to eat from what looked like three or four dozen choices of Indian soups, chutneys, breads, main dishes, rice and Indian desserts.
We cut a swath through it and tried to sample just about everything. Particular favorites included chicken tikka masala, tender boneless chicken bites in a reddish tomato-coconut sauce; saag paneer, a puree of long-cooked, spicy spinach with small cubes of mild, white yogurt cheese; and bright-red cubes of tandoori chicken, tender meat with crispy edges charred in the tandoori oven. Dessert? Try silken kheer (rice pudding). Heck, try it all. It's a delicious learning experience.
A filling buffet lunch for two, with salted lassi, the fire-taming Indian yogurt drink, came to a bargain $25.40, and excellent service warranted a $5 tip even with the serve-yourself buffet.
Bombay Grill
Forum Center
216 N. Hurstbourne Pkwy.
425-8892
bombaygrillky.com