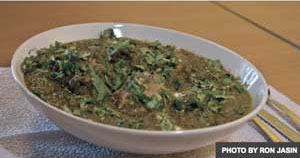 I'd like to tell you about a cozy new place where dining is much like being invited into an Indian family's home for dinner.
Pop bustles about while Junior sets the table and keeps up a stream of friendly chatter. Mom's in the kitchen with a clatter of pans and spoons, and wonderful smells come wafting out. Plates bearing aromatic, home-cooked Indian goodies soon start appearing on the table, and the whole family smiles, awaiting your thumbs-up.
That's pretty much the scene at Little India Café.

But if a dozen or so people all showed up at an Indian family's home at once, they'd have to be patient, because it takes Mom a while to whip up these tasty Indian specialties with care. I have a feeling it's going to take her a lot longer when the house is full.
So come to Little India Café, which occupies a former Quizno's in the McMahan Plaza shopping center in Hikes Point. But when you come, be prepared to relax and stay a while. If you're in a hurry, though, Pop and Junior told us they'll have a Punjabi-style (Northern Indian) lunch buffet set up by the time you read this, and that ought to get the job done if you're in search of instant gratification.
It's easy to spot this storefront a few doors down from Kroger — look for the big painting of the Taj Mahal mounted above the entrance. Inside, however, the look and feel are still pretty much Quizno's, with bold yellow and green walls highlighted with the Indian equivalent of black-velvet Elvis paintings.
The menu, brief by Indian-restaurant standards, includes a short selection of appetizers, from $1.50 (for a bowl of lentil soup) to $3.99 (for mirchi bajji, four fried lentil-battered stuffed peppers). About 20 Northern Indian dishes include chicken, lamb and vegetarian entrees, tandoori chicken and kababs, ranging in price from $6.99 (for many dishes) to $10.99 (for lamb korma in yogurt sauce or a four-piece tandoori chicken plate). There's also a selection of Indian breads and a short list of light fare, including a favorite South Indian lunch item, masala dosa ($6.50).
Most dishes come with steamed rice, half of a naan flatbread and chutney. Everything is served on paper and plastic, a rough-and-ready way to minimize cleanup effort and keep the health inspectors happy.
We loaded up, eating like pythons to make a hearty lunch our meal of the day.
Vegetable pakoda ($2.99, often rendered "pakora") were spicy, lightly breaded onion fritters with a dark, tangy tamarind dipping sauce. Thick, gently spicy vegetarian lentil soup proved to be the same as the sambar supplied with our masala dosa … it would have been nice of Junior to let me know I'd be getting the same item with my meal.
Chicken sagwala ($7.99), an Indian standard, brought a bowl of diced and spiced chicken stewed with spinach and onions and medium-hot spices, with excellent basmati rice and a flaky, tender if slightly oily half-moon of naan bread. A masala dosa ($6.50) was a pan-grilled, plate-size round of thin lentil bread rolled around a filling of curry-flavored diced potatoes and onions, served with a bowl of sambar (lentil soup) and sweet-hot coconut chutney. A cooling dessert, kheer ($2.95), was simple, sweet creamy rice pudding with a whiff of almond or pistachio.
All this and two tall glasses of salt lassi ($2.50), the creamy, tangy Indian yogurt drink, came to $27.91, and Junior earned $6 for his friendly, chatty service. We'll be back to try out the buffet.
Little India Café
3099 Breckenridge Lane, Suite 101
479-3353
Robin Garr's Rating: 80 points