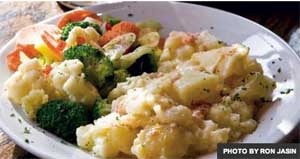 The leaves on our big, old magnolia tree were rattling eerily, and the skies were a dismal gray. The icy wind cut through my parka as if it were a throwback baseball shirt.
The first day of winter may not arrive until Monday morning, but it already feels a lot like winter around here, and last week I had a powerful lust for comfort food in a cozy setting. I posted queries on the LouisvilleHotBytes Forum and my Facebook page and found lots of friends with similar hankerings. These foodie buddies quickly racked up a score of good ideas.

Jack Fry's, Equus and Jack's, Baxter Station, Palermo Viejo, Havana Rumba and the L&N Wine Bar & Bistro all received multiple nominations as top spots in the cozy 'n' filling sweepstakes. Bourbons Bistro, August Moon, Pat's Steak House, Gasthaus, Selena's, Come Back Inn, Bristol Bar & Grille, Napa River Grill and Cumberland Brews all had their partisans, too.
But one local establishment dominated the competition like Tiger Wo … well … let's just say that the Irish Rover earned a solid lead in my casual online opinion poll.
Frankly, the Rover was the spot I had in mind from the start. This lovable, authentic-as-can-be Irish pub arrived in 1993, making it an early player in what was to become the Frankfort Avenue restaurant renaissance.
We've been fairly regular visitors ever since. To be honest, for a long time I thought of it more as a spot for a pint of beer than (except perhaps for the fish and chips) a dining destination. But that has changed in recent years, and I've enjoyed tasting my way through the extensive menu.
The menu, like the Rover itself, offers a brief culinary tour of the Emerald Isle. A warm and welcoming pub with an authentic Irish accent, this 150-year-old Clifton house began its life as a neighborhood watering hole and continues to serve this function well. It's a delightful place for a tall glass of Guinness, a snack and a bit of Irish music, living up to its Gaelic motto, "Òl, Ceol, Bia agus Craic," which I'm told translates as "Drink, Music, Food and Fun."
Its Irish owners, Siobhan and Michael Reidy, have retained the historic spirit with a distinct Irish brogue added. You'll enter a long, dark barroom, which looks a lot like a pub in rural Ireland. The two dining rooms bear a closer resemblance to an Irish family's home, with peach-ice-cream walls decorated with Irish travel posters and Michael Reidy's family photos from the Auld Sod. The well-worn wood floors and tall, old-fashioned front windows enhance the old-time mood. Undraped wood tables are set with heavy flatware and candles in Guinness mini-glasses and furnished with sturdy oak chairs.
The menu, as befits a pub, offers a wide selection of Irish-inspired "bar bite" appetizers, soups and salads, plus a good choice of more hearty pub grub, sandwiches and substantial "pub plates."
Pricing is a recessionary delight, with many of the bar bites $5 or less (a selection of two or three could make an interesting meal). Most pub grub and sandwiches are $10 or less, and even the pub plates top out at $19.95 (for a 10-ounce center-cut top sirloin from the producers of grass-fed, hormone-free beef down at Green River Cattle Co.), and $14.95 (for stuffed pork loin rolled around a creamy stuffing of veggies, mushrooms, red peppers, walnuts and Parmesan; or chicken breasts stuffed with mushrooms and Irish Cashel blue cheese).
One of our go-to favorites is fish and chips ($8.95), a good-size chunk of Icelandic cod batter-fried dark-gold and crisp, served with sizzling hand-cut fries. Our friend Sarah almost invariably goes for the Scotch egg (just $3.95), a heart attack on a plate: A hard-boiled egg is rolled in ground sausage and deep-fried, served on a fresh green lettuce leaf to make it look healthy.
One recent chilly night, I got a filling dish of smoked salmon and potato gratin from the pub grub menu ($7.95), a filling casserole-style dish that assembles diced potatoes, shredded smoked salmon, Swiss and Parmesan cheeses, and heavy cream. To make this one look healthy, it came with a tasty blend of the day's veggies, including cabbage, broccoli, cauliflower and carrots.
Another evening, when the wind chill dropped into the teens, I returned for the Guinness beef stew ($6.95), a thick, hearty blend of long-cooked stewing beef, potatoes, bits of carrot and other veggies. It's simmered in Guinness, and I had a glass of the same alongside.
My bride was delighted with Shanagarry fish cakes ($8.95), a wish-I'd-thought-of-that invention that brings together fresh salmon, smoked salmon and cod, chopped into a tasty mix, bound-breaded and deep-fried. They look like crab cakes the size of tangerines, but they taste even better. They were served with the veggie mix and a scoop of champ, an Irish blend of mashed potatoes and chopped green onions. She drank a half-pint of Bell's Two Hearted Ale from the Rover's excellent beer list, which includes a growing roster of artisan and locavore beers on tap.
On this icy night, a filling meal with two half-pints of beer came to an almost laughable $22.58, with a $5 tip for quick, courteous and professional service.
The Irish Rover
2319 Frankfort Ave.
899-3544
www.theirishroverky.com
Robin Garr's rating: 86 points
(The Irish Rover Too, with similar style and fare, is located at 117 E. Main St. in La Grange, 222-2286.)