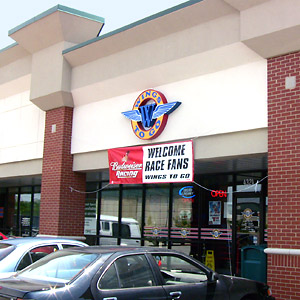 Also featured this week: Wings To Go, a small chain spot in New Albany that makes a credible version of the original Buffalo chicken wing. Photo by Robin Garr
LEO's Eat 'n' Blog with Louisville HotBytes
(Jarfi's @ Mellwood; Wings To Go)
One of Louisville's more striking dining venues has to be Jarfi's Bistro, which makes stylish use of its space in the Kentucky Center, the big, black modern building on West Main Street that suffered the tragic loss of its useful subordinate clause "… for the Arts" in a marketing decision a while back.
Jarfi, born in Morocco but international in his culinary inspiration, presides over a broad bill of fare at his eponymous eatery, a comfortably upscale place that's equally well suited for an indulgent, lingering dinner, a quick pre-theater repast, or even an artful plate of sushi.
And now he's branching out, quietly opening another, much more casual venue in an attractive if lower-profile center for the arts. Regular Eat 'N' Blog correspondent KEVIN GIBSON picks up the beat from the new Jarfi's @ Mellwood in the Mellwood Arts & Entertainment Center. Here's Kevin's report:

Jarfi's Bistro is a well-traveled mainstay at the Kentucky Center downtown, offering an elegant blend of ethnic and American cuisine, ranging from tapas to sushi to Kentucky hot browns. But there's a new Jarfi's in town, a much simpler incarnation of Jeff Jarfi's culinary imagination.
The new Jarfi's @ Mellwood has been open for about six weeks, and it's well worth a stop. Although it's currently a lunch-only spot with a limited menu, there's plenty of upside. What's more, it's in a potentially killer location: The Mellwood Center, located in the former Fischer Packing Company buildings north of Brownsboro Road, is filling up with art galleries and has become a frequent stop for entertainment events and the Trolley Hop.
My girlfriend Cricket (she's an artist, don't ask) manages Artist & Craftsman Supply next door to the new Jarfi's. She offered good reviews of Jarfi's BLT on focaccia and club sandwiches, so I decided to take her to lunch and procure a taste myself.
Jarfi's @ Mellwood is casual and quiet, and it's a fast-casual format. In other words, you step up, order at the counter, take a seat, and the food is brought to you. There is limited indoor seating plus outside seating on nice days. Cricket ordered a tuna salad wrap ($6), while I chose a Cobb salad for $7.50. I was intrigued by the Moroccan potato salad, so we decided to split an order for an additional $1.25. We grabbed a couple of drinks from the serve-yourself fridge – only a buck apiece – and took a seat outside, taking silverware and napkins from holders on the tables.
Our wait was longer than we expected, and we had to go back inside and ask for the potato salad after our food was brought out. But the staff was friendly, and the portions were quite impressive for the price. To borrow a phrase from the Highlands mainstay La Bamba, that tuna salad wrap was as big as Cricket's head.
My salad was packed with tender grilled chicken, real bacon (not bits from a jar), plus fresh tomato chunks, avocado, three thick slices of hard-boiled egg and a heaping helping of blue cheese, served over crisp romaine and coated with a nicely understated hazelnut vinaigrette. I was quite pleased, and couldn't come close to finishing it.
Cricket wasn't as happy with her tuna salad, describing it as a bit too salty. I took one bite and added that the tuna's "fishiness factor" might have been a bit too strong. Overall, though, it wasn't too bad; I'd be keen to try the chicken salad version next time. The wrap also came with a crisp pickle spear, a good thing. I can't stand soggy pickles.
The Moroccan potato salad featured cumin and parsley on huge chunks of red-skin potato, tossed with olive oil and a sherry wine vinaigrette. The flavor was understated but pleasant; best of all, the potatoes were cooked to a perfect consistency and melted in the mouth.
The menu features brunch and lunch, starting with muffins, fruit, bagels and yogurt (all priced for a reasonable $1-$2.50) for "late breakfast." Lunch includes a hot brown ($8.50), grilled chicken quesadilla ($7.50), four different sandwiches and wraps ($5.50-$6.25), six different salads ($5-$9) and a couple of soups for $3 each (including "Jeff's Mom's Lentil Soup," which is advertised on the menu as "the best lentil soup in the universe"). Sides and desserts are reasonably priced as well, starting with fresh fruit for 75 cents.
We hear there are plans to open for dinner in the near future, and would hope that this will bring an expanded evening menu. For now, Jarfi's @ Mellwood is open Tuesday-Saturday, 10 a.m.-2 p.m.
Jarfi's @ Mellwood
1860 Mellwood Ave.
259-9888
Wings bring on the heat
A while back, in our ongoing effort to bring you the most fully informed food-and-dining information, I made it a point to sample real Italian pizza while I was in Italy, a simple way to calibrate my taste buds for judging Louisville's most authentic pies.
Last week I made another culinary pilgrimage, this time to Buffalo, N.Y., where I made it my business to sample Buffalo wings in the place where they invented this tasty snack.
In the original form – and it doesn't get any more original than Buffalo's Anchor Bar – these morsels are pure simplicity: Hit a bunch of wings with salt and pepper, fry 'em in oil until they're crispy and sizzling. Meanwhile, melt some butter (or margarine, if you're an absolute stickler for authenticity and don't mind the trans fat) and as much hot sauce as you can stand (Frank's Original Red Hot sauce is the standard). Heat it up with a dash of white vinegar until it bubbles, then sauce your wings with this scarlet lava.
Armed with this recipe, you can make them at home. But why do the work, when excellent wings abound at eateries around town? I've raved before about Wings N Things on North Hurstbourne; and Baxter Station in the Highlands makes a memorable bar version in a friendly setting not unlike Buffalo's Anchor.
The other day I found wing nirvana in an unexpected quarter: Wings To Go, a shopping center franchise operation way out on Charlestown Road on New Albany's north side.
Although it's called Wings To Go, you're welcome to eat in, at four regular tables or, better yet, an 18-seat elevated bleacher section with stadium seats facing a huge-screen projection TV. With sports memorabilia hailing U of L, UK and IU in equal measure, and the walls painted Cardinal and Hoosier red and Wildcat blue. It's like a tiny sports bar … with wings.
The menu boasts a choice of "18 famous sauces" for wings, with traditional Buffalo-style heat ranging from Mild, Medium and Hot through X-hot to Suicide and Homicide, plus a few non-traditional flavors such as Cajun, Teriyaki and Lemon-Pepper. You can even get your wings boneless, but why? I wimped out and went with medium; although I'm not short on macho, I hoped to preserve enough of my taste buds to discern the wings' flavor. This time.
Wings come from the kitchen hot enough to burn you twice, first with Fahrenheit and then with spicy fire. The traditional accompaniments – fresh, cold celery and blue cheese (or ranch) – are available, but only on request.
Buffalo-style wings proved to be the real thing, made the Anchor Bar's way, with just enough heat at the medium level to provide a gentle buzz of heat without much pain. Fries were excellent, dredged in seasoned flour and fried to remarkable crispness, served sizzling hot.
Two lunch specials – 10 wings each, with regular fries and a refillable soft drink – had us shuffling off to Buffalo at a very reasonable $15.88.
Wings To Go
4324 Charlestown Road
New Albany, Ind.
(812) 941-9464