"Born in a log cabin." In not-so-distant American history, this status – a symbol of humble, honest origins, was just about mandatory for those who wanted to run for president.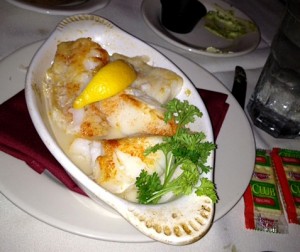 It's likely that seven of America's chief executives, and possibly as many as 10 drew their first breath in a rustic log abode. Which ones? Cabin-born prexies certainly included Abraham Lincoln, whose birthplace is now a National Historical Park in Hodgenville, Ky. Zachary Taylor, born in a log cabin in Virginia, grew up in Louisville in decidedly more elegant quarters at Locust Grove.
Others, some subject to debate among historians, included Andrew Jackson, Millard Fillmore, Franklin Pierce, James Buchanan, Andrew Johnson, Ulysses S. Grant, James Garfield and Chester A. Arthur.
And then there's John E's Restaurant & Lounge. It never ran for president, although if it ever did, there are surely hungry folks in Louisville who would consider voting for it. But it was indisputably born in a log cabin, and what's more, no mere rude shack of felled trees but a log structure of significant historic worth, now designated a Kentucky Landmark.
It was the home of the Hikes family, descendants of the pioneer Louisville settler George Hikes, who received land grants in Kentucky for his Revolutionary War service. The existing four-room, two-story structure that still forms the core of John E's was built around 1851 on the site of an earlier house. Hikes Lane and the Hikes Point neighborhood still keep the family's historic name alive.
The building has been a popular restaurant for half a century – originally Bill Boland's, and since the 1980s John E's. The space has been expanded substantially, including four dining rooms, a bar and a fully enclosed Patio Room, but I still like best the small dining room that reveals parts of the original cabin. Much of the walls are covered with large, antique-print wallpaper, but the original logs still show through in places, as does the beamed ceiling.
John E's dinner menu offers standard American fare, with emphasis on steakhouse delights. It begins at $9 (for beef or veggie burgers) and $19 (for several items including chicken breast dishes, Boston scrod, or a full pound of pork chops). Most main course are under $30, with a hefty two-pound T-bone priced at $38 if you eat it all by yourself, or $45 divided for two.
My brother and sister were in town, so we got together with them, a cousin and an aunt for a big country-style dinner, and I can't say we had a thing we didn't enjoy. We started with a shared app, a big plate of green chili won tons ($7), which were a lot like the Bristol's. I won't speculate who had the idea first, but John E's presents a good version.
A burger ($9) did its job well, juicy and hot, dressed with a slice of melted cheddar (50 cents extra) and the traditional lettuce, tomato and mayo. The rib eye pepper steak ($28) was a splendid piece of this flavorful cut, cooked medium-rare as ordered. It was crusted in so much coarsely cracked black pepper that it almost seemed hot, but it was tender and the flavors worked well. A stuffed twice-baked potato ($2) was first-rate, and there were no complaints about a standard, fresh house salad.
With glasses of California Apothic red ($8) and Gaston Argentine Malbec ($7.50), our share of dinner came to $64.66 for two, plus a $14 tip for friendly, attentive service.
John E's Restaurant & Lounge
3708 Bardstown Road
456-1111
JohnEsRestaurant.com