By Robin Garr
LouisvilleHotBytes.com
A vegan walked into a barbecue joint. What's the punchline?
Actually, there's no punchline. I'm not a vegan myself. But I can see the ethos: The commercial agriculture that's necessary to have everyone eating tasty animals is bad for the environment. It's bad for our health. And it's pretty obviously bad for the animals who have to be killed for our gustatory enjoyment.
For reasons such as these, growing numbers of people have gone vegan, vegetarian, or flexitarian recently, and that's why I always try to include at least one meat-free dish in each review.
This can be a challenge, though, when I visit a new barbecue joint. Like this week, when I followed the delicious scent of hickory smoke to The Smokery, a new eatery in a small building on Frankfort Avenue in Clifton.
The building has seen a variety of uses over the years. A nice Asian eatery was there once, briefly a massage parlor, later Matt Anthony's Record Shop, and most recently, a watering hole called Dark Horse Tavern & Avenue Bar.
Dark Horse didn't last long, but it appears to live on in The Smokery, as its chef, Giovanni Tenace, stays on at The Smokery's, and even Dark Horse's Facebook page and email address now serve as pointers to The Smokery.
Tenace's experienced presence may account for some of the buzz arising around The Smokery. Born in Italy, his previous Louisville resume includes such top tables as ROC Restaurant and Le Moo.
The Smokery's menu is brief and fits well with the BBQ genre. As sandwiches with choice of two sides, barbecue meats range in price from $14.99 (for pulled pork or chicken) to $26.99 (for a full rack of ribs); a half-rack or a brisket sandwich are each $16.99.
Brisket, pork, and chicken may also be ordered as sliders with fries ($17 each), in tacos ($4.75 to $5.50), as an add-on to salads ($6-$7) or added to smoked Gouda mac and cheese ($9.99) or pasta alfredo ($12.99). A fully dressed American wagyu beef burger with one side is $19; add bacon for $3 more.
The bartender was taking lunch orders, and didn't miss a beat when we told him that we were looking for a couple of meatless items to go with our smoked animal flesh. As you'd expect in a barbecue eatery, this isn't a particularly easy task – especially if you prefer a fully vegan option. The salads would fill that bill, though, if you pull the Parmesan from the caesar; corn fritters appeared plant-based, and smoked Gouda mac is a good choice if cheese isn't an issue for you.
Caesar salad ($8) just might have been the best thing on the table. Fresh, green romaine was cold and crisp, neatly cut in squares with no sign of brown or limp edges. Paper-thin slices of Parmesan was scattered on top; croutons were fresh and browned, and a tart vinaigrette, though perhaps not traditionally caesar-style, was refreshing.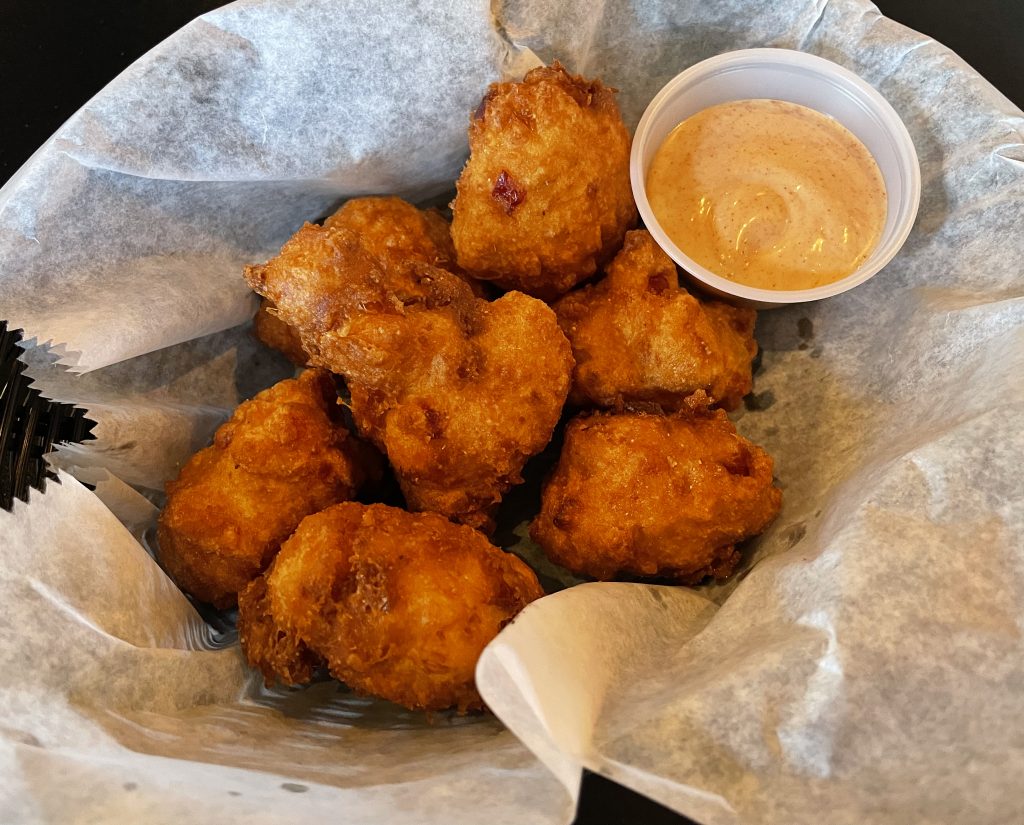 Corn fritters ($6.99) made a tasty treat. Who doesn't like hot spicy fried things? Seven two-bite orbs were carefully fried golden-brown and grease-free. A thick, crunchy coating cloaked what appeared to be white cornmeal studded with plenty of yellow corn niblets. They came with a tub of remoulade-style sauce, creamy and pink, cranked up with fiery spice.
We wavered among several of the meats, but decided against baby back ribs after learning that they are painted with a sweet glaze after being smoked with a dry rub. Call me finicky, but I'd just as soon save the sweet stuff for dessert. We ordered a pulled pork sandwich ($15) and found it satisfying but well short of life-altering.
A fairly abstemious amount – maybe 3 ounces, 4 at most – of finely shredded pork sat on a decent, grilled brioche bun. I could see some charred end bits mixed in with the rest, but didn't get the textural variation that burnt ends usually provide. It was all quite juicy, almost as it if had been stewed. The smoke flavor was dominant, almost to the point of obscuring pork flavor. It's served without additional sauce, which is a plus for me; squeeze bottles of good quality hot and mild bourbon sauces sat with paper towels in buckets on the table to use as you like.
A side dish of smoked Gouda mac and cheese was made in what appeared to be stovetop style, with a tangy, creamy sauce coating cavatappi pasta. The short pasta was a nice touch, as was the addition of a crunchy bread-crumb topping.
The green beans were long-cooked and studded with bits of shredded pork that resembled the pulled pork.
We passed on the bar offerings and held the cost of our meal for two, with meat for one, down to a thrifty $31.79 plus $8 tip.
The Smokery
2354 Frankfort Ave.
709-5176
Facebook: https://bit.ly/SmokeryLou
Noise Level: Even when only partially full for a Saturday lunch, the small space, country music, and a happy crowd pushed sound up to 70.6dB, a bit loud but no barrier to conversation.
Accessibility: The restaurant is on two levels separated by stairs. Both levels are accessible to wheelchair users via ramps from the patio area.