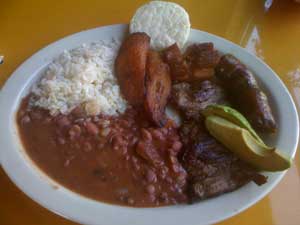 Bandeja Paisa at La Columbiana
LEO's Eats with LouisvilleHotBytes
Our city is blessed with Latino treats. In addition to a flotilla of taquerias, we've got landmarks like Bruce Ucán's Mayan Café with its Mayan fare from Yucatan and Guatemala, and Anthony Lamas' Seviche with its Nuevo Latino smorgasbord of goodies from Sonora to Tierra del Fuego.
So why do we remain cursed with a widespread attitude among diners that South of the Border food consists of tacos, burritos and guacamole all the way down?
The cuisines of the Western Hemisphere, from Mexico through Central America and down through South America, are as rich and diverse as, well, the cuisines of our 50 states.
Last month, we gained another new flavor of Hispanic America as La Colombiana — the region's first Colombian restaurant — opened in Lyndon in the shopping center quarters vacated by FireFresh Barbecue.

This is not Mexican, folks. Colombia is located on the northern end of South America.
If there's one iconic food in Colombian cuisine (and that of its neighbor Venezuela), it must be the arepa, a thick, savory corn cake. These are so popular that parts of Roosevelt Avenue in Queens are lined with arepa vendors cooking their wares over charcoal fires late into the night.
I don't think Louisville is ready for that yet, but La Colombiana produces a darn good version indoors. You'll find them in several dishes on the short but enticing menu, which features maybe 20 selections from $6.50 (for a couple of brunch-style dishes) to $13.99 (for Bandeja Paisa, a combo plate).
You might start with Arepas Rellenas (stuffed arepas), which are toasted in butter, slit and stuffed with beans and cheese ($5.50) or your choice of just about any meat or poultry on the menu ($6.99). Colombia has plenty of beef, and the menu shows it with seven cow-based dishes including a couple of goodies made with beef tongue (lengua).
La Colombiana spruces up the former barbecue shop, a large room on the end of the building with huge windows along two walls to make it a bright place on a sunny day.
Colombian coffee ($1.50) is served, of course, strong and black, fresh and clean, with a few grounds in the bottom of the stoneware mug to indicate genuineness.
The aforementioned Bandeja Paisa ($9.99 for a lunch order, $13.99 full-size) came on an oval plate piled high with white rice; red beans in a savory sauce; a couple of slices of fried plantain; a silver-dollar size white-corn arepa; a crispy-fatty chunk of chicharron (pork belly); a fat link of mild, smoky chorizo; fresh avocado; and a slice of thin, somewhat chewy but beefy marinated and grilled skirt steak.
Huevos Pericos con Arepa ($6.99), a brunch dish, features a plate-size, thick yellow arepa topped with a mound of fluffy eggs scrambled with tiny bits of diced tomato and onion.
An extremely good Sunday midday meal came to $21.18 plus a $6 tip. Service is invariably friendly if not always right on the spot, and there's zero language barrier.
La Colombiana
808 Lyndon Lane, Suite 105
742-1179
Robin Garr's rating: 81 points