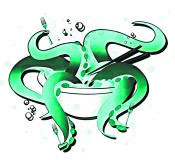 Illustration by Gina Moeller
LEO's Eat'n'Blog, April 12, 2006
If you've got a hankering for some hearty home cooking, and plenty of it, you can hardly do better than to hit the buffet at Saffron's Buffet, where for a paltry 8 bucks you can load up on heart-warming goodies like Mom used to make. Who wouldn't like to get on the outside of a portion of aush reshteh, for instance? Or maybe a bowl of koofteh and a little chicken tacheen with barberry rice.
What? You say your Mom never made anything remotely like that? Next I guess you'll tell us that she wasn't even Iranian.
But you don't have to be Iranian to learn to love the aromatic and not-so-exotic Southwestern Asian goodies that Majid Ghavami and crew dish up at Saffron's Buffet.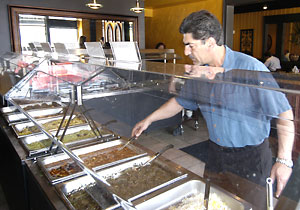 Majid Ghavami is the proprietor of Saffron's on Market Street and the new Saffron's buffet on Fifth Street.
This all-you-can-eat Iranian lunch spot opened last month at 558 S. Fifth St., former location of the sadly departed Manoosh's. (Yes, Manoosh, who's now back at work in his alternate trade as a skilled electrician, is Iranian, too.)
Iranians, in fact, occupy a surprisingly dominant position in Louisville's restaurant business, and therein lies a story that goes all the way back to the 1980s, the Ayatollah and the hostage crisis.
Back in those days, Ghavami recalled, Louisville boasted a large and vibrant community of hundreds of Iranian college students, many of whom had come here to attend the University of Louisville and a few to Bellarmine. This Tehran-Louisville connection occurred for a surprisingly prosaic reason: Private firms in Iran's capital handled college and visa paperwork for students who wanted to come to the U.S., and U of L, just going into a growth spurt, was particularly welcoming to foreign students. Majid and scores of his contemporaries descended on Louisville with delight, speaking little English but eager to discover the joys of bluegrass and Kentucky Fried Chicken.
A few years later, Iran's revolution toppled the Shah. About half of the Iranian students rushed home to join in the battle, Majid said. He was learning about the philosophy of "a just war" in classes at Bellarmine, and Iran's internal strife didn't seem to pass the test. "My parents did not want me there, and I really, personally, did not believe in getting in a war." He and many of his comrades stayed in Louisville and have been here ever since.
Most of them majored in engineering, medical science and business; Majid graduated in business and qualified as a CPA. But he, like a lot of his peers, ended up in the restaurant business instead. It happened simply, he explains: Away from home and family, they had to work for a living, and restaurant jobs are ideal for college students. The Iranians, tall dark and exotically foreign, were naturals at Italian restaurants, and many of them gravitated to Casa Grisanti, then one of the city's top tables. Majid worked there and at Mamma Grisantis and later at Vincenzo's, rising from waiter to captain; took a break to work in accounting for a few years, then opened Saffron's on East Market Street in 2001.
A few months later, 9/11 happened, and in the minds of some people, "Iran" became a dirty word.
"I looked at my large windows and worried that they would be shattered," Majid recalled. "But instead, I got nice notes from people. They sent me flowers. Sure, you find pockets of ignorance anywhere you go, but Louisville? Louisville is unique when it comes to that. I have been here since the hostage crisis, and I have never experienced anything negative. Louisville doesn't take it personally. They don't hold it against you personally."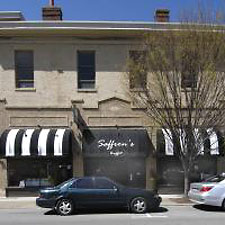 At Saffron's new location, the offerings are more representative of Iranian home cooking.
Basically, Majid, we just want good things to eat … and Saffron's delivers. The original Saffron's, he said, offers the upscale cuisine of Tehran's restaurant scene, redolent of herbs and strongly focused on meat, poultry and fish roasted on skewers, kebab-style. At Saffron's Buffet, he showcases the hearty, aromatic stews that are more representative of Iranian home cooking. "These are items that mothers get up early in the morning to cook," he said. "They clean herbs, then put it together for slow, all-day cooking."
The results show in dishes that are hearty, filling, aromatic with the scents of familiar herbs like tarragon and parsley and more exotic like spiced lemon, with bold yet subtle flavors. It's a cuisine worth discovering, and even the most timid diner needn't fear … you won't find anything hot, spicy, slimy or raw … and it's a buffet, so you can suit yourself if you don't want anything touching on your plate.
Persian food speaks of the country's ancient heritage and strategic position across the traditional southwestern Asian trade routes between east and west. There's a taste of the Near East, an exotic hint of India and all the -stans, and just enough of a touch of Europe to make it all seem familiar.
Dishes vary daily, but you'll often find grilled salmon, saffron-scented tacheen (braised chicken thighs), lamb leg simmered in tomato-turmeric sauce, chicken stewed with mushrooms, onion and peas with lemon, feather-light koofteh beef meatballs, and herbed beef stew, a classic Persian dish, plus several rice preparations and an expansive salad bar, where you mustn't miss the Persian chicken-breast salad with potatoes, eggs, green peas, carrots, pickles, olive oil and mayo.
It's all available for lunch Monday through Friday, $8 for all you can eat and another buck for coffee, iced or hot tea, or a soft drink. Saffron's Buffet is at 558 S. Fifth St. Call 587-8679 for more info.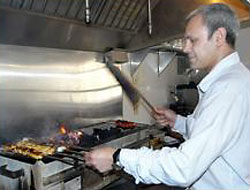 Ramin Akrami, co-owner of Shiraz Mediterranean Grill, tends grilling kebabs with one hand while fanning away smoke with the other. It's a tough job, but someone has to do it.
Another helping of Iranian cuisine, please
There's been a mini-boom of Iranian restaurants in Louisville in recent years, some of them billed as "Persian," the name of the ancient empire that preceded the Greeks and the Romans and now is known as Iran. Unfortunately, in the competitive restaurant business, they haven't all survived. Manoosh's struggled on for several years; Shemroun on lower Brownsboro and Caspian Grill on Bishop Lane flashed only briefly on the radar.
One tiny new spot deserves recognition, though, reports correspondent DOUG "DOOGY" RENFRO, who popped into Shiraz Mediterranean Grill, 2018 Brownsboro Road, on a stormy Sunday afternoon. "I immediately smelled the aroma of fresh baked bread wafting through the air. I walked over to where they sell the bread and the man behind the counter allowed me to take a peek at the clay oven they use to bake the bread. It was red-hot and baked the loaves quickly."
Looking for more Iranian delights, Renfro encountered an unexpected cross-cultural discovery: One of Shiraz's most popular confections is based on quinoa, a South American grain that was cultivated by the Incans for some 5,000 years.
"It is a rich, buttery grain-like delicacy that some call the super grain of the future," Renfro said. "Shiraz mixes it with a variety of sweet peppers, spices and olive oil. The texture is wonderful as it flows across your taste buds."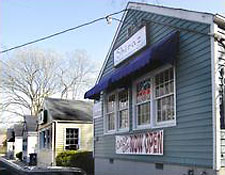 The Cottages on Brownsboro house a variety of small businesses, including Shiraz Mediterranean Grill, 2018 Brownsboro Road.
But why in the world would an Iranian restaurant offer an ancient Incan grain? One of the owners, Sossein, told Renfro that his co-owner, Ramin, "enjoys quinoa and decided to add the other ingredients to make it happy." Makes sense to us.
Among other Shiraz treats, Renfro recommends koobideh kebab with lentil rice. This dish comes with grilled tomatoes, onion and a huge piece of flatbread fresh from the clay oven. The ground-beef kebabs, ground beef in this case, are grilled over chunks of glowing wood in a small hibachi-type grill. "Once I was presented with my food, I put some of the rice, parsley, tomatoes and onion in the flatbread along with the kabob. This is a fantastic way to enjoy the meal. Weren't hands made just for this very reason? The meat was perfectly cooked, the rice wasn't sticky or hard and the ingredients melded into a splendid flavor."
As a bonus, the dish came with a couple of chunks of tadigh, the crusty rice that cooks onto the bottom of the pans the rice is prepared in. "The texture is uniquely crunchy and the flavor is quite intense indeed. All in all, I enjoyed a great meal, prepared and served by caring people in a very accommodating environment."
Shiraz Mediterranean Grill is at 2018 Brownsboro Road. Call 891-8854 or go to http://www.shirazmg.com for more info.

Dining with the kids
Sure, offloading the kids with Mom or a sitter for a quiet, adult night out is a great thing when you can do it. But sometimes you've just got to take Junior along when you go out to dine. Here are reports from two of our correspondents on local spots that serve both the younger generation and their parents well.
The friendly welcome to families at Sapporo Japanese inspired TINA L. MEREDITH to pen a haiku:
Sushi and techno
Families at Sapporo
Happily eating
Along with a neon vibe that kids raised on Yu-Gi-Oh will appreciate, she says, Sapporo offers hibachi grills, table seating, and a sushi bar. Meals for the 10-and-under crowd consist of chicken, beef or shrimp teriyaki for $7.95 and up, but the more adventurous can find portions for tiny tummies on the sushi menu.
A salad drenched in creamy miso ginger dressing made Meredith's picky son announced that he'd eat anything with that dressing on it, she said. (The dressing is available for takeout for $5 a pint.) Families seated at the hibachi grill are treated to a fiery show that keeps little ones entertained, while older children may enjoy sitting at the sushi bar where they can watch the sushi chefs at work. The techno beat that pulses throughout the restaurant will drown out most happy infant sounds. The "Pineapple Boat" dessert shares easily – about a third of a pineapple is hollowed, filled with pineapple slices skewered with cocktail swords, and topped with umbrellas. Included are islands of orange sections and maraschino cherries.
Sapporo Japanese Grill and Sushi is at 1706 Bardstown Road. Call 479-5550 or visit http://www.sapporojapanese.com for more info.

---
Out on the eastern edge of the metro in Oldham County, where Buckner segues into LaGrange, correspondent ANDREA ESSENPREIS reports that Steve-O's Italian Kitchen offers family fare at its best.
"If you weren't lucky enough to grow up with an Italian grandmother as I did, I'm sorry," she says. "The only downside was that it turned me into a bit of a snob where Italian food was concerned." Steve-O's – opened last year in the former home of Backwoods BBQ – satisfies her hunger and her need for authenticity.
The atmosphere is as unpretentious as the good folks who turn out delicious Italian-American classics for lunch and dinner daily. Don't come here expecting anything fancy. But with food this good, who needs fancy?
Here's her report:
A recent weekday lunch visit displayed considerable skill in the kitchen. The combo appetizer platter ($9.99) was enormous, enough for a family to share. The homemade fried mozzarella, breaded zucchini, onion rings and fried mushrooms came to the table hot, crispy and grease-free, with a side of simple and delicious marinara. I am hopelessly addicted to the homemade garlic rolls – I highly recommend supplementing the complimentary portion that arrives to your table, steaming hot and slathered with fresh garlic (1/2 doz. $2.99, dozen $4.99).
Pizza is definitely a star at Steve-O's. A shared small white pizza with basil and fresh garlic ($7.99) was a contender for one of the best pies in the region, with a crispy yet appetizingly chewy golden-brown crust. A thick mantle of mozzarella cheese was rich, creamy and just plain decadent.
Kids are welcomed with open arms. The "Kiddie Corner" portion of the menu has eight kids' meals, including spaghetti and meatballs, lasagna, and chicken fingers with fries, all reasonably priced at $3.99. Her son David devoured the spaghetti and meatballs, and Mom liked it too: perfectly cooked pasta and light, flavorful meatballs in a fresh tomato sauce. "This is simple fare, but deceptively tricky to get just right," she said. "My Italian grandmother would approve."
Dinner portions are huge and reasonably priced, from $4.99 for a meatball Parmigiana sub to $14.99 for the chicken, veal and eggplant Parmigiana dinner (which includes pasta, salad and garlic rolls). Desserts such as fried zeppoli and cheesecake round out the menu, not to mention delicious cannoli filled to order ($2.50).
Steve-O's Italian Kitchen is at 4205 W. Highway 146 in La Grange. Call (502) 222-0300 for more info.
Nibbles
Spring has sprung, sort of, and outdoor dining is once again au courant, storm warnings permitting. Avalon (1314 Bardstown Road, 454-5336), which extends its patio season with robust space heaters, came back online in March, complete with a new feature that Chef Mat Shalenko calls a "New York-style urban lunch counter," featuring, er, Vienna hot dogs and Usinger brats from Milwaukee. Hey, flight attendant! Are you sure we've landed in New York?
I love Seviche's patio (1538 Bardstown Road, 473-8560), where immediate proximity to the avenue provides a real urban vibe filled with honking horns, loud mufflers and strolling slackers stripped down to T-shirts to show off their tats and piercings. Seviche has hosed off the winter sand and salt and reopened its extensive outdoor space, and Chef Anthony Lamas has come up with an extended seviche and appetizer menu and new wine list to go with it. I think I'll get me some of that Fettuccine Alfresco.
Want to celebrate Easter with an indulgent repast? Consider brunch at BLU in the Marriott Downtown (280 W. Jefferson St., 671-4285), where the Easter celebration from 11 a.m.-3 p.m. comes in at a cool $36.95 per, offering fancy entrees plus an all-you-can-eat breakfast buffet that sounds like an old-fashioned railroad line, with an omelet station, a pasta station, a salad station … Aaaaaallll aboooaaard!
As long as you're putting on the Easter bonnet, if you'd prefer something a little more affordable, the folks at Gumby's (in the old Male High School cafeteria, 911 S. Brook St., 625-1900) will serve brunch from 11 a.m.-3 p.m. on Easter, featuring fresh fruits, pastries, biscuits and gravy, roasted potatoes, French toast casserole, ham, turkey, roast beef and more. It's just $16.75 each for adults, free for those under 4, and 75 cents per year of age for youngsters from 4 to 10.
Speaking of bonnets, hats and sundry chapeaux, Avalon will play host to the second annual Derby Hat Show Luncheon on April 22 from 11 a.m.-3 p.m. It's a fund-raising event for the benefit of Kids Acting Against Cancer, combining lunch with a fashion show by Blink Boutique, She of Louisville and Luna Boutique. Call Avalon for rezzies. Now, will someone please tell me why our great race is named after a hat?