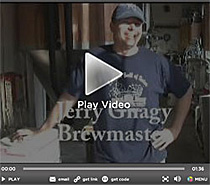 Click the image to open a video interview with BBC Head Brewer Jerry Gnagy
If you like beer but worry that a mug or two will make you sleepy, get ready for this: Bluegrass Brewing Company and Heine Brothers' Coffee have joined forces to launch a new microbrewed coffee stout, a rich and warming BBC black beer with two good shots of Heine's mellow Mexico Stout blended in.
The caffeinated brew, made with organic, fair-trade coffee, will go on sale at BBC in St. Matthews on Friday, Feb. 9.

Head Brewer Jerry Gnagy (who's featured in the accompanying video) said the beer is an oatmeal stout, brewed with English roasted barley and caramunich malt to impart a roasty and slightly sweet malt flavor. The addition of flaked oats lends creaminess and body. The Heine's coffee is added in two doses: A ration is stirred into the hot unfermented beer (known as wort to extract coffee flavor; then freshly brewed coffee is also added after fermentation is complete, to impart fresh coffee flavor and aroma.
Gnagy said the Heine's/BBC Coffee Stout will be served in 20-ounce Imperial pints … with a recyclable Heine Bros. Coffee sleeve around the glass.
Jerry was kind enough to fork over a growler for an advance tasting report, and I was delighted to pour myself a glass. Okay, two. Here's my tasting report:
Heine's/BBC Coffee Stout is a black, opaque beer with relatively light carbonation, bearing a frothy cafe-au-lait head. Coffee and dark roast barley malt meld in a rich, smooth and mellow aroma that's neither distinctively coffee nor stout but something in between. (And it's worth noting that the entire city of Dublin, Ireland, smells a lot like black coffee on a misty day when they're roasting malt at the Guinness plant at St. James's Gate.) The beer is not a Guinness clone, though, but stronger in alcohol – a little over 6 percent, Gnagy says), with a dark roasted-malt character and rich body. There's a nice balance of sweet and bitter here in a well-handled brew, and the addition of coffee is no mere gimmick but adds complexity and depth to the flavor. It's a very fine stout indeed, with credit to both Heine Bros. Coffee and Bluegrass Brewing Co. for making it happen.
Bluegrass Brewing Company is open from 11 a.m.-11 p.m. Sunday–Thursday and 11 a.m.-2 a.m. Friday and Saturday.
Bluegrass Brewing Co.
3929 Shelbyville Road
899-7070
bbcbrew.com