Did you ever wait in line at Rumplings? I sure did. And I hated it when that little ramen-and-dumpling place just off Bardstown Road went away after only seven months.
So here's good news: Griffin Paulin, one of the minds behind the original Rumplings team has opened Mirin, a new ramen-and-more shop on Frankfort Avenue in Clifton.
Paulin, who's ably assisted by Chef Michael Macinnes, insists that Mirin is not Rumplings 2.0. But it draws from the same deep well of intensely flavored broths, culinary passion and dogged attention to detail to bring us something that comes as close to authentic East Asian cuisine as we're likely to get in Louisville.
"From a personal standpoint, I'm far more focused here," Paulin said. "A better eye on the numbers. … That's not to take away from what we did there. I was proud of the food and proud of my team. This is a different thing. Some will say better, I just prefer different."
Okay, I can live with "different." I loved Rumplings and I'm loving Mirin, and I'm happy it's here. Housed in spartan quarters on the retail ground floor of a newish Clifton condo building – once home of Shiraz Mediterranean – Mirin is sharply focused on food, with no attempt at decor beyond the natural art of pots, pans and woks hanging over the open kitchen. Mirin should get a visual upgrade as it evolves, Paulin said. New stools are on the way, as are bamboo tops for the counters and tables.
The menu, painted on a wall board, is concise yet varied, and may change from time to time. Currently it features four Japanese-influenced ramen noodle items ($12 to $16); a pair of Vietnamese-style banh mi sandwiches ($8 and #9); three Chinese-style steamed bao buns ($2 to $3) and a handful of "other stuff" ($7 to $10), plus daily specials.
The liquor license is still pending but expected any day, Paulin says, all fingers crossed. Once the paperwork is signed, there'll be a 30-label sake list, regional draft beers, and a basic house red and white wine.
We've been through a good share of the menu already, and I'm eager to try the rest.
A couple of "other stuff" items made excellent shared appetizers. Specific ingredients and garnishes may vary, but the structure of each dish remains true to its heritage.
Bibim Guksu ($5), a Korean-style salad, was a spicy, textured mix of quick-pickled julienne red peppers, carrots and sesame seeds tossed in a piquant dressing over a bed of fine Asian vermicelli noodles, topped with a halved soft-boiled egg, garnished with shopped scallions and white sesame seeds. Soft-boiled shoyu egg halves briefly marinated in a soy mixture garnish most dishes, and they are delicious, firm but tender, fresh and sweet.
Banh Khoai Mon ($7), a Vietnamese dish often made with taro cake but rendered here with rice, started with five rice balls the size of small eggs, a soft paste within a glassy, crunchy skin. The rice balls alone might have seemed bland – that's a thing with plain rice – but they made great vehicles for the savory brown sauce. sauteed onions, scallions, peanuts and another halved egg.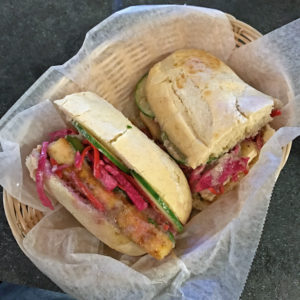 A tofu banh mi sandwich ($8) featured a generous portion of crisp-fried tofu slabs nestled in a good hero-style white bun, dressed with an earthy mushroom mousse, shredded carrot, thin-sliced cucumber, bean sprouts and a few spicy jalapeños and aromatic cilantro. It's a delicious but somewhat wet sandwich; I advise eating it leaning forward over its wax-paper-lined basket, like a traditional Philly cheesesteak.
Ramen noodles are quality regional product made at Lexington Pasta Company, but not made in-house, a productivity and staff-time lesson learned at Rumplings. Never mind. It's good, chewy and a little springy as authentic ramen should be. Mirin's ramen dishes are served in generous portions, filling attractive stoneware bowls almost to the rim.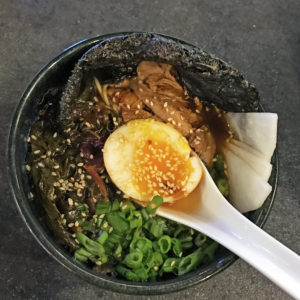 Tonkotsu ramen ($14) noodles swim in a rich, intense clear broth, loaded with thick slices of Japanese-style shasu pork, layered lean and fat, salt- and sugar-cured and cooked in soy sauce; we thought it resembled pork belly. It's attractively served with crisp edible nori seaweed, tiny white enoki mushrooms, plenty of snipped scallions and that delicious, ubiquitous shoyu egg.
Shoyu ramen ($16) was excellent, loaded with chunks of tender boneless roast duck and greens, perhaps collards, in Mirin's intense ramen broth with nori seaweed, crisp daikon radish, green onions and a shoyu egg.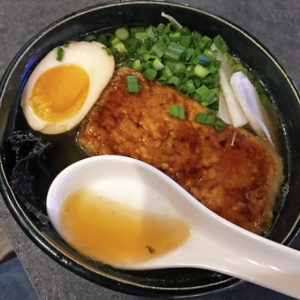 Veggie ramen ($12) did not take second place to its carnivorous siblings. This broth may have been the most savory, intense and umami-laden, of the three. It bathed three slabs of tofu fried to an incredibly glassy, shattering skin; daikon radish added a peppery bite, and kombu seaweed lent a distinct touch of the sea. A shoyu egg, of course, added its flavor to the mix.
Two dinner visits totaled up to similarly reasonable tabs: $37.86 for one meal with a sweet, milky Vietnamese Coffee ($4.72) in a plastic cup; $32.86 for another with cold water served from attractive flasks, with 20 percent tips on both dinners calculated by the digital tablet at the counter.
Mirin
2013 Frankfort Ave.
742-8911
Mirin on Facebook
Robin Garr's rating: 92 points