If language reflects culture, then it's fair to assume that the people of the Philippines love to eat. Tagalog, the Filipino national language, is the only language I know with a special greeting, tucked between "good morning" and "good afternoon," to wish people a good lunchtime.
So let's say "Magandang tanghali po" to Lola's Kitchen, serving Filipino fare in the Clifton quarters long occupied by Zen Garden.
Who's Lola? That's the Tagalog word for grandmother, explains owner and executive chef Nick Hans, who cites his own Filipina grandmother as inspiration for him to offer Louisville a taste of the family-style cooking of the Philippines, using natural and local produce.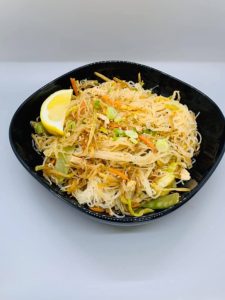 What's Filipino cuisine like? For many of us, a menu with Filipino food names like kare-kare (simmered beef and veggies in a peanut sauce), sinigang (tangy pork and tamarind soup); tap-si-log (fried marinated beef and rice), and pancit bihon (skinny noodles) is going to need some explaining. Happily, Lola's servers are friendly and helpful, and the menu briefly but clearly explains every dish.
As a nation of 7,000 islands with a history of 300 years under Spanish rule and 50 years of American rule interrupted by harsh Japanese occupation during World War II, Filipino cuisine spices its own traditional fare with culinary influences from Spain, the U.S., the Pacific islands, and even China.
The menu lists 12 dishes that range in price from $9.95 (for chicken arroz caldo, a garlicky comfort-food chicken-and-rice porridge) to $15.95 (for crispy pork pata, a braised, then deep-fried pork shank).
Also, if you're bold, you might like go gather at least four friends and reserve a boodle fight or kamayan ("eating with the hands") for $32.99 each, $11.99 for those under 12. This Filipino tradition dispenses with cutlery and dishes: A massive feast is spread atop a trestle table lined with banana leaves. Diners, sans flatware, dig in. "Filipinos demonstrate their love by offering food to one another. Kamayan is Lola's way of sharing an amazing experience by celebrating the love of good food and good times," according to Lola's website. "And it's fun."
The new owners have spruced up the interior of the restaurant. It's light and bright, with white walls in the front section; warm papaya color in the back. Wooden tables and simple chairs are situated on dark wood floors. An antique wooden fireplace mantel and a wall nook are filled with potted plants and Filipino tchotchkes, and the walls are covered with bright paintings depicting Philippines rural scenes with water buffaloes, dormant volcanoes, and smiling farmers harvesting rice.
Tables are set with simple flatware rolled in paper napkins; service is in lightweight black bowls. We placed our orders at the front counter and took a number to our table.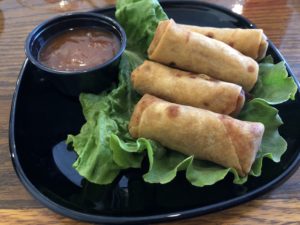 Lumpia, the traditional Filipino eggroll, comes in two forms: lumpiang Shanghai ($7.95 for eight small rolls, $4 for four) or fresh ($10.95 for a larger rolled crepe stuffed with stir-fried veggies, plus $1, $1.50, or $2 for your choice of added chicken, shrimp, or both. We requested a small order of lumpiang Shanghai and got four sizzling mini-egg rolls that bore a close resemblance to the Chinese variety. They were admirably crisp and non-greasy, with a filling of shredded cabbage and carrots and a whiff of mild spice.
Pancit bihon ($9.95, pictured at the top of the page, plus a $1 to $2 upcharge for chicken, shrimp, or both) is an iconic Filipino noodle dish built on skinny rice noodles or even skinnier bean threads. Lola's goes with the rice noodle version, and it's a good one, with texture and flavor that takes me back to Filipino eateries in Los Angeles and Oakland, California. Fine noodles are stir-fried, then simmered in a light broth with shredded carrots, cabbage and shiitakes, snow peas and tofu until everything is tender, then served with a lemon wedge to highlight the flavor.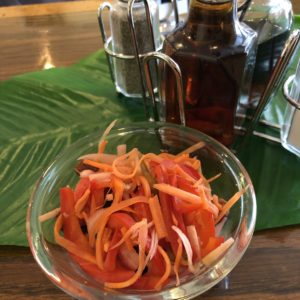 A side dish of acharra ($1.95), a small bowl filled with colorful julienned carrots, mild red peppers, onion and fresh ginger freshly pickled with vinegar, made a flavor-boosting topping for both the pancit bihon and a bowl of adobo, pictured at the top of the page, ($10.95 with chicken or pork, $11.95 for our choice, chicken and pork).
A dozen inch-square chunks of gamey pork and one big, bone-in piece of mild, tender chicken breast were perched atop a large mound of perfectly cooked long-grain rice in this rather idiosyncratic rendition. The meat was cloaked in a thick pale-brown gravy. Its strong vinegar flavor was typical of Filipino adobo, but the lack of discernible soy sauce or garlic in the marinade and the goopy sauce was not.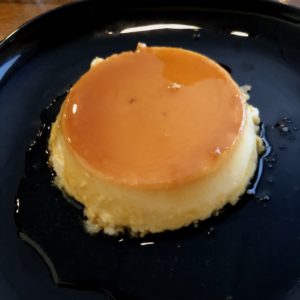 Leche flan ($5.95) for dessert? Why yes! A golden disk of condensed-milk custard and caramel was firm, succulent, and deliciously sweet.
Our hearty lunch for two came to $37.55, plus a 20 percent tip.
Lola's Kitchen
2240 Frankfort Ave.
290-6649
lolaskitchenky.com
facebook.com/lolaskitchenn
instagram.com/lolas_off_frankfort
Robin Garr's rating: 80 points.
Noise level: The room was quiet for a Sunday lunch, with only two or three tables in use. (Average sound was 71dB, on the low side of the level of normal conversation.)
Accessibility: A long wooden ramp provides access to the entrance on the side of the building, but a porch with three steps bars accent from the front.